Choosing a car is a personal statement, a reflection of you. But "you" are complex: you can be both practical and lavish, understated yet elaborate, single-minded but also versatile. Given that singular labels can't define who you are, your choice of car should be the first thing to reflect your multi-faceted being.

Choose a ride that can do it all--one that combines power, substance, and style in a reliable and no-nonsense package. Choose a ride that's at home in the city. Chevrolet's all-new crossover SUV, the Trax, is all that--and then some.




We all know that driving around in the city can be taxing--both on you and your wallet. The Trax's fuel-efficient 1.4-liter turbocharged engine lets you keep it practical without sacrificing driving enjoyment. With this powerplant, traffic jams won't eat into your fuel bill; and when you get into the clear, you'll have enough boosting power to enjoy the open highways.

But more than being a dainty sipper with hidden oomph, the Trax is engineered to withstand and excel in a host of road and driving situations. Its top-notch safety systems ensure a stress-free drive in the potentially hazardous environs of the city.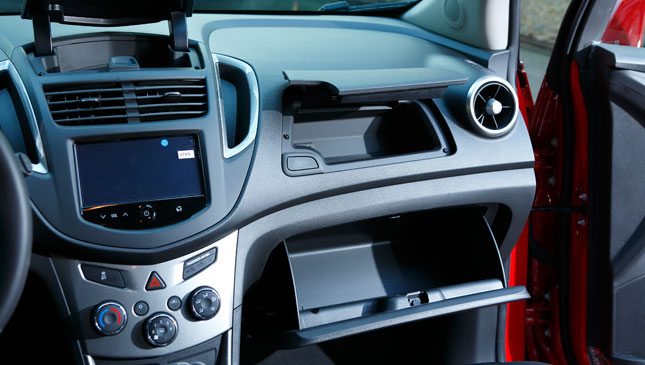 You'll be able to keep the Trax safely planted on the road and pointed in the direction you want it to be in with Rear Wheel Boost, which increases braking pressure in the rear wheels without braking traction, and Roll Over Mitigation, which employs the car's electronic stability control (ESC) and anti-lock braking (ABS) systems to deliver torque or braking power to individual wheels. The city can get tough, but the Trax gets going.

Engine drag control, on the other hand, prevents the Trax's wheels from locking on slippery surfaces. Straight line stability employs ESC and ABS to keep you in control, and cornering brake control allows you to keep the car stable by minimizing oversteer and understeer.

The Trax is also equipped with panic brake assist and hill descent control, guaranteeing that your drive is as safe as it can be. No neighborhood in Metro Manila is beyond your reach with the Trax.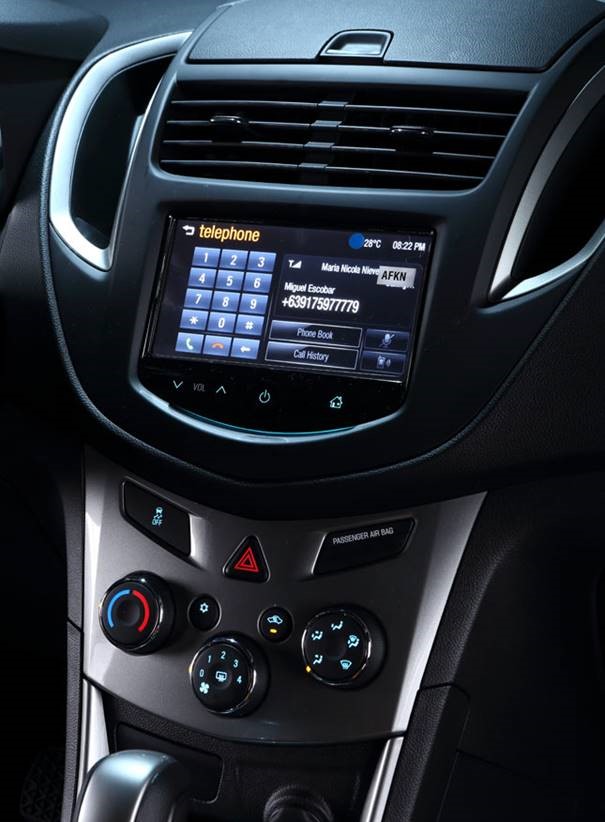 This new crossover SUV also keeps you connected with Chevrolet MyLink, a touchscreen interface that you can hook up to your smartphone via USB or Bluetooth. Once you're connected, MyLink lets you play music, access apps, and make calls. What sets the Trax apart, though, is that it offers Siri Eyes Free, which lets you keep your hands on the wheel and your eyes on the road while accessing your iPhone. Speak to Siri over Chevrolet MyLink and let her compose your messages, play your music, and search the Internet.
But aside from its long list of handy features, it's also got one great thing going for it: its looks. Park this thing anywhere and you'd get more than a fair share of stares. What you see is what you get: The Trax's dominance in the city translates into its strong stance, its sharp lines and burly curves.




The signature bowtie badge, dual port grille, swept-back headlamps, wheel flares, wrap-around tail-lamps, a rear spoiler, and 18-inch rims give the Trax a sporty and aggressive appeal that looks exquisite in urban landscapes.

It's been said that your car is a reflection of you. So why not drive one that gets you on several levels? The all-new Chevrolet Trax does.

Stay tuned to FHM.com.ph, MensHealth.ph, and Spot.ph to see more from the Trax, and what it can do in the city. For more information about this crossover SUV, visit www.chevrolet.com.ph/TRAX or ChevyPhilippines on Facebook.
More From