If you're viewing this on a mobile device and can't see the video, please click here.
When it comes to traveling by sea, cruise ships are some of the most luxurious options available. Some luxury liners boast amenities capable of putting five-star hotels to shame--with restaurants, entertainment and shopping centers, as well as sporting facilities. The Norwegian Joy, however, takes the idea to a whole new level.
The soon-to-debut vessel by Norwegian Cruise Line features the usual fine-dining, recreational and leisure fare. Best of all, those people who love cars will get a kick out of what this ship has to offer: its very own racetrack.
The two-level racing circuit allows guests to get their speed fix while they're out at sea. Apart from the short track, the boat will come with a real racing car made out to be a virtual simulator. Those looking for a less-intense motoring experience can opt to try the ship's hovercraft bumper-car facility.
ADVERTISEMENT - CONTINUE READING BELOW ↓
The Norwegian Joy will also feature multi-story water slides, as well as an open-air laser tag section. Those who wish to relax, meanwhile, can head straight to the tranquil park. And of course, duty-free shopping will be on offer, with a wealth of internationally renowned brands peddling their wares.
The new cruise ship--which initially aims to target wealthy Chinese clients--will set sail in the third quarter of 2017. This is one luxury liner that every car nut should check out. As you wait for the availability of this ship, you may check out the short teaser video above to whet your appetite.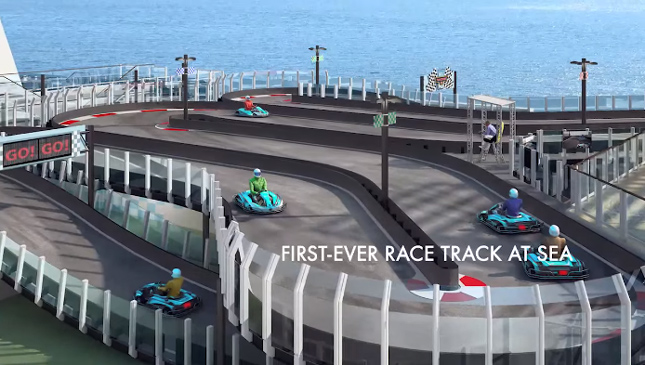 ADVERTISEMENT - CONTINUE READING BELOW ↓
Recommended Videos