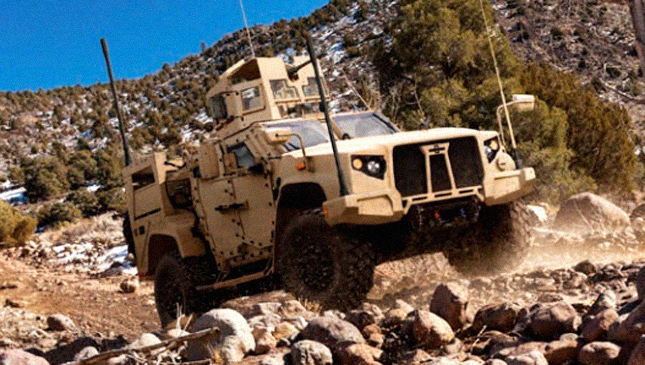 Over the past few decades, there has never been any vehicle more synonymous with America's military might than the Humvee--or the High Mobility Multipurpose Wheeled Vehicle (HMMWV for short). This war machine has seen action through nearly every modern conflict to date--Iraq, Afghanistan, the Balkans, Somalia. If it's a war, then this iconic truck has been there. But just like any good soldier, there comes a day when you have to settle down and leave the fighting to the younger guns. And it looks like the US military has found a more-than-capable new recruit.
Military vehicle manufacturer Oshkosh Defense (not the clothing line) has just been awarded a $6.75-billion contract to produce 17,000 units of its military-grade Joint Light Tactical Vehicle (JLTV). The Oshkosh JLTV has the daunting task of replacing the iconic Humvee, but is more than up to the challenge by the looks of it. Seriously, just take a look at the thing. It looks like the automotive love child between Stallone and Schwarzenegger bestowed with some form of otherworldly power by Aries, the god of war himself.
The JLTV boasts state-of-the-art turret and remote weapons operation systems, as well as a tube-launched missile system. It features a host of electronic warfare devices, including counter-radio electronic systems capable of rendering remotely detonated explosive devices futile. Its Core 1080 crew protection system is designed to protect passengers from underbelly blasts as well as whatever else opposing forces throw at it. An intelligent independent suspension system and 508mm wheels give the JLTV unprecedented levels of off-road capability. It seems a bit overkill. But we guess overkill is what it takes if you want to one-up the JLTV's legendary predecessor.
Continue reading below ↓
Recommended Videos
US Army assistant secretary of acquisition, logistics and technology Heidi Shyu says the military is very satisfied with the JLTV program. "They are delivering major improvements in protected mobility for soldiers, and have succeeded in executing a program that remains on-budget and on-schedule," the executive said.
War on wheels--we don't think there's a more appropriate way to describe this beast. While the Oshkosh JLTV looks pretty much invincible, we've seen reports that ISIS is actually filling huge-ass mining trucks with explosives and ramming them into military bases. It would be interesting to see if the JLTV could handle that.
If you're viewing this on a mobile device and can't see the video, please click here.