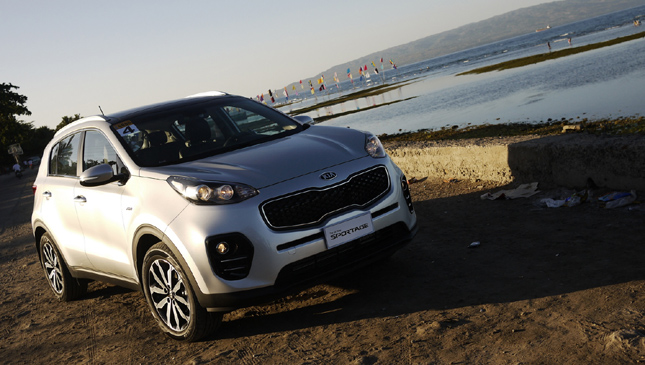 Recent studies indicate that half your brain stays awake whenever you sleep someplace new, alert for any possible danger. Which is probably why I found myself oddly awake at four in the morning in a strange bed, hours before sunrise. It takes a while to remember why I'm here, but when I do, I freshen up and shower quickly. I don't want to miss the sun rising over the waters of Dumaguete.
We're here at the invitation of Kia Philippines, for the company's "Journey To Take You Places" media event. As we sit at the Kia Bacolod dealership, there's an expectation that the destinations will be at least as interesting as the 250km drive ahead of us. Thankfully, dealership owners Jan Andrew Po and Peter Po have lent us several brand-new Kia vehicles to take there. Bless you, sirs!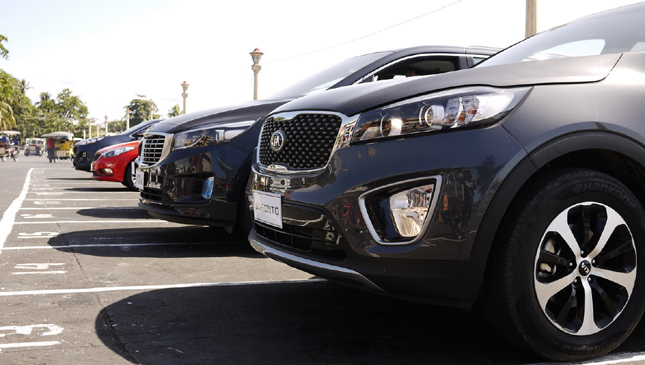 Three hours later, I am staring at a peculiar tree on the Eco-Tourism Highway, deep in the mountains. It is covered in prayers, branches drooping heavy with paper suspended from even the tiniest twig. I'm piloting a two-ton people-mover with half my brain and holding a conversation about children's cartoons with the other half. Am I driving the Carnival? The Sorento? I'm not quite sure. I've been on the road or in the air for nearly 12 hours at this point.
ADVERTISEMENT - CONTINUE READING BELOW ↓
The Sorento is a lovely mobile office for this trip. Dual panoramic sunroofs and an expansive cabin make light work of a heavy-duty drive. While there's no disguising the vehicle's bulk while barrelling into a downhill curve at speed, that punchy 2.2-liter diesel and sure-footed all-wheel drive system handle even the most challenging roads with ease.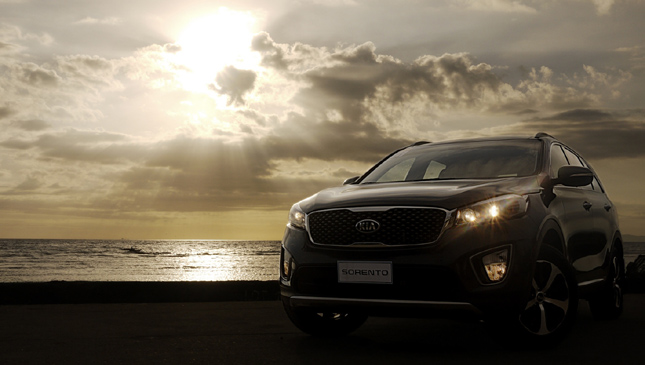 The Grand Carnival is built on the same platform, cut from the same cloth: It is competent, luxurious and madly quick. The 2.2-liter powerplant is much revvier, more potent and more refined than the old 2.9, and the ride and the handling are much less truck-like than before. The second-row captain's chairs rival the Alphard's as the ultimate in luxury. There's an 11-seat version, but it's pre-sold-out. Kia doesn't even have one for display. We do have a V6 variant playing escort to the media group. The pace up front, meanwhile, is being set by a couple of veteran racers in a pink Picanto.
ADVERTISEMENT - CONTINUE READING BELOW ↓
Recommended Videos
We end the trip in the Soul, though I have no recollection how we got it. Was it at the last gas station, or the mountainside lion? We've reviewed this before, but this new EX is much better spec'd than the LX we tested, with electronic climate control and tasty 18-inch alloy wheels. With a torquey 1.6-liter diesel and low-profile tires, it's proving more than a match for the sporty Forte behind us. The ride gets jiggly over the occasional broken-up road--relics of the Bohol quake of years ago--but it's nice being at the sharp end of the convoy for this final stint.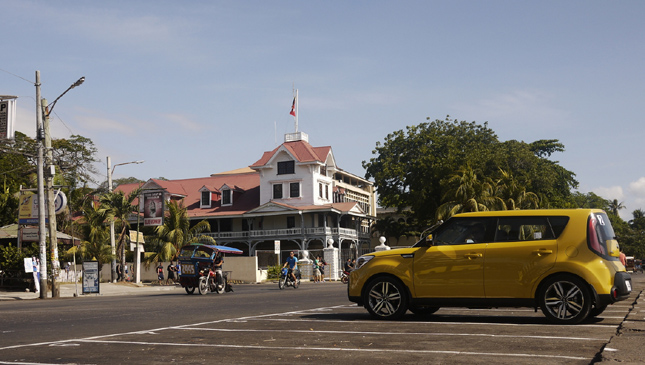 It's nearly sunset when we get to Dumaguete. There are tables lined up on the boardwalk, opposite the historic Silliman University, where locals and tourists can eat, drink and party. Down the road, Paulinian nuns sit in their boat, perched atop a stone water sprout, forever flying into the city where the very first Saint Paul was established.
ADVERTISEMENT - CONTINUE READING BELOW ↓
Our crew settles in at the Casablanca for a little taste of Europe. There are more foreigners eating here than locals--a testament to the authenticity of the food. After a little sightseeing at Silliman, it's lights out. Only to find myself annoyingly awake at four in the morning.
A few quick snaps of the sun rising over the bay, and we're off to Sumilon Bluewater Island Resort. There's a partially submerged sandbar with a steep drop-off here, where half-naked tourists and half-clothed locals step straight off the sand into 10, 15 or 20ft of clear blue water to scuba-dive or snorkel. Sadly, there's no whale-watching this time around, though a few greet us from a distance as we leave.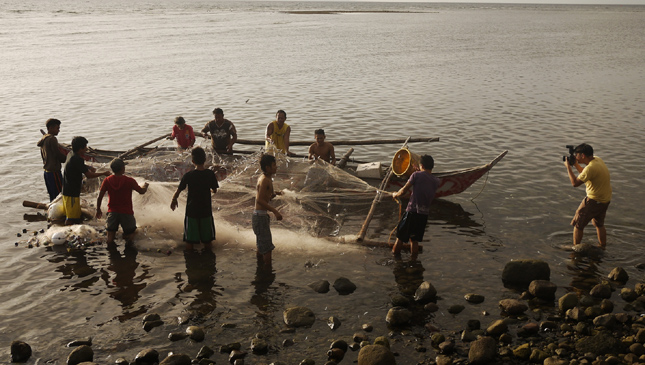 In the afternoon, we finally get to explore Dumaguete. It's a bustling city, with historic houses and churches. Colorful tricycles cart-loads of Europeans and the occasional Japanese or Korean between local hotels and ferry services leading out to nearby beaches and dive sites.
There's a feeling of being out of time here. The air is clean and only occasionally smells of fish. Police patrols chug around in vintage wartime Jeeps--complete with vintage machine guns. There are dozens of original ladder-frame Sportages here, more than I've seen anywhere else. As we take snapshots of the new Sportage, with its snazzy GT Line dress-up kit, a brand-new Carens pulls up beside us. The owner is eager to find out if the new Sportage is worth the money.
I wouldn't know--it's not my money. But I tell him it's a very nice car. There's LED lighting everywhere, lovely soft-touch plastics and leather, and a dual sunroof setup that's great for impromptu high-angle photography. It's bigger and more refined than the previous Sportage. There's power aplenty, and with its grippy low-profile tires and tidy handling, the Sportage finally lives up to its name.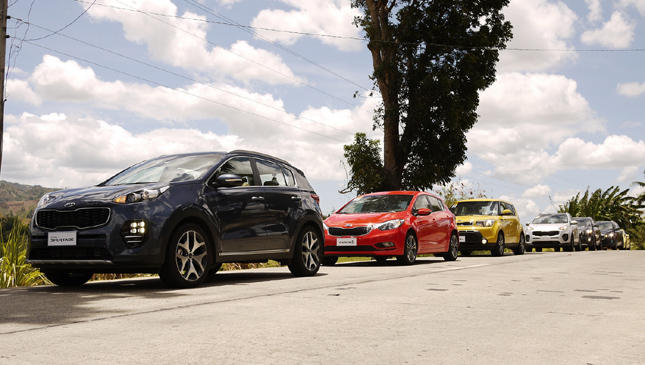 ADVERTISEMENT - CONTINUE READING BELOW ↓
After dinner and another short night's rest at the cozy La Residencia Almar hotel, we're up bright and early to wrap up photography. It's a lovely morning, but we're in a rush to finish. We have a flight to catch in Bacolod.
The roads back are exhilarating. In-town traffic consists mostly of tricycles, punctuated by sudden bursts of trucks and the omnipresent Ceres buses. Between towns, there are wide-open highways and gorgeous mountain passes interspersed with picturesque tree-lined avenues. We start out in the Sorento again, but graduate part-way to the five-door Forte.
The pace is hectic. Fast. Not tire-grainingly fast, but stray from the racing line and you find yourself understeering into the next lane. Our photographer is hanging out the window at 80kph, snapping pictures of the others as we wind our way through the mountains. We can't go any slower, or we'll lose the convoy. We can't go any faster, or we'll lose our lensman, who finally climbs back in as I gun it in an effort to get back to the front of the convoy.
The Forte's 2.0-liter motor is the only petrol in the media group. While not as responsive as a diesel, there's lots of power up top, and paddle shifters help shortcut the kickdown delay in auto mode. The car handles like a champ, yet the suspension soaks up bumps perfectly, neither dribbling or bottoming out over crests at speed, even with three people and luggage on-board. I'm told afterward that we were lifting the inside rear tire around every hairpin. I can believe it.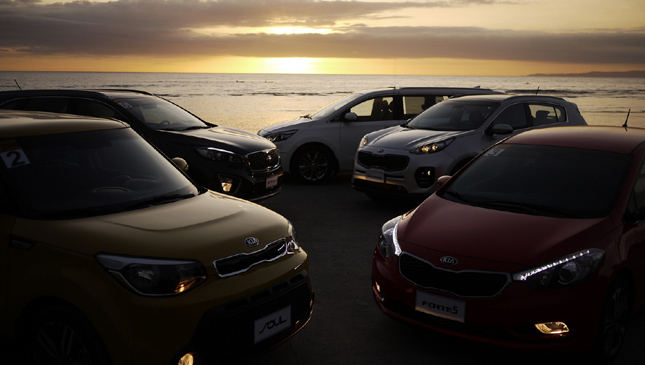 I catch up with the leaders at the San Carlos Solar Farm, the first commercial-scale solar plant in the country. Anachronistically, it sits in the shadow of a sugar refinery smokestack, serviced by diesel-chugging '60s-era cargo trucks. Once again, I'm struck by how the past and the future meet out here, far from the bustle of Manila. After a short bathroom break--and a quick squirt of gas--we're off again.
We coast into Bacolod on the last dregs of fuel in the Forte's tank. Gasoline well-spent, in my opinion. Weaving our way between electric tricycles and Indian-built tuktuks, we stop at Ading's Pala-Pala for a quick bite before our flight, and stuff ourselves with kilawin, fresh oysters, grilled marlin and, of course, chicken inasal. This fine example of true Bacolod dining is actually owned by ex-Manileño Ricky Trinidad.
Negros has been a lovely place to visit, with colorful sights and people. But while air and bus services are abundant, it seems a shame not to actually drive these wonderful roads, as yet unspoiled by the ever-present holiday crowd as the tourist-byways are in Luzon. While I'd like to say that I've gained a newfound respect for Kia on this trip, that's not quite true. I've always loved its cars. The brand's great strides in refinement and luxury have not gone unnoticed in these parts, and it's always a pleasure getting behind the wheel of a new Kia.
ADVERTISEMENT - CONTINUE READING BELOW ↓
Instead, I have gained an unholy fascination with the peppy little Picanto. If you're driving around the country to see the sights, there is no manlier way to do it than in a pearlescent-pink hatchback.
Let's make it happen, shall we?
Photos by Mikko David and Niky Tamayo