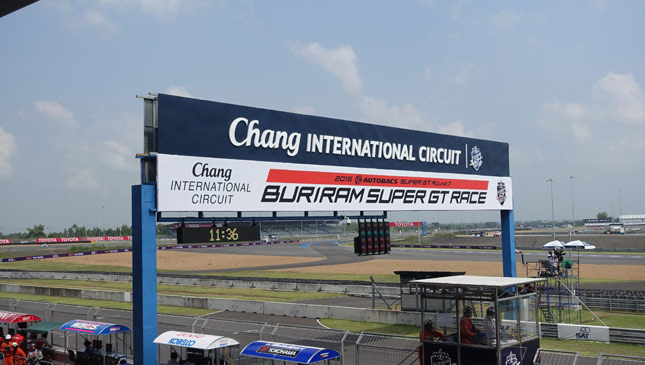 Here at Top Gear Philippines, our assignments can take us to places far and wide in pursuit of the best automotive stories. When we got the invite from Nissan to join the Nismo media group for round 7 of Super GT in Thailand, we spotted "Buriram" on the itinerary as the location of the racetrack. It took a quick Google search to figure out exactly where that was, since none of us had heard of the place before.
Buriram, it turns out, is a province in the northeastern side of the country and is about an hour flight away from Bangkok. As we rode a bus through what looked like a sleepy little town, we wondered why such a big event would be held this far away from the city. After the weekend was over though, we couldn't wait to recommend the trip to our fellow gearheads and readers.
ADVERTISEMENT - CONTINUE READING BELOW ↓
We've shown you the cool cars that were on the track and the beautiful girls that surrounded them, so what else is there to see in Buriram?
For one, there is a lot of racing. No, seriously. In between the GT300 and GT500 legs of Super GT, the track was filled with other types of races. We saw one battle between race-tuned Toyota sedans. Before that, there was a sprint with Honda cars. Even some lowered pickup trucks got in on the action. There was also a cool drift show before the final GT500 race. With the track rarely empty, fans definitely get their money's worth.
Plus, you get to watch all of this action on a world-class track. Opened in 2014, Chang International Circuit is the first FIA Grade 1-certified track in Thailand. This means that the racetrack in a Thai province would be fit to host a Formula 1 race. The track stretches 4.554km with a total of 12 turns, which results in a very exciting and dynamic show.
Before race day, we got to meet Nismo drivers Tsugio Matsuda and Ronnie Quintarelli, as well as brand ambassador Michael Krumm. Matsuda and Quintarelli are the defending series champions, having won the top spots in 2014 and 2015. The pair were not only racing for Nismo, but also for the storied legacy of the Nissan GT-R. Under Super GT rules, as the season leaders, they were hampered by a 100kg weight handicap. Both the media and the Nismo team knew that it would be a tough day ahead for the defending champs.
ADVERTISEMENT - CONTINUE READING BELOW ↓
Recommended Videos
To enjoy any racing event, enthusiasm is a must. The Thai fans, though, take their excitement to a whole new level. Drawing inspiration from their nationwide love for football, the Thais celebrate the races with flags, banners, and catchy chants in perfect sync. When you look up to the stands, you see blocks of different colors, as some groups even coordinate their outfits to support their favorite teams.
If you want to join the Thai fans on the color-coordinating action, you're in luck. At Super GT, some carmakers have booths set up for fans to explore. So if you want to rock a shirt, jacket, hat, umbrella or lanyard of your favorite brand or team, you can shop away to your heart's content. If you have a pass to enter the pit walk, some brands even give out gift bags filled with merch for free as you pass by. It's an easy way to get your pasalubong shopping done, too.
As the GT500 race roared on, Matsuda and Quintarelli began creeping up the grid despite their handicap. Unfortunately, at the 56th lap, the Motul Autech GT-R's day came to a premature end as Matsuda got into a crash. In a show of team unity, the entire room at the Nismo media booth stood in shock and glared at the TV monitor, waiting for Matsuda to emerge safely from the car. Luckily, no one on the track was injured.
Aside from the awesome racing action, going to Super GT also gives you a chance to see some foreign-spec production cars that you wouldn't normally spot on our roads. Out of all the models we saw, the coolest one had to be the Nismo R35 GT-R. The model on display had a white/black/red color scheme, with orange brake pads shining underneath a set of black wheels. It's simple, yet sporty and elegant.
ADVERTISEMENT - CONTINUE READING BELOW ↓
So the next time you think about going overseas to watch a race, consider flying out to Thailand for a weekend. Buriram might be a sleepy town, but the action at the Chang circuit will leave your heart pacing for days.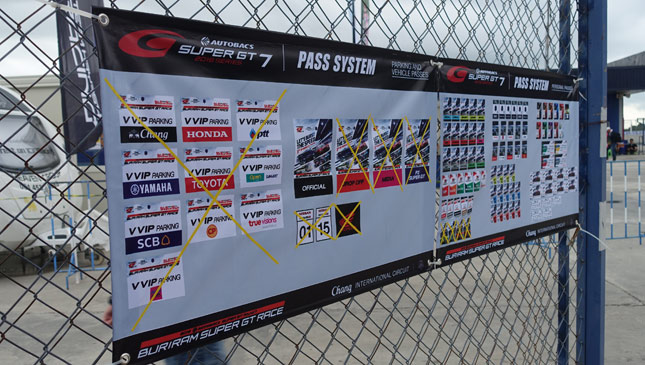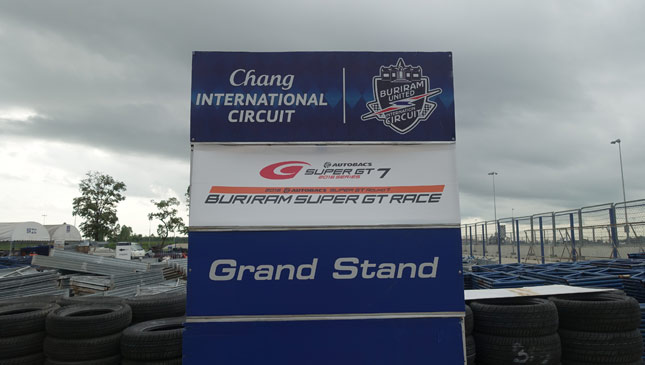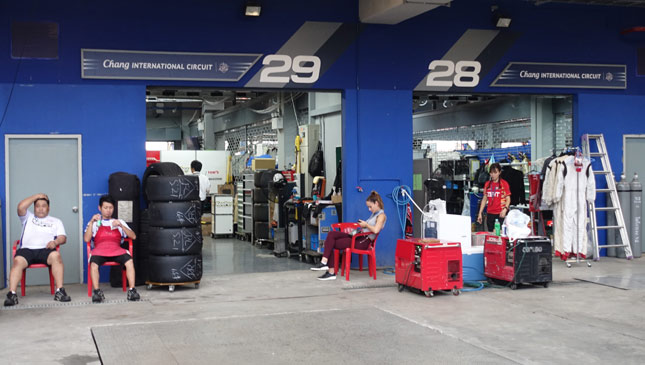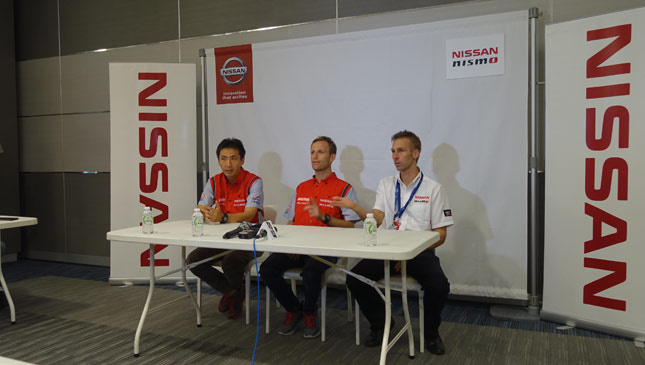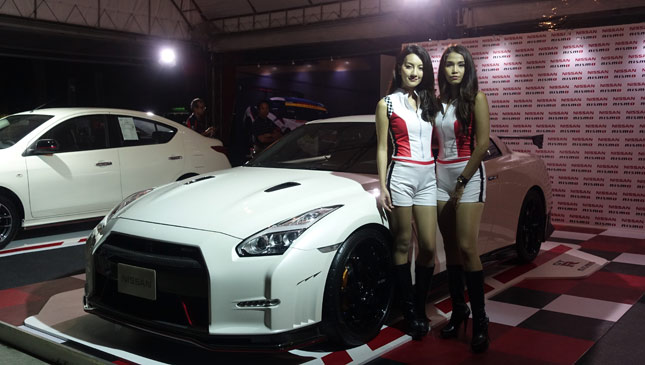 ADVERTISEMENT - CONTINUE READING BELOW ↓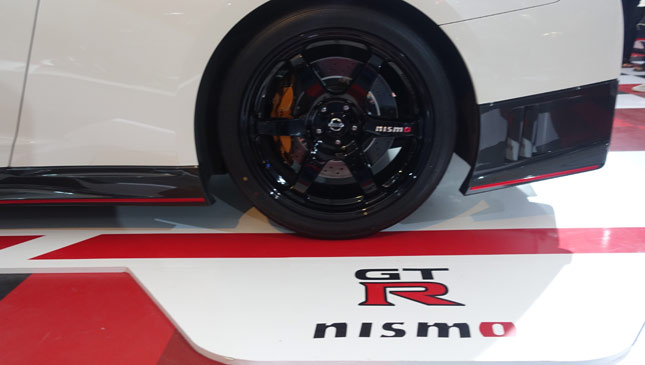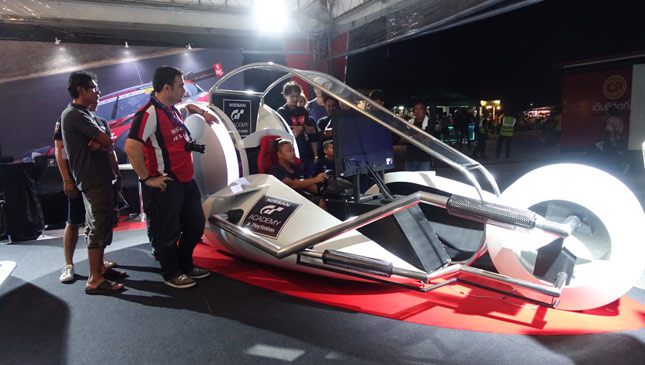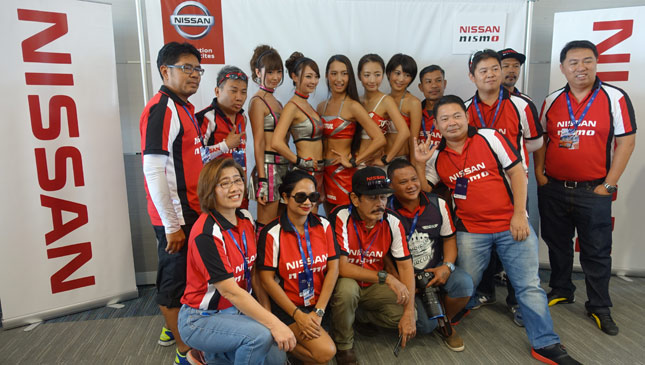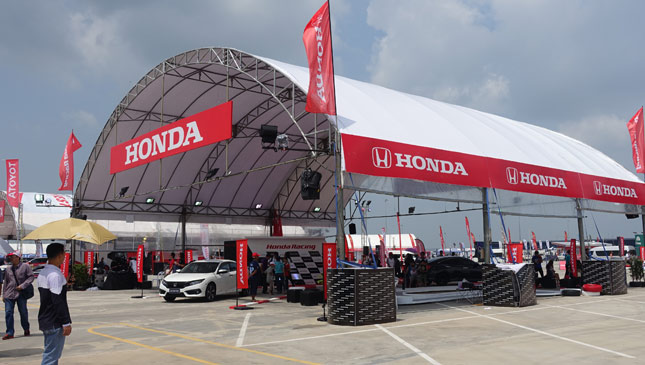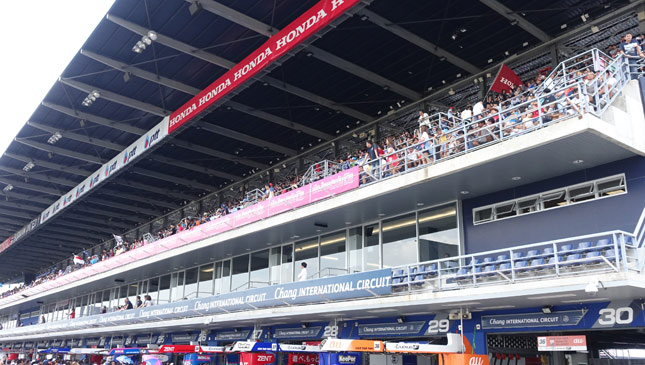 ADVERTISEMENT - CONTINUE READING BELOW ↓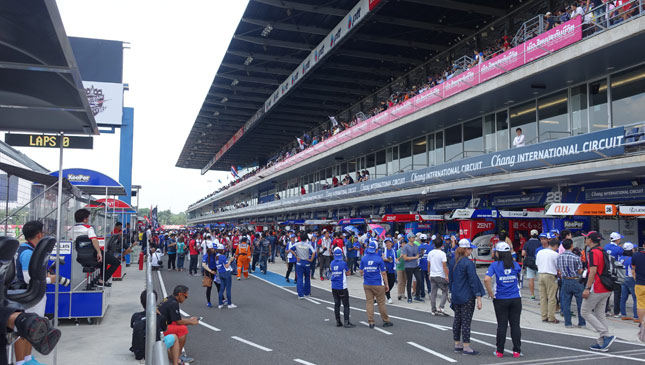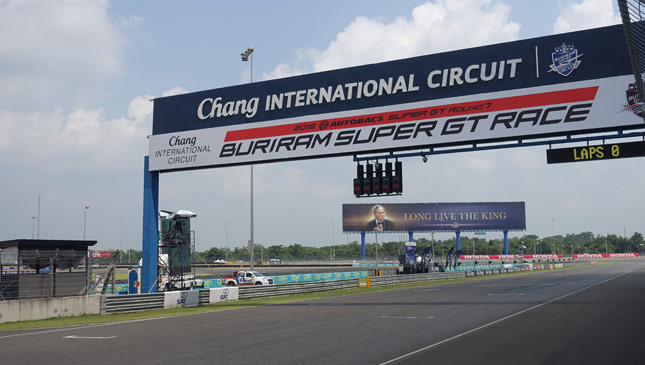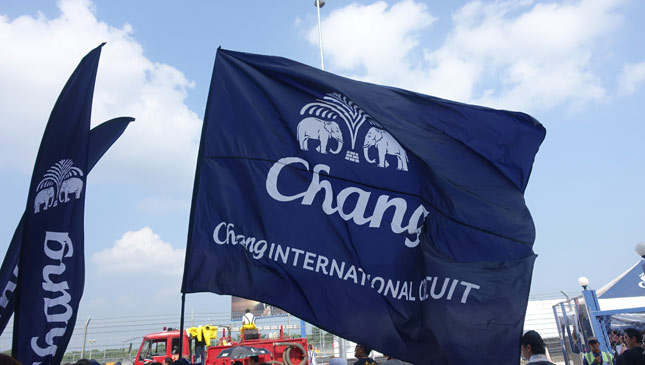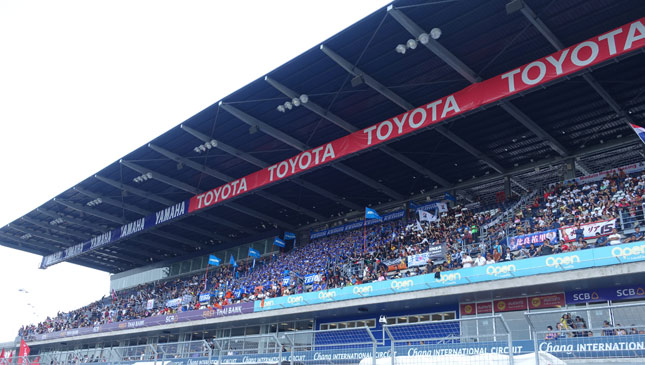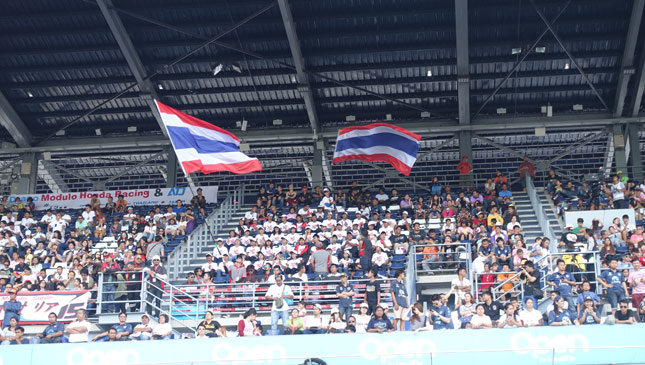 ADVERTISEMENT - CONTINUE READING BELOW ↓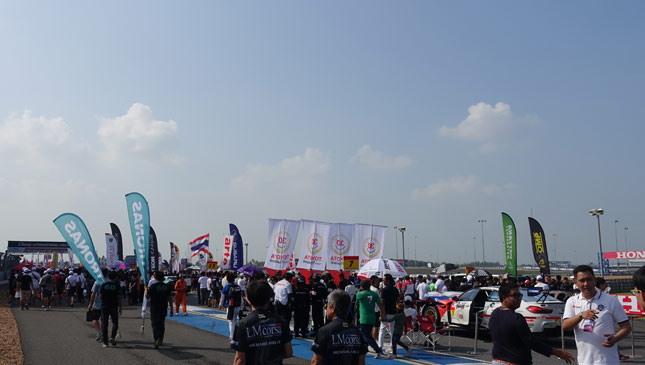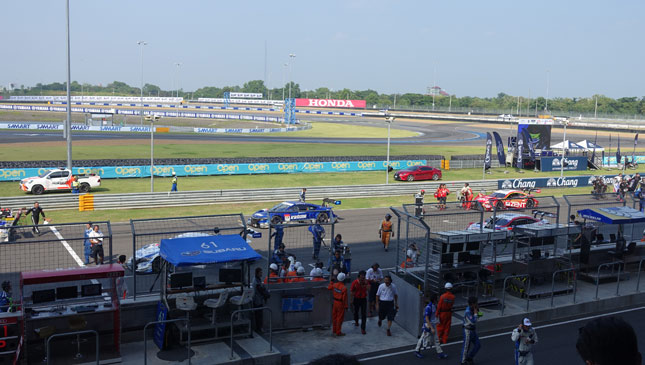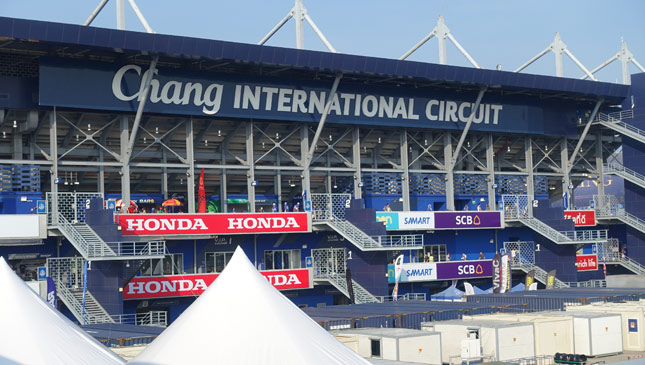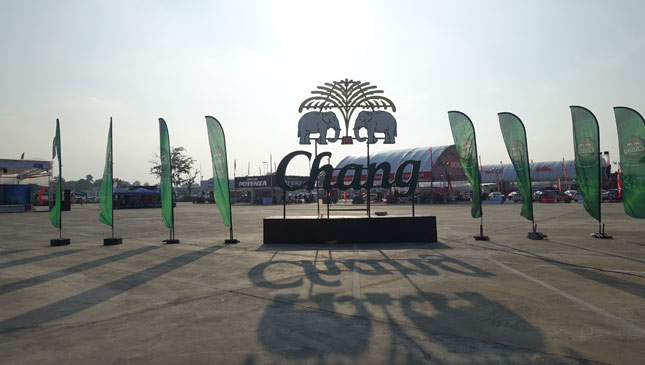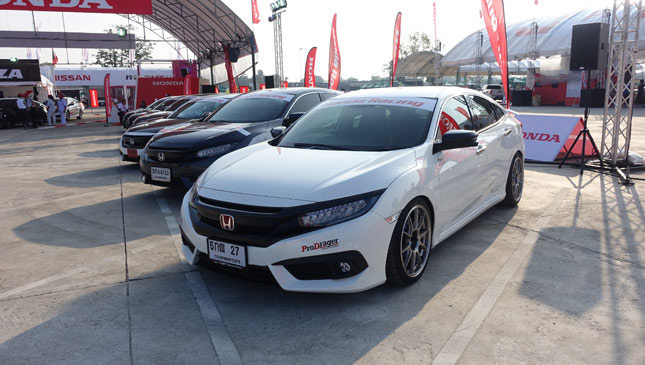 ADVERTISEMENT - CONTINUE READING BELOW ↓