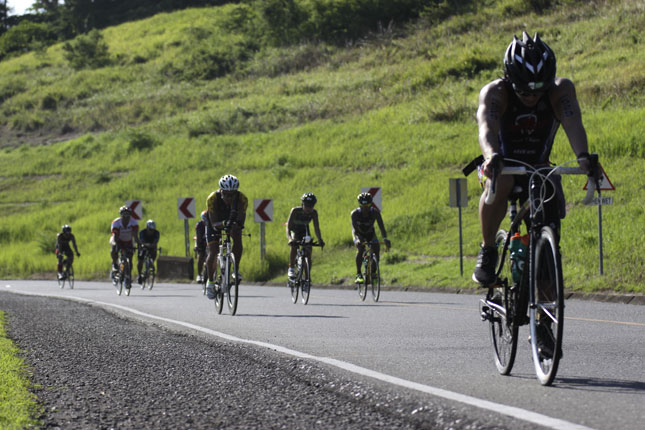 Over a bag of chips, our team was having a brainstorming meeting one Tuesday afternoon. It was not exactly brain food, but when we ground the junk food into digestible bits, the crunch somehow helped our brains think of content for the website.
As I took a bite, my mobile phone rang with an unfamiliar number. I picked it up and found out it was Jeanette Tuason, marketing boss of motorsports events management Tuason Racing School, and one of the Philippine Daily Inquirer's motoring columnists. She was inviting me to do the 40km bike leg for the following weekend's triathlon competition in Subic, where we would race with a group of people from the motoring beat and the automotive industry.
Jeanette had excellent convincing powers, because despite having logged 0km on my bike for the past seven months, I said yes. Just two hours ago, I had brushed aside my multisport teammate's prodding to race a duathlon in three weeks' time "because it was too soon." And now here I was, racing in less than a week.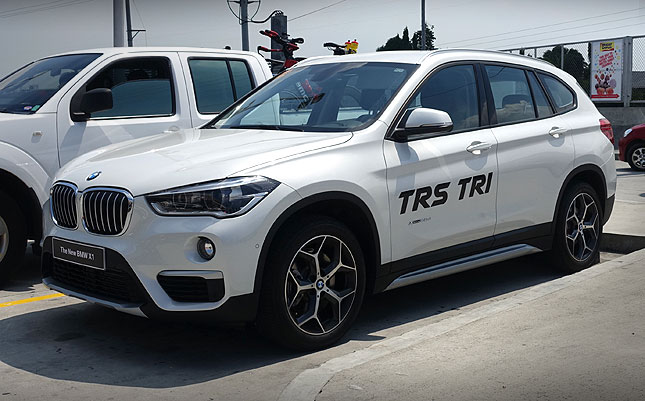 I ticked my checklist of race essentials one by one--from the spare inner tubes to my race-day nutrition consisting of the most disgusting grub ever created (energy gels). I would later find out that the event was called Regent 5150 and Sunrise Sprint, where some of my teammates and friends were also competing.
Come Thursday, I joined my race-ready teammates for a 30km ride to get a feel for my roadie again, and rehearse my nutrition and hydration strategy. Come race weekend, with my butt and calves still sore from that short ride, I hitched with Jeanette's multisport team, the TRS Tri Team, in comfortable BMWs, the X1 and the X6.
Good thing both vehicles had well-cushioned seats and ample legroom, so the drive to Subic was comfortable. It was tempting to get behind the wheel of the 2.0-liter X1 crossover and experience the eight-speed automatic transmission, but I chose to be a passenger to get some shut-eye because I'd had just three hours of sleep due to the early call time.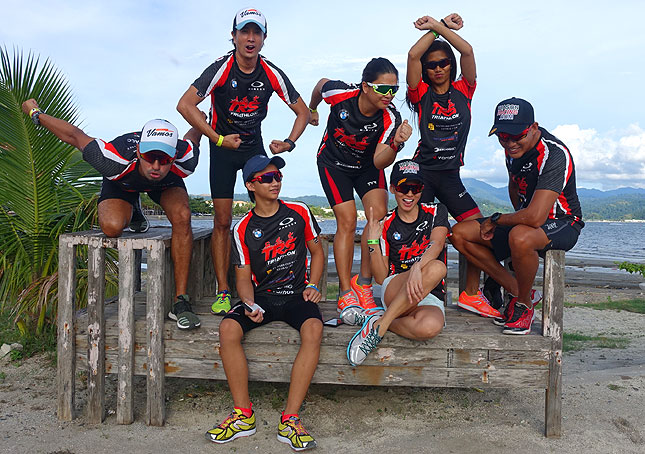 Led by Tuason Racing School head honcho and former race car driver JP Tuason, the TRS Tri Team is composed of JP and Jeanette's industry friends who also have a passion for health and wellness. I noticed that they all had a competitive streak in them, too. Jeanette was first to dabble in triathlon--a sport that involves swimming, biking and running--by competing in a sprint race a few years back.
Obviously an adrenaline junkie himself, JP was enticed and got addicted to the sport. Now, even their eldest son is also into triathlon. Pretty soon, the couple's multisport pursuit trickled down to their industry friends including Vios Cup racers Sam YG and Joyce Pring, and their barkada became big enough to form a team. Ironman-certified coach Al Gonzalez oversees the group's training and race preparations.
For the group's first race as a triathlon team in Subic, Sam and Jeanette were racing the sprint event comprising a 750m swim in the waters of Acea Beach, a 20km bike ride and a 5km run. JP was competing in the standard distance, which involved a 1km open-water swim, a 40km bicycle ride and a 10km run. Two relay teams racing the standard distance were formed, with two guest athletes from a carmaker.
It was a little embarrassing that these car-industry executives and TRS bosses JP and Jeanette could squeeze in time to train despite their busy schedules, while a motoring journalist like me had been slacking off. Every morning, I almost always choose my bed over an easy run at a gym housed in my building.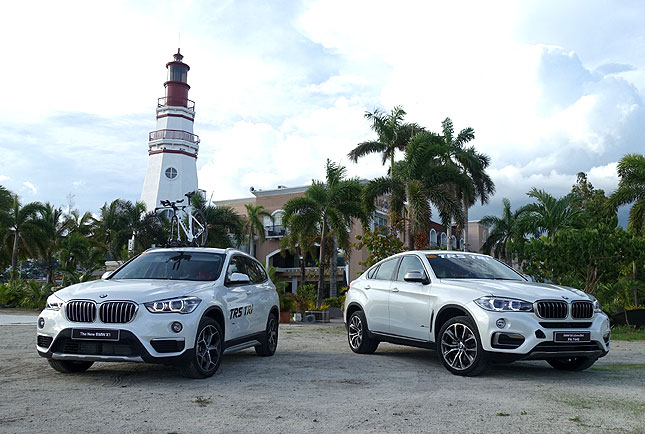 Unfortunately for the other relay team, I was the guest athlete who was simply too out of shape to compete, with Coach Al as swimmer and Patty Dimaano-Moncera of TRS Tri Team as runner. "What's your nutrition on the bike?" Coach Al asked me before dinner on Saturday night.
My brain took a while to process his question as I worried about my calves and how they would tackle the hills of Subic without cleats and proper bike shoes. I mentioned my gel and water combo meal, plus a pre-race hydration of Japanese sports drink.
A confession of sore legs followed, so the coach wouldn't be surprised with my near-cut-off bike time. I expected a sermon on proper race preps, but I instead got a valuable piece of advice that would later help me survive 40km on the saddle: "Treat it as a comeback long ride. You'll be tempted to go fast on the flats of the airport, but don't. Save the energy for the hills and take advantage of the downhills."
With only less than 12 hours to go before the race, the team gathered for dinner of carbohydrates, protein and fat. Which meant bagnet kare-kare with bagoong rice. "Whatever happens on race day, we hold no judgment," Jeanette said, thus calming my nerves. It was nice to know that the team was not pressured to make it to the podium on its maiden race. I just had to finish the bike leg before cut-off and live to tell the tale.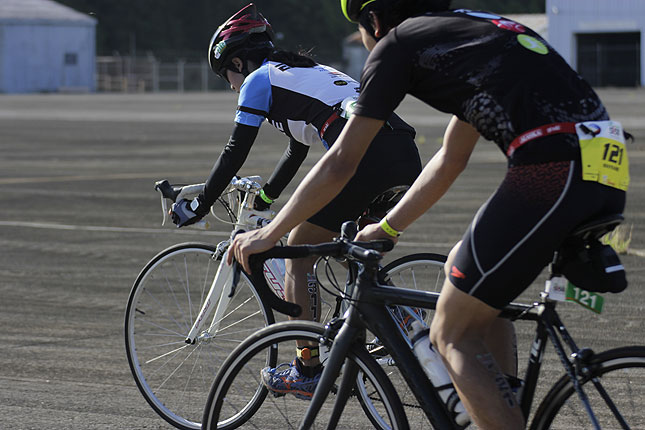 On race day, I waited in the relay tent beside Transition 1, and steadily inhaled and exhaled as if attending a yoga class. I was hoping this kept my heart rate from going up, which usually happens before I even mount the bike on race day.
I spotted my swimmer, and as I ran to get my roadie Falcon off the rack, I kept reminding myself that I should pace myself wisely. Although I hadn't had the time for a reconnaissance ride, which is highly recommended, the bike course was easy to follow because race marshals and kilometer markings were scattered along the route.
As expected, the first section of the course was at the Subic International Airport, a flat road that enabled me to easily spin at 25kph. But I knew that 25kph was my average speed for a 90km ride back in the days when I had been as dark as the paint job of the Mazda 2 Midnight Edition and had been logging 80-120km per week.
So I slowed down to an easier 18-20kph, and several cyclists zoomed past me. Seeing someone else's butt in front of me sent a signal to my legs to increase their rpm, but I knew that if I pushed harder, I raised my chances of cramping. So while everyone else was in Sport Mode, I was in Economy Mode, conserving power for the uphill battle.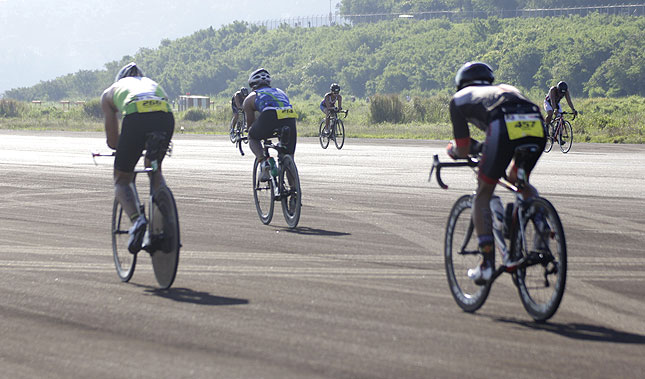 Some bicycles overtook with a statement, their wheels and groupset having that sound unique only to fancy bikes. They let me eat their dust easily, the same way an M3 could effortlessly leave behind a puny 1.0-liter economy hatchback.
I struggled through the seemingly endless uphill climb at speeds of 7.5kph, a pace slower than my easy runs. I made up for it through the downhills by shifting to smaller cogs and letting Falcon roll at 47kph, with the wind whistling and my race bib flapping.
It's not so bad or scary, I thought. I began to realize that I actually missed taking Falcon out for a ride. On the flats, I took my water and gel, which, in my exhausted state at this point, was now the best nourishment ever created.
Two hours and six minutes later, I finished the 40km ride in one piece and reached the bike dismount area. With tired legs and a numb butt, I hurried to rack Falcon and pass on the timing chip to our relay team runner.
Before cut-off, every member of the TRS Tri Team had crossed the finish line with a smile. A small post-race review was scheduled over lunch, before we would drive back to Manila with our comfy BMW rides.
A triathlon is no walk in the park, but as these automotive industry players have displayed in their debut race, it can be done with proper training and preparation. Hiring a professional coach is also a big help. Sure, you may be able to survive one leg of the triathlon without proper training (like I did). But when you enlist for a triathlon event, you sign up to race and finish strong, not to watch everyone else overtake you and crawl to the finish.
If you wish to experience the adrenaline in an actual multisport competition and be like your racing idols and car executives, join the TRS Tri Team's first triathlon camp later this year. It should help you prep for your maiden multisport race.
Disclaimer: I didn't open a bag of chips to write this. Until the next ride!
Photos by Trina Elefante and Tracy Carpena