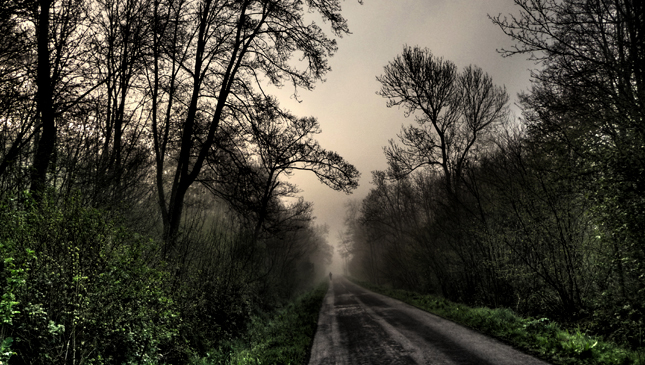 There will always be areas--regardless of whether you're in a car or on foot--that will raise the hair on the back of our necks. It's only natural, after all. It doesn't matter if it's because of the route's less-than-perfect safety record, or tales of white ladies and other paranormal figures lurking about in the dark. We all have that one place that scares us.
ADVERTISEMENT - CONTINUE READING BELOW ↓
We've driven and ridden through plenty of roads on the edge of our seats--Halsema Highway, Tagaytay National Highway and even some right here in Metro Manila. Here are some of the places we'd hate to drive through alone:
* Paulo Rafael Subido, print associate editor: Loakan Road in Baguio. Lots of ghost stories, and I've had my share of paranormal encounters.
* Raynand Olarte, art director: Sumulong Highway. The road going down from Antipolo to Marcos Highway--especially past 2am because it's very dark. It has dangerous turns and corners, too. Pair them with speeding jeeps, trucks and motorcycles, and you get the point.
* Jason dela Cruz, test drive editor: Those WTF roads Waze lead you to, especially at night. 'Yung may talahib tapos mukhang pwede kang ma-ambush.
* Aris Ilagan, motorcycle editor: Tagaytay National Highway. I always have goose bumps when I pass through the twisty portions, knowing that lots of riders have been killed in the area due to vehicular accidents. When it's night time and foggy, I tend to imagine spirits walking in the middle of the road, flagging down motorists.
ADVERTISEMENT - CONTINUE READING BELOW ↓
Recommended Videos
* Chira dela Cruz, multimedia producer: The traffic jam at North harbor pier, and then Waze led me to a shortcut. I regretted taking it because of the narrow roads, which didn't make my trip any faster . Not exactly a ghost story, but still scary for someone driving alone at midnight.
* Drei Laurel, online editorial assistant: The Addition Hills area past 12am. It's dark, empty and easy to get lost if you're not familiar with the area--the place just really gives me the creeps. Whenever I find myself passing through, I turn on the lights, turn up the music and try to restrain myself from checking the rearview mirror every 5 seconds.
* Jason Tulio, online staff writer: The back roads of Zambales at night. Nothing but you, a dark road, and trucks driving over 100kph from the opposite direction.
* Dinzo Tabamo, online associate editor: Do any of you guys have any scary routes you'd like to share with us? Duwag na kung duwag. Magkaalaman na lahat tayo.
ADVERTISEMENT - CONTINUE READING BELOW ↓