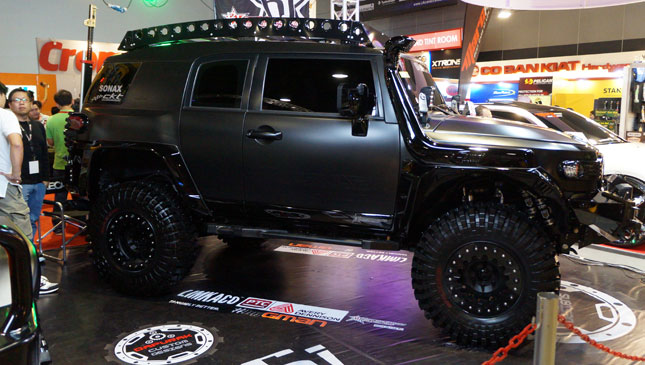 The year 2015 saw the rise of pickups, SUVs and other 4x4 vehicles in the aftermarket scene. Indeed, the most anticipated models at launch were the all-new Nissan Navara, the Ford Everest, the revamped Ford Ranger and, of course, the Toyota Hilux.
From a tuner-project point of view, 2015's most popular model was, without a doubt, the Toyota FJ Cruiser. Its popularity rivaled that of the Toyota 86, and it had in fact beaten the longevity of the 86 as demand for the iconic 4x4 remained strong nationwide. With Toyota having no direct replacement for this amazing SUV anytime soon, it has reached collector-car status worldwide. At the Manila Auto Salon, no fewer than 10 FJ Cruisers were on display, prompting organizers to create a special category for this SUV.
To better understand the appeal of 4x4s, I asked a variety of aftermarket shop owners, enthusiasts and industry executives why these vehicles are so popular.
They said the foremost reason that people buy 4x4 vehicles is for their practicality and versatility. You can really appreciate the convenience of a tall-riding vehicle. The Philippine road network isn't exactly super-smooth. There are numerous obstacles, road debris, potholes, unpaved sections, and poorly surfaced roads even within the most exclusive districts of Metro Manila. Flash floods brought about by bad weather are another common reason cited by many.
Continue reading below ↓
Recommended Videos
When it came to upgrading their trucks, the two most common upgrades were suspension lift kits and wheels. The former raised pickups/SUVs anywhere from two inches (the maximum recommended height for maintaining highway stability) all the way to monstrous six-inch lift kits. In this regard, the Australian brands reigned supreme last year: Dobinsons Spring and Suspension, ARB's Old Man Emu, Ironman and Opposite Lock. Thailand's Overland Raccoon Jump kit followed closely in popularity, while German brand Bilstein remained a favorite of the more traditional enthusiast.
After lifting their vehicles, many enthusiasts also opted to install more aggressive, meatier and larger wheels and tires. While many Asian trucks run on a 31-inch overall diameter, upgrading to a 33- to 34-inch wheel-tire combination shod in all-terrain rubber proved to be a really hot ticket. Nitto, Saffiro and BF Goodrich were the most popular of the mainstream brands, but Asian brands such as Achilles (from Indonesia) proved in demand, too.
Additionally, tire manufacturers like Dick Cepek introduced hybrid compound tires that allowed aggressive mud terrain tread designs to be usable on wet tarmac (usually a dangerous proposition) by giving the rubber an amazing blend of grip and longevity. Black Rhino wheels were the most popular mass-market brand, and there was a resurgence in demand for Volk Racing's TE37 model in large-pitch circle diameters for 4x4s. Old names like Bradley and Raguna wheels made a comeback; these had previously been popular only with old-school 4x4 enthusiasts. With a lift kit, bigger wheels and tires, steel bumpers, rock sliders and bull bars, any 4x4 can pull off that tough overlander look.
But what about traditional sports cars or tuned rides? It's a shrinking market, with fewer new enthusiasts getting in the game. Yet, for those who remain in it, now is an amazing time. Tuning has evolved greatly, particularly aftermarket ECU customization.
AEM Electronics, a household name for stand-alone ECUs, finally has a local representative in the Philippines. This has made its products and tech support accessible and, in many cases, cheaper as well. AEM also sells a line of auxiliary gauges, its popular water-methanol injection kits, fuel pumps and regulators, and other electronics alongside its groundbreaking Infinity ECU.
This ECU allowed the use of 1,000cc or larger Bosch EV-14 style injectors, locally offered by Deatschwerks or Fuel Injector Clinic, to be used on normal street cars with no problems at all. Now there are so many cars making power at the 600-800hp level that remain very "streetable" and well-behaved, ranging from Ford GTs, Nissan R35 GT-Rs, and Porsche 911 Turbos on stock blocks and engine internals.
For those looking for a more modest outlay (with equally modest but worthwhile gains), companies such as TMC Motorsport also offer a simple, non-intrusive reflash for your engine and transmission by connecting to your vehicle's OBD-II port. TMC reflash gains range from 15hp (for an FJ Cruiser) to 30hp for a typical CRDi turbocharged SUV.
Aerodynamics has also found its way into the local tuning scene. A quick look at the Philippine GT series race cars--essentially road-going track cars that have been given an extensive makeover for performance and safety--will reveal a lot of aerodynamic modifications: splitters, diffusers, venturi tunnels and the like. These are displayed not just for show, but for real functionality as they are mounted directly to the main chassis. The aero parts transfer aerodynamic load directly to the body, increasing cornering grip and straight-line stability.
Lastly, for those who have stayed true to traditional tuning but have graduated from the usual four-cylinder rice rockets to more exotic machinery, the array of options is eye-wateringly huge! RAUH-Welt Begriff, Prior Design, Liberty Walk and the ever-famous Rocket Bunny line of bodykits are now available locally through established dealers like Car Porn Racing and Emperor Motorsports. At last year's Manila Auto Salon, Car Porn Racing displayed the amazing Liberty Walk 911 Turbo and Lexus RC-F, both kitted to the nines with wide kits, huge wheels, and air suspension--the latter another growing fad for these mad, tuned exotics.
Last year was exciting, but as we turn the leaf to 2016, it's hard not to think that things will be even bigger, better, wilder and ultimately more polished and refined, as the tuning and aftermarket industry matures and raises its goals and standards. Whether the scene continues to embrace SUVs or goes back to sports cars, it's going to be hella fun either way.
Photos by Botchi Santos