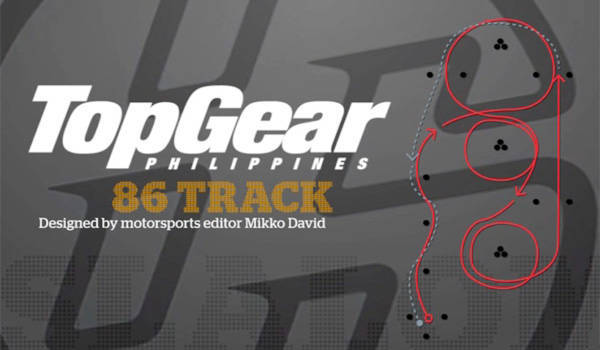 When we first got our hands on the Toyota 86, the first thing we did was devise a way for us to have maximum fun behind the car's sporty steering wheel. So, we asked our motorsports editor Mikko David to design a gymkhana track at Subic Bay International Terminal Corporation. Then, the boys on our team would have a go at the track and try to beat each other for the fastest time.
The above track is what Mikko came up with. You may not immediately see it, but if you look closely, the track is patterned after the numbers '8' and '6'.
The exercise would have been perfect if it weren't for the nonstop rains. It was relatively dry when Mikko and assistant Marlon 'Taz' Dacumos laid out the track, but then it poured heavily after.
Below is the video of how our boys fared. Participating in this mini competition were editor-in-chief Vernon B. Sarne, associate editor Paulo Subido, consumer editor Botchi Santos, associate features editor Dinzo Tabamo and online staff writer Patrick Tadeo. One of them made a wrong turn, and was thus unable to submit a valid time. Another was awfully slow.
ADVERTISEMENT - CONTINUE READING BELOW ↓
By the way, we drove 86 units equipped with manual transmission.
So, who do you think won? Watch the video.
Camera: Sony Alpha 77
If you're viewing this on a mobile device and can't see the video, please click here.
ADVERTISEMENT - CONTINUE READING BELOW ↓
Recommended Videos