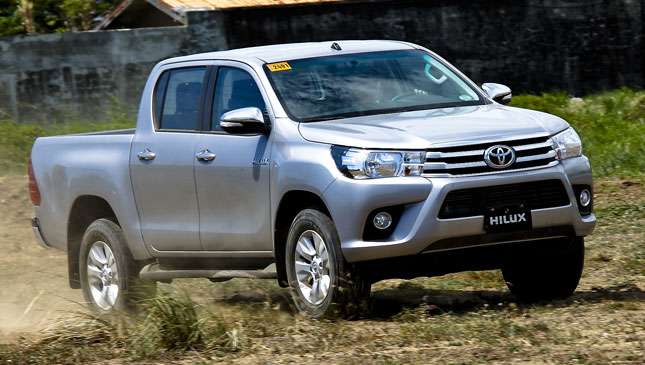 Last week, we wrote about Toyota Motor Philippines' updated price list in response to the Tax Reform for Acceleration and Inclusion Act (TRAIN), as posted online by one of its dealers. Yesterday, the Japanese carmaker updated its website to make those prices officially official. If you want to see the new price list again, click here.
ADVERTISEMENT - CONTINUE READING BELOW ↓
Now, given the tricky nature of vehicle pricing, not all of Toyota's prices increased by the same margins. In fact, some of them even got cheaper. Let's look at some of the biggest changes.
Biggest decreases
Variant
2017 SRP (Peso)
2018 SRP (Peso)
Price difference
% difference
Hilux 4X4 2.8
G DSL MT
1,607,000
1,462,000
-145,000
-9.02%
Hilux 4X4 2.8
G DSL AT
1,737,000
1,592,000
-145,000
-8.35%
Hilux 4X2 2.4
G DSL MT
1,260,000
1,165,000
-95,000
-7.54%
Hilux 4X2 2.4
G DSL AT
1,335,000
1,240,000
-95,000
-7.12%
Land Cruiser LC200
PREMIUM 4.5 DSL AT
5,000,000
4,650,000
-350,000
-7.00%
Perhaps the luckiest model in all of this is the Land Cruiser, which saw no increase in prices across the board. In fact, the top-of-the-line LC200 Premium went down by 7%, while the rest of the lineup decreased by 5.13% to 5.99%. The 4.0 V6 Prado, meanwhile, is still the same price. Oh, and so is the luxurious Alphard.
The Hilux, too, was a big winner—expected, given that the TRAIN specifically excluded pickups from the new taxes. The 4x4 2.8-liter G DSL variants each saw a significant drop in price: 8.35% for the automatic, and 9.02% for the manual. Among the 4x2s, price drops ranged from 5.72% up to 7.12%. The HSPUs got a minor bump (less than 4%), while the cab and chassis variant sees no changes.
ADVERTISEMENT - CONTINUE READING BELOW ↓
Recommended Videos
Biggest increases
| Variant | 2017 SRP (Peso) | 2018 SRP (Peso) | Price difference | % difference |
| --- | --- | --- | --- | --- |
| Corolla Altis 2.0 V AT | 1,320,000 | 1,451,000 | 131,000 | 9.92% |
| Rav4 4X2 2.5ACTIVE | 1,295,000 | 1,420,000 | 125,000 | 9.65% |
| Fortuner 4X2 2.4G DSL MT | 1,465,000 | 1,592,000 | 127,000 | 8.67% |
| Fortuner 4X2 2.7G GAS AT | 1,471,000 | 1,597,000 | 126,000 | 8.57% |
| Innova 2.8 VDSL AT | 1,496,000 | 1,624,000 | 128,000 | 8.56% |
Okay, so on to the bad news: Some of the most popular Toyota models received significant price upticks. Let's take the Fortuner as an example. For the top variant valued at over P2 million, the difference is very minor at 0.76%. But below that, the increase starts from 3.98% up to 8.67%. The Innova, too, suffers the same fate, with differences of up to 8.56%. To put the latter in context, the 2.8 V DSL AT was priced at P1,496,000; now it sits at P1,624,000.
The Avanza's changes are noteable as well, particularly with the 1.3 E variants. The automatic version got pricier by 6.20% while the manual went up by 6.53%. In real-world numbers, each one is now roughly P50,000 more expensive.
The biggest loser in the lineup is the top-spec 2.0 V AT Corolla Altis. Last year, it cost P1,320,000. Now, it's 9.92% more expensive at P1,451,000. That will have a significant effect on the monthly payment terms offered by banks and dealerships. Luckily, things get a bit friendlier when you go further down the line. Both the Wigo and Vios increased in price, but the biggest bump is only 3.03%, and that's for the top-spec Vios.
ADVERTISEMENT - CONTINUE READING BELOW ↓
So what can you summise from this? Do the lower income taxes compensate for the pricier affordable cars, or are the luxury buyers simply getting the better end of the bargain? Let us know.