With the recent launch of Isuzu's new 1.9 -liter RZ4E turbodiesel, the manufacturer has set out to challenge everyone's notions about what a workhorse diesel should be. We've been so accustomed to high displacement turbodiesels ranging from 2.2-liters all the way to 3.0-liters, and have equated these to levels of torque and power we deem satisfactory for our needs. Surely some people think that a 1.9-liter lump, a third of a liter down from the current small displacement engines in the market, would fair poorly.
But don't let the displacement fool you. Lighter materials, and a new breed of thinking have given the small displacement RZ4E engine more power and torque than its 2.5-liter predecessor.
As an in-house experiment, the folks at IPC (Isuzu Philippines Corporation) have put together this blue, accessorized 4x2 RZ4E D-Max, as a working concept. Jazon Sajol, Product Planning Supervisor for Isuzu Philippines, was instrumental in putting together this build. From conceptualization, execution, and testing, Jazon had first-hand experience with the buffed-up pickup. According to him, their team had free reign over what parts to add on.
ADVERTISEMENT - CONTINUE READING BELOW ↓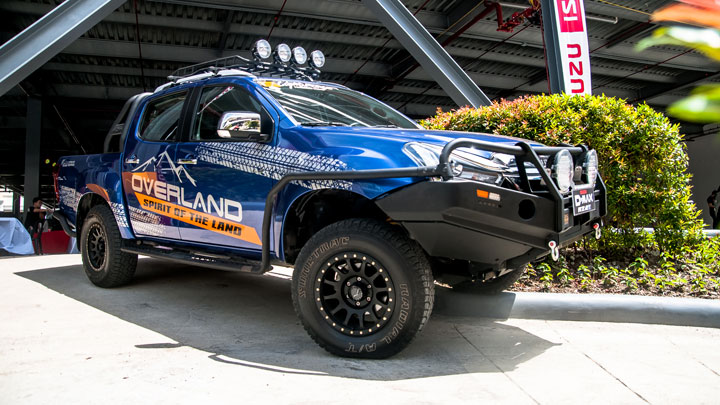 The truck now sports Overland K2 series bumpers and siderails, which immediately give it a brutish exterior. Overland 1.10 17-inch alloys are an inch up from the stock 16-inch factory wheels, and are shod in Max Trek All-Terrain 265/70 tires. These are held up by a two-inch lift care of an Overland suspension setup with new front coils and Old Man Emu dampers all around. Center stage is occupied by two massive LED lamps, plus four halogen lamps mounted on the Hippo Industries roof rack.
ADVERTISEMENT - CONTINUE READING BELOW ↓
Recommended Videos
All together, the setup has turned the once tame-looking 4x2 pickup into a beastly trekker. And although the setup was put together as an exhibit vehicle for Isuzu's 4x4 Extreme Experience Roadshow, this truck has proven it's more than just about its good looks. Jazon himself took a land trip from the Isuzu Philippines factory all the way to Cebu. And according to him, despite the added weight of the off-road armor, the RZ4E performed beautifully, hauling the truck and its occupants through varied terrain, including mountain passes and highways.
We asked IPC president Hajime Koso what he thought of the beefy looking prototype, and he answered that he was interested in it and that they'd discuss the possibility of a limited-edition run.
What do you think, dear readers? Would you like to see Isuzu offer this beastie?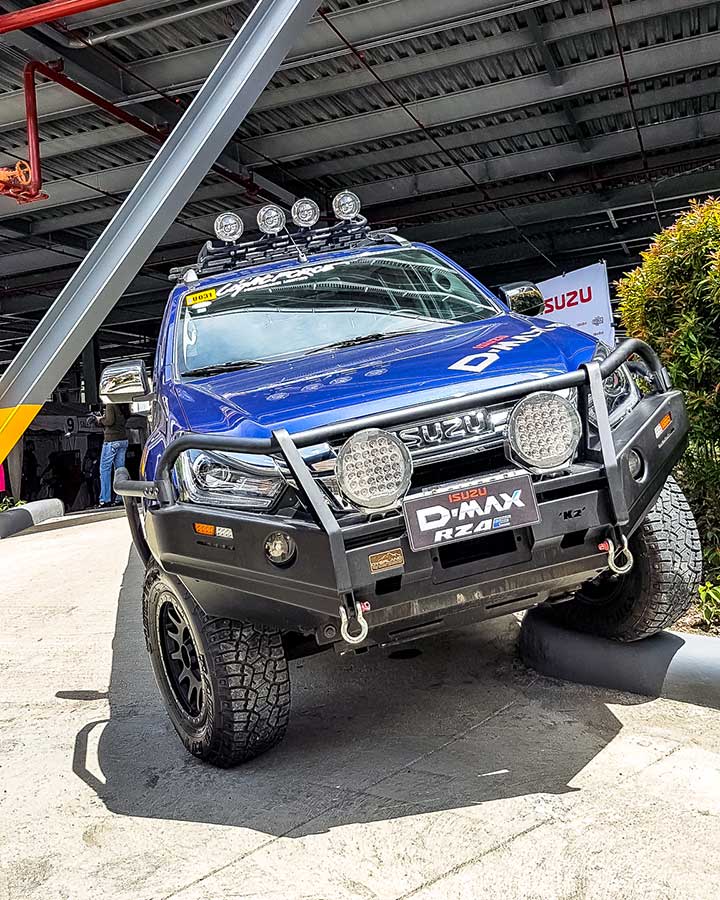 ADVERTISEMENT - CONTINUE READING BELOW ↓