Old sports cars are cool. Compared with most modern fast things they seem impossibly tiny, slim-pillared, and delicate. They say volumes more about your character than any casually bought modern lump, have an air of romance and style that cares little for service assistance, pedestrian safety, crash structures, airbags, or death in general. They are rebellious, a little dangerous, gorgeously arrogant. Unfortunately, they are also, generally, lightly terrible. Noisy. Comparatively slow. They wander, fail to stop properly, fail to go properly, and will terminally and completely fail at random intervals, just to remind you how romantic they can be. Old sports cars, therefore, must be used under the caveat that they are cool when they work.
And yet there is an answer, and its name is restomod. A term we've become more and more familiar with as cars get ever fatter and homogenous, leaving us seeking that old-school look but finding ourselves indelibly seduced by the convenience of modernity. Simple things like actually starting, or failing to bleed vital fluids on the highway, for instance. Or brakes that stop when and where we want to.
ADVERTISEMENT - CONTINUE READING BELOW ↓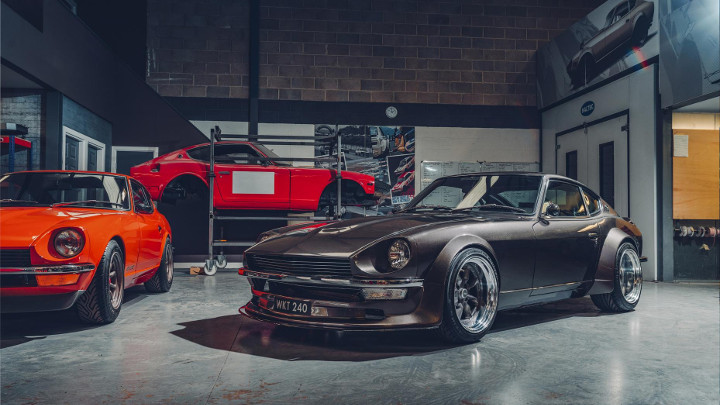 The recipe for restomod is therefore fairly simple. Purchase a car from an era of gorgeousness, and sympathetically underpin it with modern engineering, taking care not to slice off any vital chunks of character. The watchword for success – in my opinion – being subtlety. Some do it well; others badly.
ADVERTISEMENT - CONTINUE READING BELOW ↓
Recommended Videos
MZR Roadsports in Bradford does it very, very well.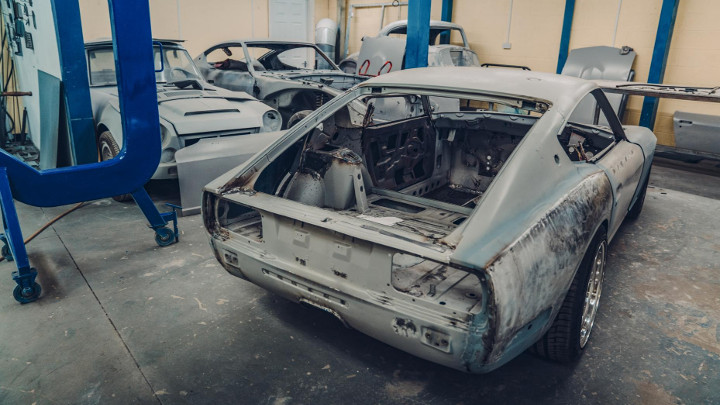 So I've spoiled the surprise a bit, but who cares? I've always loved the Datsun 240Z (later the 260Z, 280Z, Nissan S30 and/or Fairlady Z, depending on who you talk to), and MZR is making what was a nice little Seventies sports car into a properly brilliant one. Run by two immensely, infectiously likable guys called Rahail Tariq and Martin Ryland out of a slightly scrubby industrial estate on the west side of Bradford, they take – predominantly rust-free US imported – Z-cars and fettle them onto the far side of desirable.
ADVERTISEMENT - CONTINUE READING BELOW ↓
It's familiar stuff done well. Cars are sourced to spec, shells and chassis are stripped, dipped and stitch-welded, beefed-up, sealed, and armored with sound-deadening and judicious reinforcement. On goes adjustable damping, bespoke suspension, and heavy-duty limited-slip diffs, modern 5-speed or 6-speed 'boxes, contemporary brakes, a slick exhaust, and fuel tank.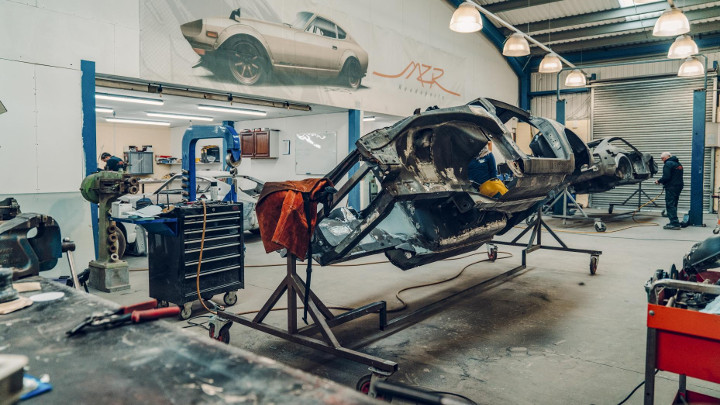 ADVERTISEMENT - CONTINUE READING BELOW ↓
Engines come in various original straight-six flavors from 2.9 to 3.1 liters, stretching from about 240 to 280hp, though in a car this light – just over a ton – they actually don't need more. The engine bay is rigorously tidied, EFI (electronic fuel injection) is added, and wiring worthy of a high-end racing car plumbed in. After all that, convenience is introduced, with barely-there power-assisted steering, proper heating and air-conditioning, gorgeous seating and interior trim. Wheels, paint, bespokery to the far reaches of your wallet and imagination. Pretty much all par for the restomod course.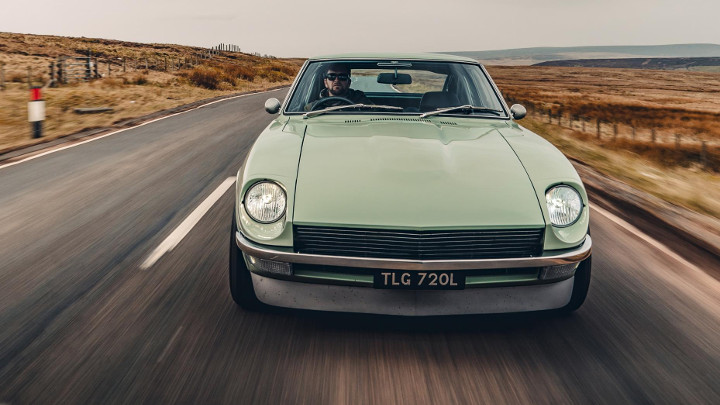 ADVERTISEMENT - CONTINUE READING BELOW ↓
Well, it would be, but these are cars put together by men who truly love what they do, and the really special bit is how authentic these cars feel. Because an MZR doesn't come across like a restomod. It feels like an optimization. A streamlined, enhanced, progressed, developed, and evolved Z car. You look out across the same plastic dash, ponder the same binnacles and needles. You stare through a frame of thin chrome pillars across a long hood, tucked up cab-rearward near that sloping rear hatch. There isn't much to see on the inside – no interior nappa-leathered into a porn dungeon, no blazing bright TFT screen or dancing LEDs, no multi-stage traction management dial or confusing barnacle of wheel-mounted controls. It's as pared-back and perfect as a Scandinavian showhome. Just you, a small, leather-wrapped wheel, three pedals and an endlessly tactile nugget of a wooden gearknob.
ADVERTISEMENT - CONTINUE READING BELOW ↓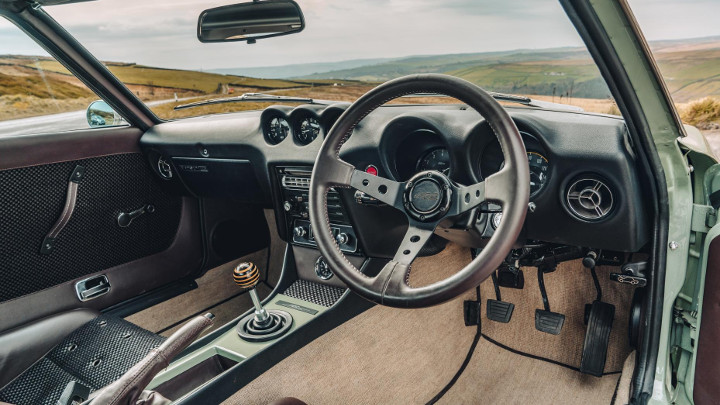 Engage the engine, and it barks into life with joy. Grab first, release the light clutch, and the car pulls away with a massless, tippy-toe feel that makes a modern sports car feel like a pudding. Thread it through town and it's slim, direct, and so easy to place on the road that something like a Golf R feels like an untidy, nerveless behemoth. The upgrades aren't fanciful or indeed very noticeable without an un-remade car to compare them with – the 240 just seems to potter along quite happily not acting like a temperamental oldie from the first half of the Seventies. And then you get to a crappy, bumpy, twisty road, and you realize that this is nothing like it should be. The engine spins up the dial as if it's excited to be outside, always asking for a few more revs, always with the urgency you don't get from modern cars with their mapped-for-torque mid-range. The steering feels a little nervous at first, but soon settles with you, dipping into corners lightly, delicately. I'd probably set the adjustable dampers slightly softer, to make the most of the generous grip, but that's a matter of a few clicks of a knob and a couple of hours working out what you prefer. The car has a radio. Apparently. I never even thought to switch it on.
ADVERTISEMENT - CONTINUE READING BELOW ↓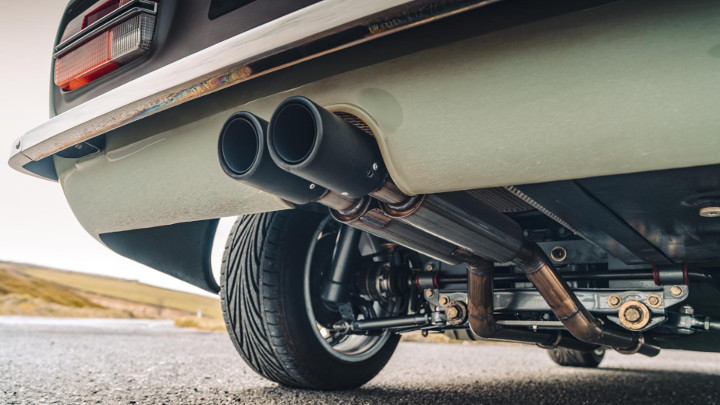 All this and no squeaks or rattles, no hissy fits on start-up, no crunchy gears or overheating. No misaligned carbs or flat spots. No hassle. It's all the good bits of a stylish old sports car without the bad, the epitome of what a good restomod should be. But it's also not as simple as it sounds. This isn't a random aggregation of expensive bits, kitchen-sinked at a low-key icon. It's a car put together by people with passion, skill, and experience, experience gleaned from years of trial-and-error, old-school skill, and bright, contagious passion. It's one of the most joyful, absorbing and fun cars I've driven in a long time, where bald statistics fail to be relevant, numbers mean nothing and success is measured in the width of a grin. Old sports cars are cool. And this is one of the coolest.
ADVERTISEMENT - CONTINUE READING BELOW ↓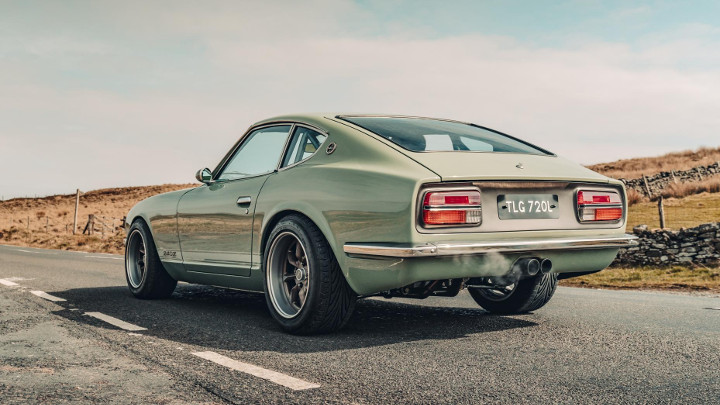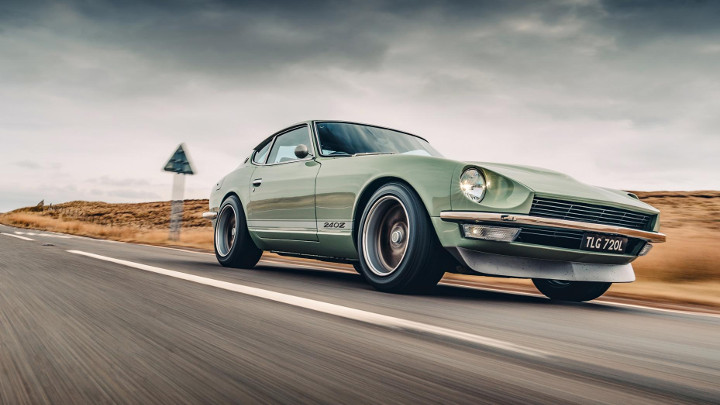 ADVERTISEMENT - CONTINUE READING BELOW ↓
Note: This article first appeared on TopGear.com. Minor edits have been made.