You've probably seen a car with cable ties—or zip ties, as you may also call them—on its wheels before. If so, then there's a good chance that some of you also wondered why in the world would anyone want to put such plastics on their wheels.
Well, for the most part, it isn't for aesthetics. The main purpose of putting zip ties on wheels is to secure the hub caps or wheel covers and keep them in place—granted, of course, that the car does have hub caps on it. It prevents the covers from accidentally popping off the rims when the car runs over a harsh bump on the road.
I used to drive a car with hub caps myself, and I really wish I had learned about this trick way back, because I lost one of the four original wheel covers of an '84Toyota Cressida while I was cruising along the highway. Those are hard to come by, and until now I haven't found a replacement for it.
Thankfully, most hub caps you see on new cars these days are pretty common, and a quick trip to Evangelista or Banawe will solve your problem in case you lose any. That said, if your car has hub caps, too, take my advice and just use a zip tie. It wouldn't hurt to be a little more cautious.
Continue reading below ↓
Recommended Videos
Just don't overdo it. A single zip tie will usually do the trick. But if you really want to be sure, you can add more—just keep it to at most one tie per spoke to keep the look clean. You can also tie it from the inside of the wheel to hide the bulky lock. If you can't, then you can still tie it from the outside and simply cut off the excess tie so it won't stick out to the side of the wheels.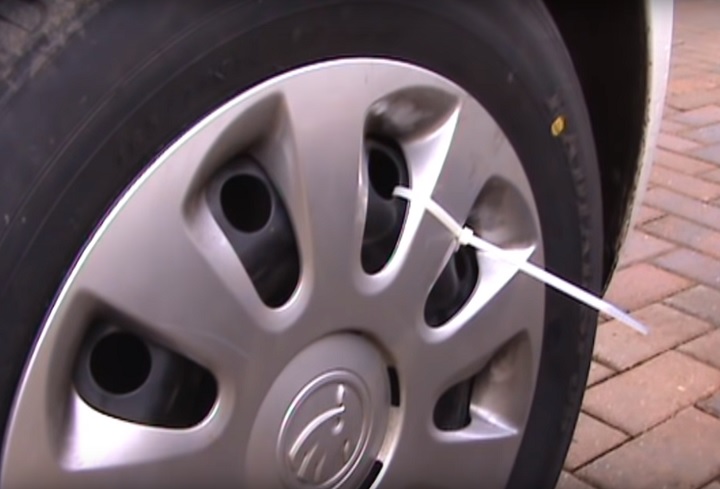 To better visualize how it's done, we've included below a quick and easy guide you can follow. Enjoy, and you can thank us later.