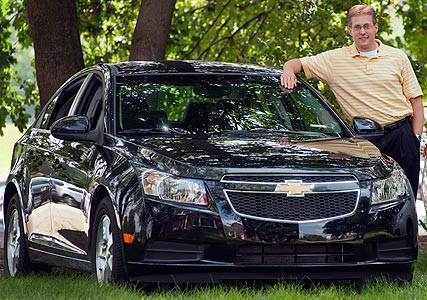 The factory-installed audio system of the Chevrolet Cruze recently topped the Mobile Electronics Competition Association (MECA) Sound Quality League in the United States, beating the similar system of its competitors, the Toyota Corolla and the Honda Civic.
MECA president and competition judge Steve Stern even went so far as to say that the Cruze's sound system "delivers the performance we would expect in a luxury car."
Such praise undoubtedly pleased Matt Kirsch, lead audio engineer for the Cruze.
"We set out to deliver a far better audio experience than a typical compact car," Kirsch said. "As such, we used more speakers and more power to fill the Cruze with sound. We also spent a great deal of time tuning the sound system for ambiance and clarity, so sitting in the Cruze sounds like sitting in the front row at a concert hall."
So if you're planning to tweak your car's audio system to MECA-winning levels, here is Kirsch's top 10 favorite songs for evaluating any sound system.
1. "Don't Know Why" by Norah Jones – Listen for Norah's voice to sound natural and centered in front of you
2. "Diamonds and Rust" by Joan Baez – Listen for the strong vocals and for the instruments to be set across a wide sound stage
Continue reading below ↓
Recommended Videos
3. "No One" by Alicia Keys – Listen for clarity in Alicia's vocals and spacious background sound
4. "Hotel California" by the Eagles – Listen for the clarity and dynamic range during the opening guitar solo and the powerful drum beat
5. "Boom Boom Pow" by the Black Eyed Peas – Listen for powerful, accurate bass beats, even at full volume
6. "Rock that Body" by the Black Eyed Peas – Listen for the clear, intelligible lyrics over the powerful, persistent bass beat
7. "Hide and Seek" by Imogen Heap – Listen for the enveloping ambience of the song, building on the openness and dynamic vocals
8. "He Mele No Lilo" by Mark Keali'i Ho'omalu from "Lilo and Stitch" – Listen for the ambience and staging as the children's chorus is offset by the powerful bass
9. "Bird on a Wire" by Johnny Cash – Listen for the clarity in Johnny's distinctive voice, and his guitar to sound natural and free of any coloration
10. "Packt Like Sardines in a Crushd Tin Box" by Radiohead – Listen for the punch from the percussive bass and the ring of the steel drums