Expressing love isn't an exclusively human affair--at least not to 60 percent of motorists who say they are affectionate toward their vehicles.
A survey conducted by Jiffy Lube International in the US shows that car owners get touchy-feely with their vehicles, too.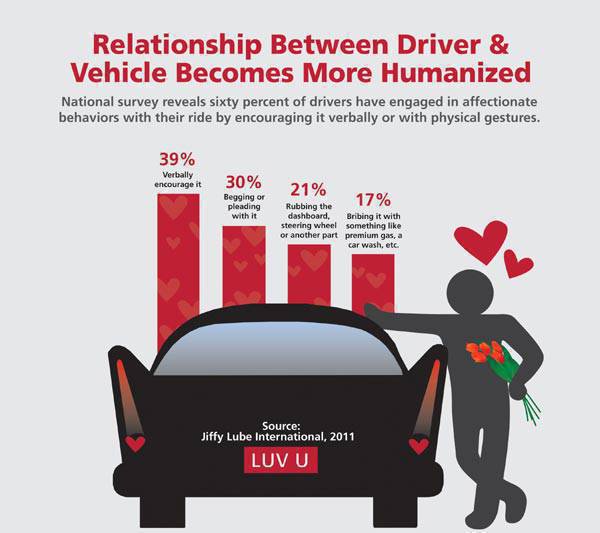 "Valentine's Day is about celebrating love and appreciation for special people in our lives, but for some people that extends beyond friends and family to their vehicles," said Eric Eurich, head of marketing for Jiffy Lube International. "Just like any relationship, the one between driver and vehicle is built on taking care of each other. As drivers, we rely on our rides to get us to where we need to go, and our rides depend on us to properly care for them."
ADVERTISEMENT - CONTINUE READING BELOW ↓
How else do car owners show their affection to their trusty rides? Here are more ways according to the Jiffy Lube survey:
1. Simple support. Drivers show their endearments in many ways, proving that sometimes actions speak just as loudly as words. Three-in-five drivers say they have shown affection for their cars by providing verbal support or physical gestures of encouragement--such as rubbing the dashboard or steering wheel--to get their rides to start up, speed up, not stall out or stop.
2. Friendly flirting. More than a third of drivers compliment their vehicles. Dependability, superior performance and appearance top the list of drivers' reasons for bestowing praise on their rides--if only the rides could flatter their owners in the same way.
3. Abundant appreciation. Ever been thankful to get somewhere on-time, make it through rough weather or on a limited fuel supply? Almost half of drivers have thanked their cars for a job well done and nearly a third has apologized to their vehicles--be it for driving recklessly or getting into an accident.
ADVERTISEMENT - CONTINUE READING BELOW ↓
Recommended Videos
Do you also give your car some human lovin'? Post your experience below.