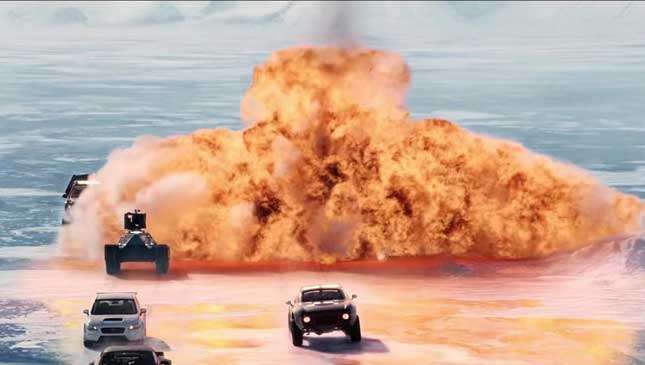 Bad news, fans of grunting beefcakes, improbable acts of four-wheeled heroism, and collateral damage for the sake of 'family'. Fast and Furious 9 (yes, we're up to number NINE), has been delayed by a whole year. Sad time. Cue the Wiz Khalifa.
The ninth and supposedly penultimate episode in the world's third most popular series film saga will now bulldoze into cinemas on April 10, 2020. Universal, the studios behind the F&F movies, hasn't commented on what's caused the delay, or whether the climax of the series, Fast & Furious 10, will slip from its intended release date of April 20, 2021.
Continue reading below ↓
Recommended Videos
Of course, if we were to speculate, we'd suggest perhaps a slight writer's block has put the brakes on F&F 9. Fair warning, we're going to chat spoilers from the last couple of films in the next paragraph.
Because really, where does Fast and Furious go next? And in what? We've had a bank vault being dragged through the streets of Rio de Janiero like a chariot. We've seen fights on trains, in jail, and on collapsing car parks. And muscle cars parachuting out of transport aircraft. Then there was that bit with the battle tank. And the other tank. And the rogue nuclear submarine under the ice shelf. It's all got a little bit out of control. But at least the 'family' is alright.
Perhaps we can help. We have a comments section, and you have ideas. This could be the brainstorm session we need to grease the wheels of the Fast & Furious juggernaut.
Time for a chase on an aircraft carrier? In an acid rain storm? Perhaps having already jumped a Lykan supercar through a skyscraper, it's time we saw Dom and Hobbs shoehorn themselves into a Bugatti Chiron and barrel roll it over the London Eye. That ought to set up F&F 9 nicely. Then they can save going into space for the tenth movie.
Oh, and no 20-mile runway chase scenes, please. As if that would ever be allowed.
NOTE: This article first appeared on TopGear.com. Minor edits have been made.