A couple of years back, I pulled the trigger on a brand-new Sony WH-1000XM3. It was the ultimate commuting accessory for me—all the sweating notwithstanding—and it was easily one of my best purchases that year.
Fast forward to November 2021, I was asked if I could review Sony's next-generation audio devices for Top Gear Philippines. I had no reason to refuse, especially since I was going to be able to test both the WF-1000XM4 and the WH-1000XM4. They're both equally a mouthful to say, so let's just call them earbuds and headphones for the purposes of this article.
I knew I'd be able to give good insights on both devices. There's one big difference between my usage then and now, though: These days, I don't commute anymore. I've been working from home since this pandemic started. In fact, I can't even remember the last time I used my XM3 outside of the house.
But at the same time, I realized that this work-from-home (WFH) setup I have right now is something I have in common with a lot of people. Also, since I'd be having a go at both devices, I'd be able to answer some questions you guys might have, like which model you should buy.
Continue reading below ↓
Recommended Videos
Or more specifically, whether you should get wireless earbuds or go with cord-free headphones. A few of my friends have actually asked me that over the past year or so, and I believe it's a common question for those looking to get new audio devices.
We'll touch on some points of comparison here to give you an idea of which of the two would be a better fit for you. Just take note that there won't be an overall winner at the end, because the right choice will still depend on what you need and what you'll be using the earbuds or the headphones for.

1) Sound quality
Both audio devices here are superb, but the headphones are just a tad better. Bass seems to be better with the earbuds, but the overall quality is superior with the headphones. The sound that the latter produces is clearer and more crisp, and it's evident whether you're in a call or listening to music.
Winner: Sony WH-1000XM4 (headphones)
2) Mic quality
Given how often we hop into online meetings these days, the microphone quality of these devices is critical. Frankly, the earbuds may have a slight edge for me, but I'm going to end this in a tie because there's simply no clear winner. Assuming you won't be using these devices to record audio and that the area you work in isn't too noisy, you won't have any complaints using either one.
Winner: Tie
3) Active noise cancellation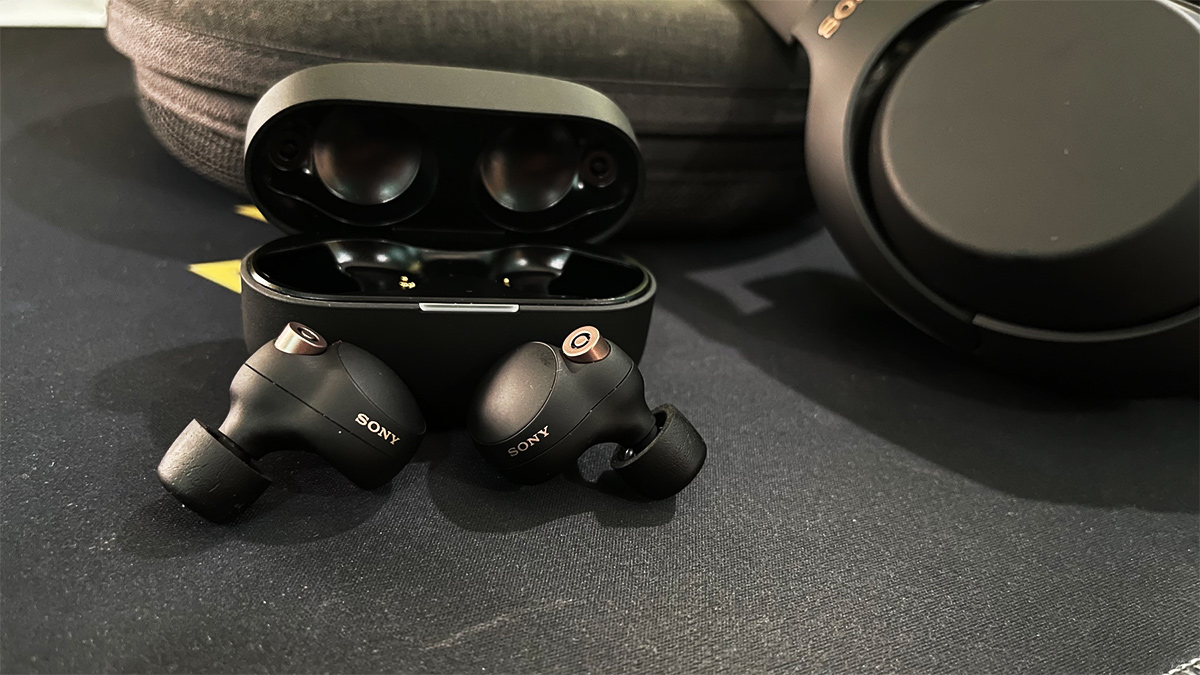 The headphones are still arguably the best in their class when it comes to active noise cancellation (ANC), but the earbuds are just slightly ahead in this regard. It could be the snug fit that the earbuds offer mated to Sony's sheer ANC prowess.
Winner: Sony WF-1000XM4 (earbuds)
4) Battery life
With ANC on, the earbuds have a maximum playback time of eight hours or communication time of five and a half hours. Its case can store up to 16 hours of playback time, and the earbuds charge up pretty quick as well. Decent figures and more than enough for the usual nine-to-five shift, but these pale in comparison with the headphones' 30 hours of battery life. There's also the option of plugging in the headphones via a 3.5mm jack when they run out of juice, too.
Winner: Sony WH-1000XM4 (headphones)
5) Comfort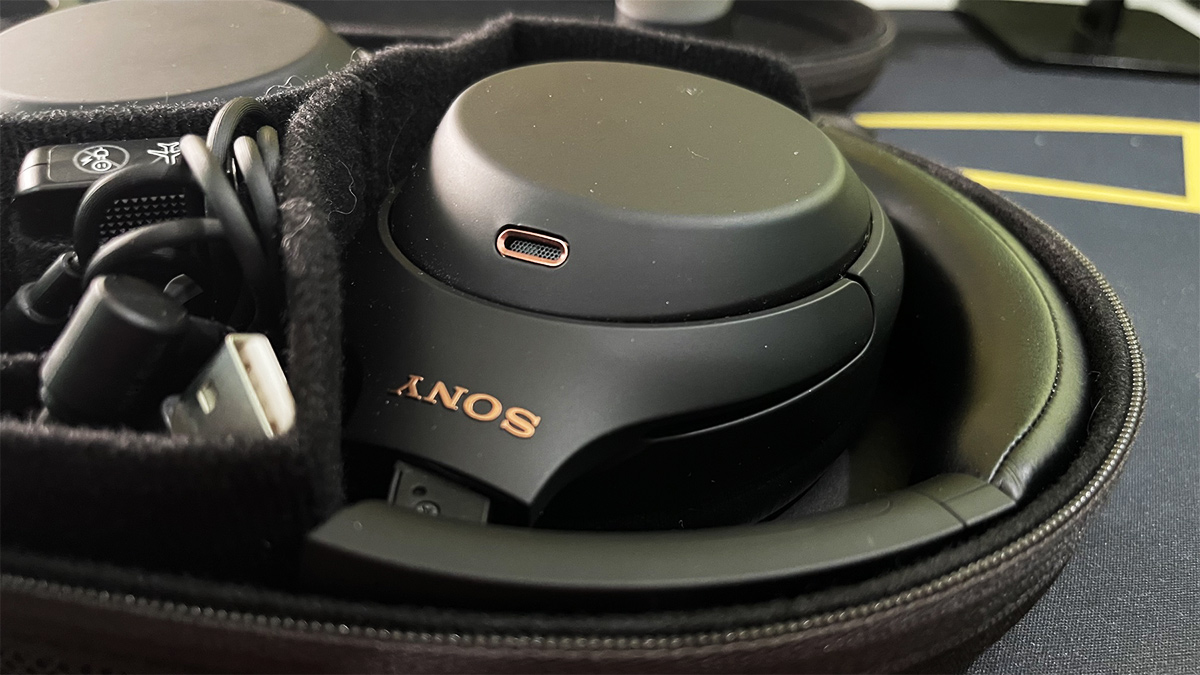 I have to give props to Sony for the stock tips that come with the earbuds. I've tried out foam tips before and they've never really worked for me, but I find Sony's quite impressive. But when it comes to overall comfort, the headphones are still king. Sure, they're hotter to wear, but if you'll just be at your desk for most of the day, that shouldn't be an issue.
Winner: Sony WH-1000XM4 (headphones)
6) Portability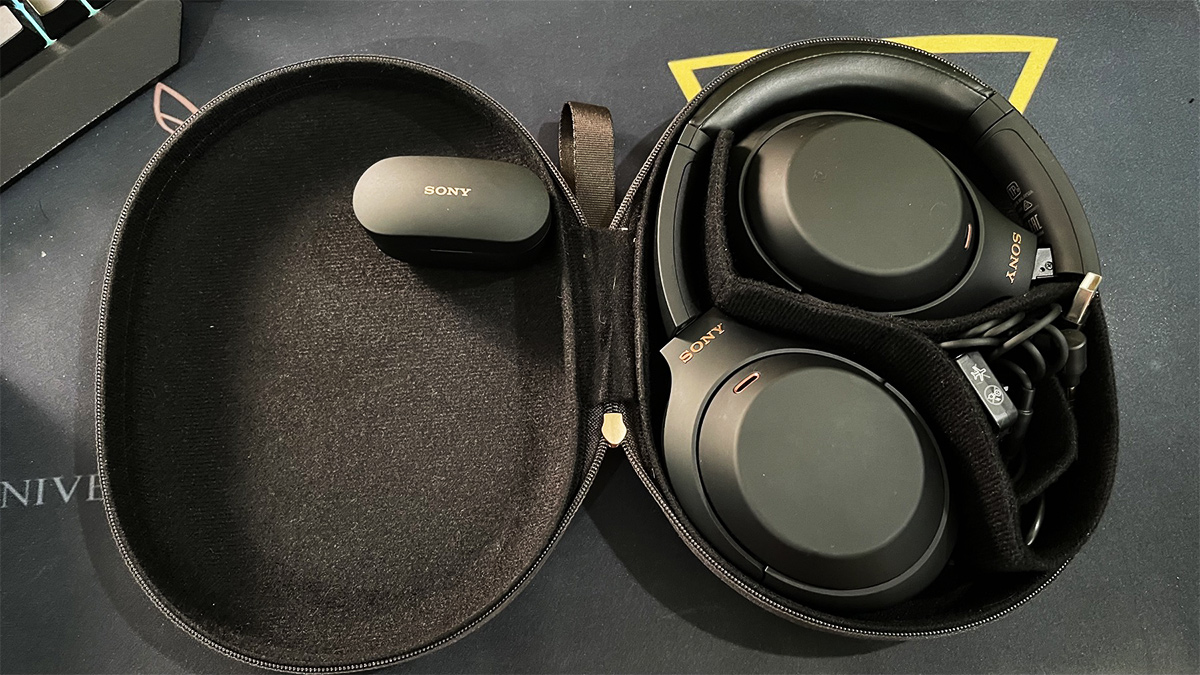 The headphones are easy to carry around, especially since Sony still sells these with a hard case, but clearly the earbuds take the cake here. Whenever I need to be out and about, I always bring the earbuds and just slide them into a small pocket in my bag. I'm actually contemplating upgrading from my XM3 headphones to these buds because of this (and a lot of other factors). Or maybe I can just get both…
Oh, and one more thing: If your workouts include walking, running, biking, or basically anything that involves going outside, you'd be better off getting the earbuds. The headphones aren't water- or sweat-resistant.
Winner: Sony WF-1000XM4 (earbuds)
7) Extra features
The two devices can be operated using Sony's dedicated smartphone app, and there are a lot of similarities across the board. Both have ANC control, Quick Attention and speech-to-chat features, and all the other advanced tech that Sony could fit into them. The one very big edge that the headphones have, however, is multiple device connectivity.
The headphones can be paired via Bluetooth with, say, your laptop and your phone. You could be listening to music or tuning in to a call on your computer and still be able to hear notifications from your smartphone. It's a very handy feature that's perfect for a work-from-home setup.
8) Price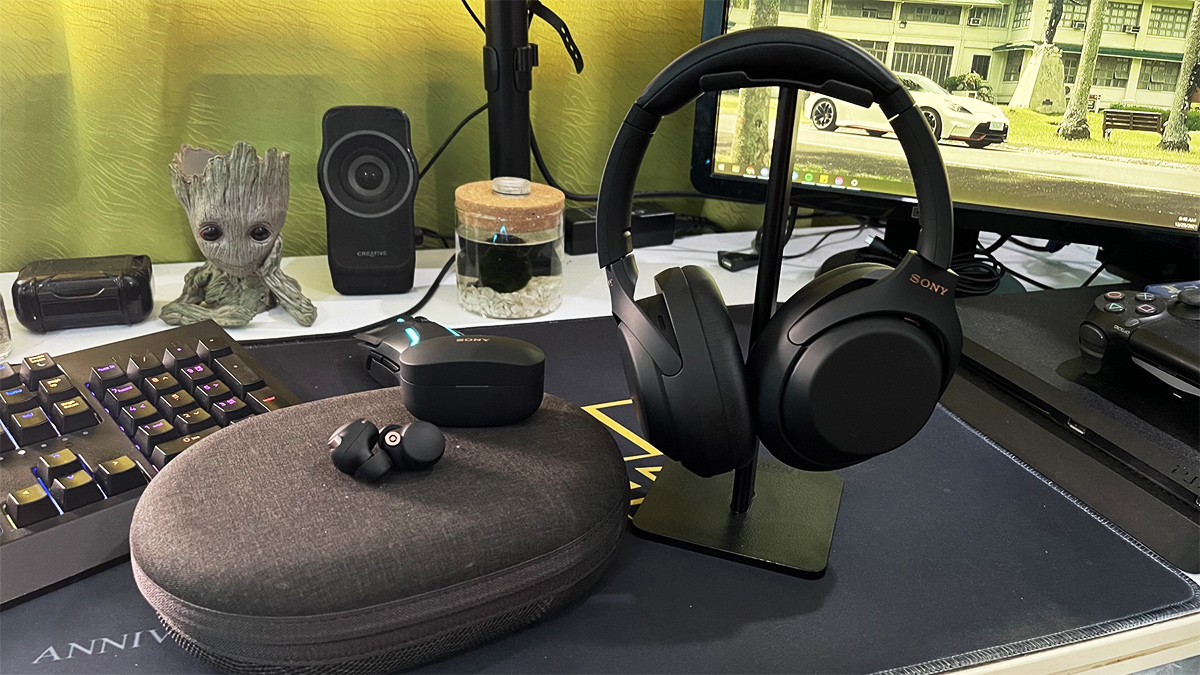 Obviously, the headphones are the more premium offering here, so it has a bigger price tag at P19,999, while the earbuds only sticker for P13,999. For gadgets at this price point, the P6,000 difference is quite significant, and it could be the deciding factor for people on a tight budget.
Winner: Sony WF-1000XM4 (earbuds)
Any other comparison points and insights you'd like to add here? The comments section is open.
Top Gear Philippines is now on Quento! Click here to download the app and enjoy more articles and videos from Top Gear Philippines and your favorite websites.