Have you ever wondered just what exactly the ratio of cars to people in the Philippines is? We don't know if there is any government agency that keeps track of such statistics. But apparently, the World Bank has been keeping a record of this for different countries since around 2003, although their figures were last updated for 2010.
There are two studies available: one is for passenger cars per 1,000 people, and the other is for motor vehicles per 1,000 people. Passenger cars are "motor vehicles, other than two-wheelers, intended for the carriage of passengers and designed to seat no more than nine people (including the driver)." Motor vehicles "include cars, buses and freight vehicles but do not include two-wheelers."
Below is a table of the 2010 figures for passenger cars and motor vehicles per 1,000 people, featuring the Philippines as well as other countries that have some relevance to ours. In spite of what we perceive as a superabundance of cars on the road, you'll be surprised by how few vehicles we actually have for every thousand people. And in case you're wondering, San Marino has the most number of passenger cars (1,139) and motor vehicles (1,263) in the world per 1,000 people.
ADVERTISEMENT - CONTINUE READING BELOW ↓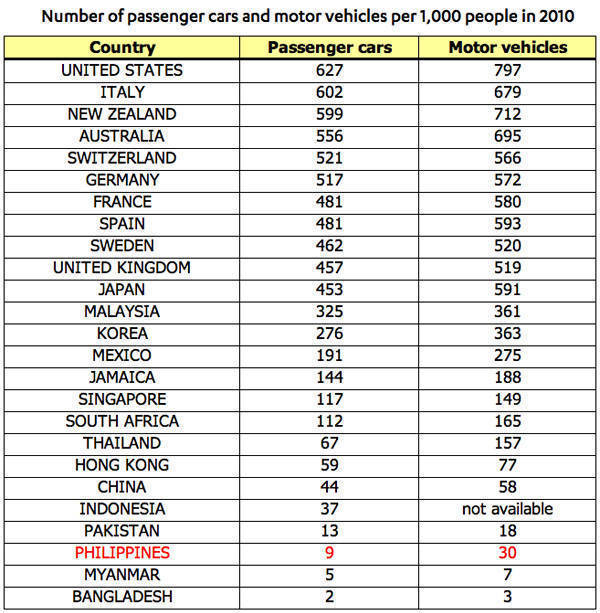 ADVERTISEMENT - CONTINUE READING BELOW ↓
Recommended Videos