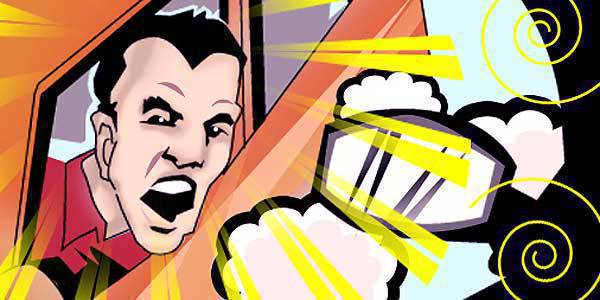 The road rage episode at the corner of Ortigas Avenue and Santolan Road that resulted in the death of a Malacañang official's son is just one of the many alarming incidents involving hot-headed drivers. Let us refresh your memory about the five traffic altercations that ended up with the senseless loss of lives.
1. Raul Bautista and Sowaib Salie. On June 21, a traffic altercation in Imus, Cavite turned into a deadly family feud as it left six people dead. According to an ABS-CBN report, the trouble started at a traffic jam on the Nueno highway in Imus as Sowaib Salie repeatedly honked his vehicle's horns at the car in front--driven by Raul Bautista. A confrontation erupted when both motorists arrived at the public market. Bautista then left the scene only to come back later with reinforcement in tow. A brief firefight erupted leaving six people dead, including Bautista, his two sons and the family driver, and Salie and his fellow trader Mahmod Sultan.
2. Eldon Maguan and Rolito Go. This incident put road rage on the front page of every newspaper in the country. On July 2, 1991, 25-year-old Eldon Maguan, a De La Salle University engineering student, was driving his car down a one-way street in San Juan and nearly collided with Rolito Go's vehicle, which was traveling the wrong way. The businessman got off his car and shot Maguan, who died a few days later. Go was convicted of murder "in absentia" in 1993 by the Pasig Regional Trial Court as he was in hiding after he escaped from the Rizal Provincial Jail a few days before the sentencing. Go was finally caught in 1996 in Pampanga and then served his life imprisonment sentence at the New Bilibid Prison in Muntinlupa. Go was transferred from the prison's maximum security facility to the minimum security area early this year, allowing him to walk around the facility without security escorts.
3. Feliber Andres and Inocencio Gonzales. The Andres family's 1998 All Saints' Day eve pilgrimage to the Loyola Memorial Park in Marikina took a ghastly turn when their vehicle nearly collided with the one driven by Inocencio Gonzalez. Noel Andres tailed Gonzalez' vehicle first before he cut his path which resulted in a confrontation between the two motorists. In the heat of the argument, Gonzalez pulled out a gun and shot at the Andres' vehicle, hitting Andres' pregnant wife, Feliber, their two-year old son, and their nephew. Feliber did not survive the attack but the doctors were able to save her baby. The son and the nephew were discharged from the hospital a few days later. Gonzalez was found guilty of murder and two counts of frustrated murder in 1999. The Supreme Court then modified the trial court's decision in 2001, finding him guilty of homicide.
ADVERTISEMENT - CONTINUE READING BELOW
4. Jay Llamas. Jay Llamas was traversing the busy northbound lane of Taft Avenue on January 10, 2003 when his Toyota Corolla was bumped by a motorcycle as they neared the Buendia intersection. Llamas and the unnamed motorcycle driver got into a heated argument which ended when the suspect drew a gun and shot Llamas at close range three times--twice in the head and once in the body. The suspect then hailed a parked tricycle and fled the scene. The case remains unsolved to this date.
5. Edgardo Canizares and Manuel Hernandez Jr. On October 2, 2007, Edgardo Canizares was traveling with a passenger along Gen. Roxas Street near the corner of Shaw Boulevard when his Nissan Cefiro almost hit the car of Manuel Hernandez Jr., a Pasig City Hall legal officer and nephew of a Sandiganbayan Justice. Hernandez was reportedly driving against the flow of traffic, prompting an angry Canizares to get out of his car and insult Hernandez. Hernandez pulled out a gun and shot Canizares four times and his passenger, twice. Homicide charges were filed against Hernandez but he was freed after posting an P80,000 bail.

Avoid road rage! Check out TopGear.com.ph's tip on keeping your cool while driving.
<p>Compiled by Patrick Everett Tadeo, Illustration by Raynand Olarte</p>