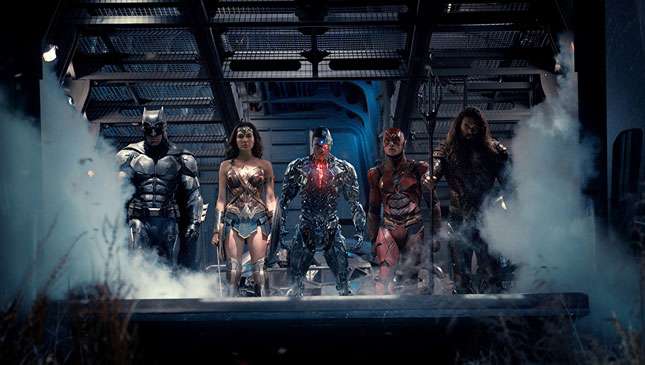 So you might be wondering what a film review of Justice League is doing in Top Gear Philippines. Aside from the Batmobile, these super-powered beings have no use for cars. Not when most of them can fly/swim/run faster than any land speed record.
Two reasons. One, the folks over at Auto Nation Group, the official distributor of Mercedes-Benz vehicles in the Philippines, were kind enough to invite us recently to a private screening at Power Plant Mall. Second, two Mercedes-Benz cars play a small part in the movie. While recruiting other superheroes to join their new team, Wonder Woman (played by the ever-so-stunning Gal Gadot) drives around in a classy E-Class Cabriolet.
Continue reading below ↓
Recommended Videos
Ben Affleck's Bruce Wayne, meanwhile, uses the gull-winged Mercedes-Benz AMG Vision GT, a concept that was designed for the Gran Turismo series. The billionaire loves the car so much that he actually loads it onto his private jet when he travels. Fun facts: Mercedes had to build the interior from scratch because the original show car didn't have one, and it had to be expanded to fit the 6'4" Affleck. The end result is pretty damn cool, and includes a Formula 1-style tiller with paddle shifters. Check out this video for a sneak peek:
Now, other than the cars, is the movie itself worth watching? As a lifelong comic book fan who was disappointed, triggered, and confused all at once while watching Batman V Superman: Dawn of Justice, I'd say that Justice League is a big improvement. It's not without its drawbacks; some of the plot points are questionable, the villain feels flat, and the director change that took place while filming becomes evident once you notice the drastic jumps in tone and style.
But nitpicking aside, the film is mostly enjoyable. While some of the heroes get more screen time than others, each one comes into their own as the film progresses, and they develop a natural chemistry as well. From the newcomers, Jason Momoa's Aquaman stands out with his entitled underwater royalty/headstrong jock personality ("My man!"). Ezra Miller as The Flash is fun, too, as the eager youngster whose true power is still being realized. As you'd expect, the film leaves you with just enough action to get you excited about the upcoming solo films.
Speaking of action, the fight scenes in Justice League give each character a chance to shine and show the massive scale of DC Comics' god-like superheroes. And yes, my inner comic book geek squealed just a bit when I saw the heroes standing side by side ready for battle. Still, same said inner geek wishes the movie ran longer than 120 minutes. I couldn't help feel that there was a lot more to the story the filmmakers wanted to expand on.
What's surprising here is how much more humor there is in the dialogue compared to the previous movie, no doubt an influence brought in by The Avengers director Joss Whedon. Even the gruff and stoic Batfleck gets a good joke or two in. It makes the film feel less heavy-handed, and more like a comic book story come to life—something that Warner Bros. got right earlier this year with Wonder Woman.
The film is enjoyable enough even for non-comic book fans, so it gets a 7/10 in my book. Don't forget to keep an eye out for the Vision GT's cameo while watching. Oh, and stick around after the credits.