Top Gear: Matt, one of my favorite scenes in the film is where you're showing Henry Ford II exactly what the GT40 can do. It's initially funny, then it becomes powerfully emotional.
Matt Damon: Tracy Letts is a great actor. It is a funny moment at first and then it turns. He's overcome, not because he's afraid of the car but because he says, "if my grandfather could have seen this…" The understanding that this family passion that started generations ago had built to this moment. This much power in something that came from his family. We did two takes of that scene, and Tracy just totally brought it on the first take. We were in a rig—the biscuit rig, as it's called, we had something similar on Bourne—and it means you can play a scene while one of the best drivers in the world is ripping you around [the driver is positioned above, behind or to the side in a pod on a frame]. We took off round the track, skidding around, spinning and then stopped. Jim [Mangold, the director] had said unless the cameras move the scene starts the moment the car stops. And Tracy had it on the first take. I thought about the discomfort a man of that era, how a man like Shelby would feel with another man expressing himself that openly that close to him, so that's the humor in it. But sitting there beside Tracy, watching him do it, it was an emotional moment. One I hadn't seen coming.
Continue reading below ↓
Recommended Videos
TG: I asked around, and when it comes to driving skills amongst actors, apparently you're one of the best…
MD: [incredulous] How did I get on that list??
TG: But [stunt driver and trainer] Robert Nagle says Christian is the best he's ever taught…
Christian Bale: [triumphant laugh] Thing is, he's never actually trained anyone else.
TG: Acting driving is a weird skill. The one I always think of is Robert De Niro in Ronin. Now obviously he's one of the greatest actors of all time, but he's… so stiff at the wheel in that film. He just doesn't look like a top getaway driver.
MD: I read Charles Grodin's memoir [who co-starred with De Niro in 1989's brilliant Midnight Run], and he went on and on about how Bob was a terrible driver. In real life. I've driven with Bob in cars, but never when he was driving. But he did give me directions once, to his house in the country from New York [does note perfect De Niro impression]. 'So then you're going to go along a little more, and on your left they're going to be selling corn…' They were the most ridiculous directions I've ever had but the thing is, they worked!' Ronin was a groundbreaking film at the time. Frankenheimer was a genius.
TG: In some respects, Le Mans '66 is a love story, a bromance.
CB: Absolutely. It's also about obsession, friendship and a shared dream. The script? Just like watching a film, so much depends on what mood you're in and how your day has been and all that. It's the same thing with reading a script, I find anyway. You know, I don't get it, at all. This one was instantly mesmerizing, I couldn't put it down. I'd worked with Jim before (on 2007's 3.10 to Yuma), I'd wanted to work with Matt—this is the first time—and it was just one of those easy things, I didn't have to figure out schedule, I wasn't doing anything else… [laughs]
TG: Michael Mann was developing a Ford v Ferrari project, and had a script, didn't he?
CB: We both read it in that iteration. It was fantastic, more of an ensemble piece.
MD: Walter Salles had it 10 years ago, and gave me the A.J Baime book, Go Like Hell. But there was no script.
CB: They were planning to make a television series out of it, which was why we couldn't call the film Go Like Hell. It's why he's able to hold up the sign that says 'go like hell' [in the later stages of the race] and we could say it—we just couldn't call it that.
MD: The title lapsed. Before this came around, they let the title go and Thomas Tull at Legendary bought it and was planning a long-form TV series. And still might, which would be great. But there went the title…
CB: What I think Jim achieved, which Senna did as well, is that it's fascinating whether you like motor racing or not. I remember watching Senna race, and a huge day for me was going to Brands Hatch with my dad, and I remember watching TV the day Senna died. I took my wife to see the film, and she'd never watched an F1 race in her life and she was mesmerized by it. Jim Mangold has done that with this. You don't have to know a damn thing about motor racing to get this film.
TG: The father/son aspect is very powerful, too. The relationship between Ken Miles and his young son Peter.
MD: That's beautiful. Noah Jupe [who plays Peter]… that kid is phenomenal.
CB: He's really rather good, isn't he? I watched the film with Peter Miles, and his daughter. The three of us watched it… you don't get a more profound screening of a film than that. He was so helpful, he told me lots of stories about his father.
MD: The other guys all went on to great things. There was a McLaren, there would have been a Miles, right? Ken Miles was a brilliant engineer, Carroll Shelby said he was the best he ever saw.
CB: Hopefully the film will make people more aware about him. Look, you're in these circles, Jason, and even you said you were only really vaguely aware. It's a legendary story, it's incredible in its richness, and I hope the film will make him publicly recognized.
TG: What did you know about Ferrari ahead of filming?
CB: Saturn devouring his own children… He gets a great moment in this film, the God of motor racing.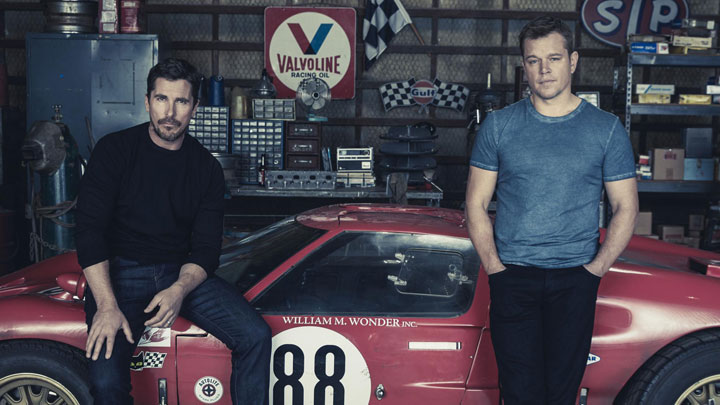 TG: Isn't there a film there?
CB: Oh absolutely…
MD: There are so many stories that a two-hour film is a real challenge. We've been talking about the finish of this Le Mans race—you could have done a whole movie around just that. The politics that were going on… the money Ford had invested. Like hell this guy was going to win the triple crown. Not a chance. The whole thing was about selling cars. This is a big campaign and we can't have it overshadowed by the brilliance of this driver. The cars were going to come first, second and third. The pit lane set was built at Agua Dulce, an airfield in Santa Clarita near LA. Charlie Agapiou [another British expat] worked for Ken Miles, and I said, "Charlie you guys had won Sebring, you'd won Daytona, you had the best car", and he said, 'absolutely'. When you went to Le Mans that year, how sure were you that you were going to win? He said, '100%. We knew we had it if the car didn't break.' Not one broke, and they came in 1-2-3. Charlie still contends that Ken was a full lap ahead when they came in together.
CB: It becomes a total Rashomon thing. Everyone's saying different things. Did Bruce McLaren put his foot down? Ken did it for his friend, although it was anathema to him. He did it because he recognized what Shelby had put on the line for him, and he would never have got his chance without him. But as Charlie said, it wouldn't have mattered anyway because he was a full lap ahead. Yet somehow the officials said, 'we have no record of that…'
MD: Have you been watching this for 24 hours??
CB: They were also convinced they would be able to come back the following year and win it without having to deal with any of the bullsh*t. Which they did… but without Ken.
TG: This is also a story about men trying to reinvent themselves at a difficult point in their lives… Miles was 48 in 1966, and Shelby was searching for a direction after being advised by his doctors that he couldn't continue racing because he had a heart condition.
MD: It's a huge inflection point for them both…
CB: We wouldn't know anything about that. [pause] We've been trying to reinvent ourselves our entire bloody lives! [laughs]
MD: All we do is reinvent ourselves… This is Miles's last chance. And Shelby's chance to completely redefine his life, and he did it. This starts the legend. It sets up the next 40 years for the guy.
TG: Mind you, Paul Newman was 54 when he came second at Le Mans [in 1979]. He was trained by Bob Bondurant, who reckoned he could absolutely have been a successful professional racing driver. There's time for you both yet…
CB: I went to his racing school. Now, Bob's getting on a bit. Incredibly experienced driver, an absolute joy to be around, and he told me some great stories about Ken. One day he jumps in beside me, says "come on let's go Christian", so we go charging around, he's giving me pointers, "get your hands there on the wheel, turn here", and then we stop, and we swap places. "Oh, all right then", I say. The other instructors are looking at me like, "he's going to drive?" So I get in to the passenger seat—which I hate—and off he goes, and he's still bloody got it. He knew the track inside out because he designed it himself. Couple of times, I had to say, "Bob, we're off the track, a bit to the left". Then he slams on the brakes, we sit there silently, and I'm thinking, "he's having a moment, he's just enjoying the moment". And he goes, 'where the f*ck are we?" "Bob, it's turn seven." "Turn seven, got it…"
NOTE: This story first appeared on TopGear.com. Minor edits have been made.