The guys at Mercedes-Benz have been up to some pretty odd things lately. We're not complaining, though, because what they're putting out some rather interesting pieces.
The company's performance arm recently came up with the AMG x Hartan strollers, those four-wheelers that are as advanced as baby buggies can get. Now, just a day following that announcement, the German carmaker has revealed yet more childcare accessories. This time around, it has teamed up with manufacturer Britax Romer to build child seats.
There are three new products with Mercedes-Benz designs: The Baby-Safe Plus II, the Duo Plus, and the Kidfix XP.
First up is the Baby-Safe Plus II, a rear-facing child seat that's suited for about 15-month-old infants that weigh up to 13kg. It boasts softly padded side and shoulder bolsters with a head restraint that can be adjusted in seven stages to adapt to the baby's size. The backrest can also be reclined as needed.
ADVERTISEMENT - CONTINUE READING BELOW ↓
It sports a five-point belt system as well as a removable and washable seat cover. Safety features include an automatic child-seat recognition system, which automatically deactivates the front passenger airbag and seatbelt when a child seat is detected up front. This reverts to normal once the child seat is removed.
The Baby-Safe Plus II can be installed using the vehicle's three-point seat belt and can double as a carrier, too. It has a carrying handle, a sun and wind shade, and a curved base that allows for rocking.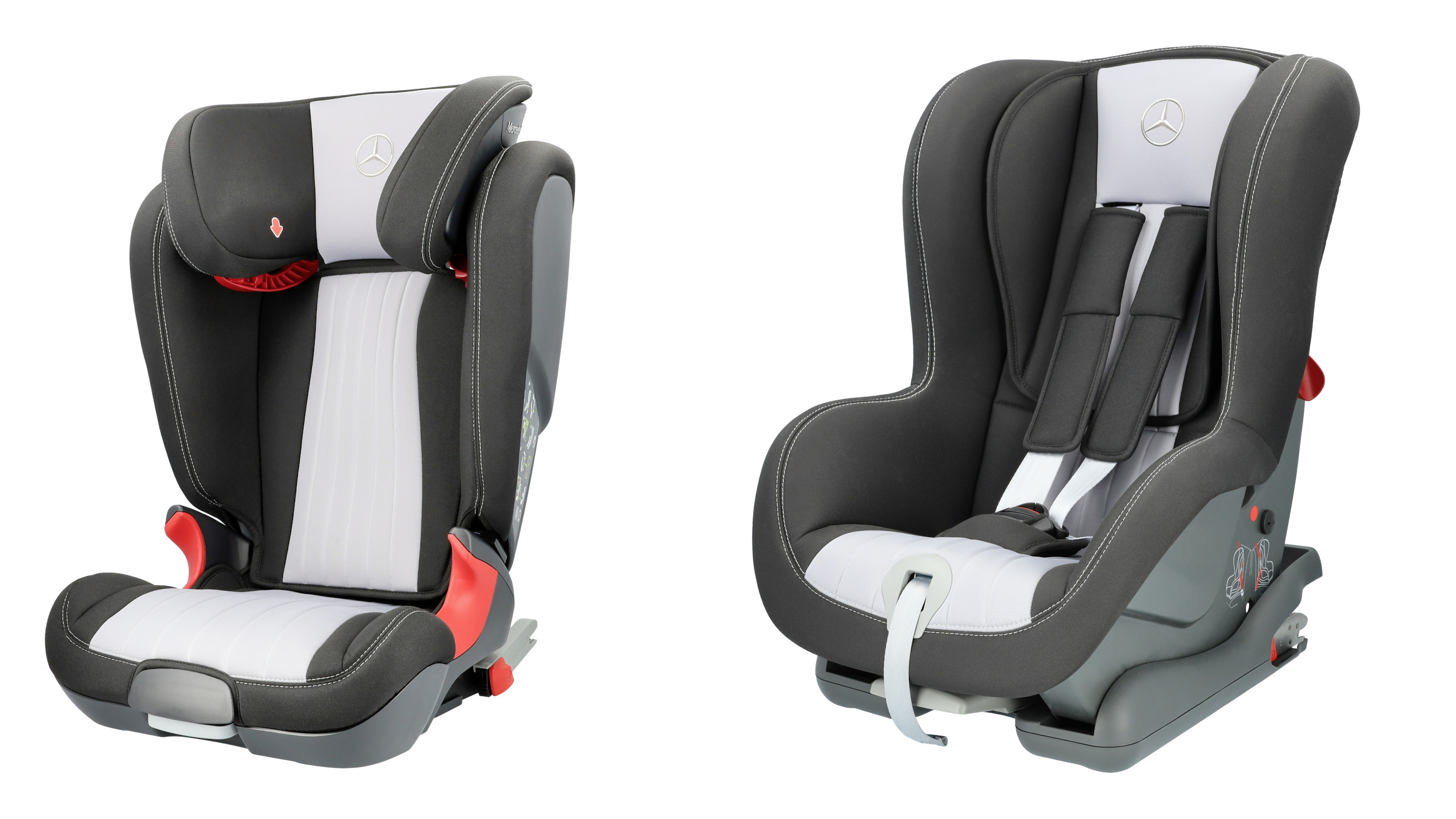 ADVERTISEMENT - CONTINUE READING BELOW ↓
Recommended Videos
Second on the list is the Duo Plus, a front-facing child seat for kids aged nine months to 3.5 years, and weighing 9-18kg. It also features a seven stage-adjustable head restraint and a five-point belt system. It can be strapped onto a car with using the Isofix seat attachments and tethers.
Last but not least is the Kidfix XP, which is also a front-facing child seat but caters to much bigger occupants. It is considered safe for children weighing 3.5-36kg and aged up to 12 years. It features high-energy-absorbing pads on the head restraint to reduce impact loads by up to 20%. It also has a height-adjustable head restraint and belt-system. A special AMG-designed variant is also available for this product.
Like those strollers, there's no word how much these car seats will cost, but we're assuming it'll come with a hefty price tag. What do you think of it? Would you actually consider getting any of these for your child?
ADVERTISEMENT - CONTINUE READING BELOW ↓