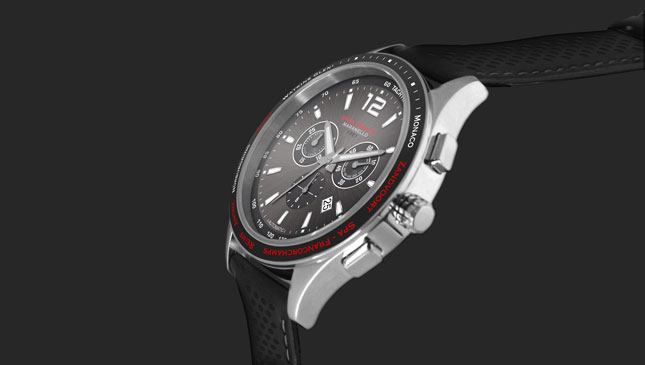 The 1961 season of Formula 1 was a historic one for Scuderia Ferrari. That year, the team won its first ever constructor championship with five victories in eight races. Phil Hill led the way for Ferrari, becoming the first and only American-born driver to win the world championship.
Despite the team's success that season, Ferrari was also struck with tragedy. During the penultimate race at Monza, driver Wolfgang von Trips accidentally crashed into a stand, killing himself along with 15 others. As a result, Enzo Ferrari pulled the team's only remaining car out of the final race.
To commemorate the events of the 1961 Formula 1 season, Omologato Watches has just released the Maranello 1961 chronograph timepiece. This watch celebrates Ferrari's success by naming each track of the season along the bezel, with the five victorious races highlighted in rosso corsa, or racing red. On the dial are various chronograph functions. The case is made from surgical-grade stainless steel and is bound to an Italian leather strap. Underneath is an automatic Seiko movement, a first for Omologato.
ADVERTISEMENT - CONTINUE READING BELOW ↓
Omologato founder Shami Kalra said: "Maranello is home to one of the most recognized racing teams in the world. Ferrari lives for Formula 1 and has produced some of the world's most beautiful racing cars and drivers. The Maranello watch incorporates the colors used by the team, and the venue of every race during the celebrated 1961 season is etched on the outer bezel. It is truly an honor to present a watch which gives enthusiasts the opportunity to feel a part of one of motorsport's biggest success stories."
Only 250 units of the watch will be produced. It's priced at £749 (P46,900) and can be pre-ordered on Omologato's website.