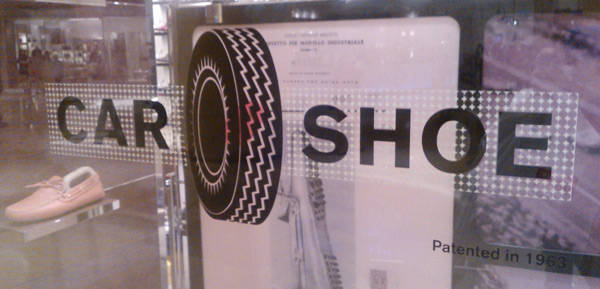 On a recent visit to Singapore, we chanced upon a shoe store at Ion Orchard Mall called Car Shoe. As its name implies, the store sells nothing but driving shoes--specifically, moccasins with specially designed rubber studs in their soles. Apparently, it's an Italian shoe brand that has been around since the '60s.
A quick check with the brand's official website confirms that Car Shoe was established in Italy in 1963 when the Italian Ministry of Industry and Trade awarded a guy named Gianni Mostile the patent for a uniquely designed driving shoe featuring "uppers perforated with rubber studs." The studs, according to the brand, are made of rubber materials "similar to those used in the production of tires."
The brand boasts using only "the finest leathers" from "the best tanneries," which are then put together by "160 hand stitches using 4.85m of English thread." The shoe's main selling point is its sole, which is perforated with rubber nubs--purportedly by hand (as opposed to a mechanical process).
Today, the brand is owned by the Prada Group and has flagship stores in Milan and Rome. In Asia, aside from the above-mentioned store in Singapore, Car Shoe now also has an outlet at Elements Mall in Hong Kong.
Continue reading below ↓
Recommended Videos
We weren't able to buy or even try on a pair due to time constraints. But we will definitely check out this shoe brand if the opportunity presents itself again. See a sample design below.
Photos by Vernon B. Sarne