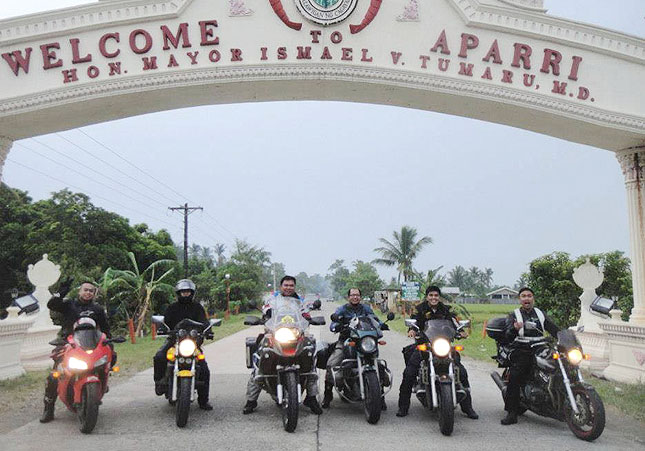 Riding a motorcycle is a great way to explore new places. It's fun, flexible and less expensive. Long motorbike rides, however, need a lot of planning, research and preparation (mechanically, physically and mentally). The rider must study the routes in advance to make the trip more fruitful and safe.
The bike should also be prepared. If you're going on a long ride, you should know your motorcycle's capabilities, limitations and fuel range. You should also bring riding essentials to survive the journey. Do note that you need to consider the space and weight that you and your motorcycle can accommodate. Here are some items you should consider:
1. Proper riding gear (such as helmets, padded jackets and pants, gloves, riding boots, and reflective vest). A test drive of your gear is a must especially when they're new. Protective gear should be comfortable and do not compromise safety. Ill-fitting gloves and aching ears because of a tight helmet may ruin your epic road trip or put you in danger. Wear apparel suited to the weather (no full leather suit in summer, guys), too. A reflective vest is necessary if you plan to ride at night.
ADVERTISEMENT - CONTINUE READING BELOW ↓
2. Clothes. Plan the type and quantity of clothes depending on your ride's length and duration. Choose the light and less bulky clothes to save space. If you're heading for the beach, shorts and sandos are appropriate.
Traveling to Sagada? An extra pair of pants and long sleeves will suffice. No need to bring an extra jacket; you went there to feel the cold anyway. In case it will be extremely cold, you may wear your riding jacket. Bring slippers to let your feet breathe. Hotels don't always have slip-ons for guests. You don't want to end up looking like a clown wearing riding boots with shorts.
For four-day rides (or even longer ones), avail of a laundry service. It's more practical than bringing your whole closet.
3. Toiletries. Bring the minimal toiletries you need. Pack your toothbrush, toothpaste, deodorant, a small soap and a shampoo. Forget the perfume, alcohol, powder and lotion. These are for babies.
4. Medicine kit. If you're on maintenance medicine, bring enough for the duration of your ride, as not all drug stores may have them. Bring three to four pieces each of emergency medicines for upset stomach, allergies, headache and fever. This kit should also carry a wound-dressing kit.
5. Tools. Since tools are heavy, bring only the ones suited for your bike and for minor troubleshooting. Zip ties, duct tape, small ropes, tire-repair kit, flashlight, extra fuses, headlight bulb and spark plugs will come in handy on long trips.
6. Rain paraphernalia. They are a necessity during the rainy season, but you may want to wear rain-proof jackets and pants to save space. During the summer, these are optional. Just be sure to check the weather report before you hit the road. Opt for jacket and pants, and not the overalls, which will flap away and may be a hazard.
7. Food and water. Dehydration is one major riding issue. Always bring drinking water and refill your bottle when you can. Bring at least 1L of water. Keep a power bar, a pack of hopia, or any food that doesn't get spoiled easily inside your bag.
8. Cell phone. Always bring your mobile phone and its charger, and extra power banks. They will save you during emergencies or when you get lost.
9. Spare keys. Bring your spare, and put it in your pocket or in a location where it will not get locked inside your bag or motorcycle.
10. Money. Cash will solve most of your troubles during a ride. Leave your credit and ATM cards, as they might not be of use. Stash your cash in different compartments or pockets so you will not unfortunately lose all in one go.
Maps, GPS and Bluetooth are optional. The general rule is that every item you bring must be useful and should not just be excess weight. Lastly, bring your friends or better halves. Long rides are more enjoyable with them.