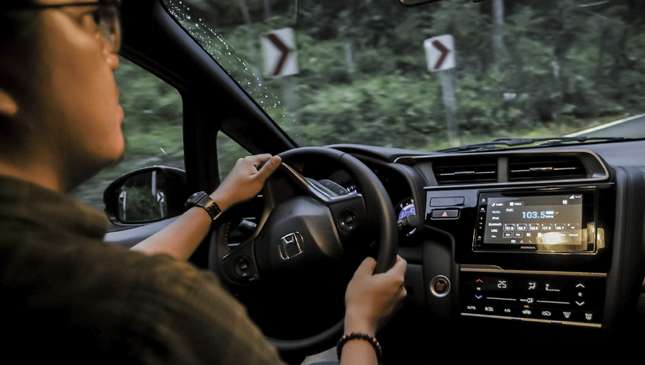 Here we go again. It's 6am and you're dragging your ass out of bed and into the shower, knowing that another long, frustrating drive by your lonesome is in order. Maybe your trip is work-related, maybe not. If you're driving because of work, chances are you don't even have the luxury of choice.
With that in mind, here are a couple of things you can do to make long, lonely drives more bearable—or even productive! Remember: Boredom is just a state of mind, and it can be easily overcome.
1) Build up your playlist, discover new music. This one's a favorite. Basically, just open Spotify or any other music app on your smartphone, connect it to your car's infotainment system, and hit shuffle on whatever compilation you can find. If you dig a groove, just save it. Before you know it, you'll have saved a couple of dozen new songs already.
Continue reading below ↓
Recommended Videos
2) Pass time with a podcast. Tired of your humdrum road trip playlist? How about giving podcasts a shot? They're not as passive, and there's a wide variety to choose from—educational, comedy, pop culture, sports. There's something for everyone, really.
3) Drop by an outlet store. These have become must-visit attractions in their own right. Whether you're driving north or south (hopefully on your way home), there's certain to be an outlet store along the way. Plenty of times there'll be a few good deals on hand, too. Just cross your fingers that they're well-stocked in case you run into a pair of kicks you really like.
4) Take a moment to contemplate your life. For some reason, there's a lot less dread when you're doing this behind the wheel rather than while you're struggling to get some shut-eye alone in bed. Still, chances are the assessment will be the same—something along the lines of, "Gawd I'm getting old stuck in traffic."
5) Make the trip worth the trouble. Drives out of town by your lonesome needn't be a burden, regardless of whether or not they're work-related trips. Pick out a nice restaurant heading to your destination or stop by a common attraction or two to soak in the sights. You can even visit a province-based buddy who you'd otherwise be limited to chatting with on social media.
6) Now's the perfect time to assess your ride. Many nagging car problems only surface once you're too focused on your ride and driving to notice anything else. Also, the expressway is really the only place where you'll find your speedometer climbing up to triple digits. Whether it's an unusually rough ride quality, slightly sluggish throttle response or something off with your steering, you're probably more likely to notice once you're by yourself.
7) Do a solo eco run. If you're not in a hurry, you can try seeing how much you can squeeze out of what you have in the tank. Plenty of cars these days come equipped with intuitive fuel economy meters, and it can actually be fun finding ways to get better readings with every trip. You can even make a game out of it if you want.
8) Just enjoy the drive. Oh yeah, there's this too. Be sure not to space out though.
9) Make a list of how not to be bored.