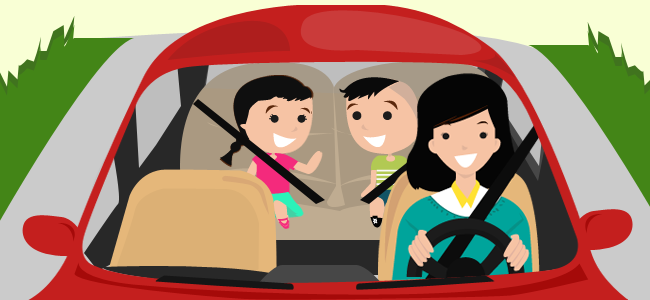 They are presidents, directors, senior managers and vice presidents in their respective companies. The decisions they make have serious repercussions in corporate direction. With just a signature, they can launch marketing campaigns; with a denial, they can cripple advertising quotas.
These are the women of the Philippine automotive industry, ladies who are at the top of their game. But at the end of the day, they are also mothers who make sure their children are happy and well cared for.
For Mother's Day this weekend, we ask several industry moms about their advice when it comes to traveling with their kids. Their replies show that they not only know how to handle children, they also know how to do so on the road.
Ma. Fe Perez Agudo, Hyundai Asia Resources president and CEO
* Bring fun things to distract your children, especially if they are little--things like chips or sandwiches to munch on, and games. If they have a tablet, make sure that you have a charger on hand in case the battery runs low.
ADVERTISEMENT - CONTINUE READING BELOW ↓
* Depending on their age, have in your stash an interactive CD or DVD that teaches them skills, songs, or the 3Rs. Or be creative and have your kids invent their own games, like counting the number of animals, fruit stalls, or Hyundai models that they spot along the way. Have a small reward for the winner!
Lyn Buena, Chevrolet Philippines senior vice president for marketing and customer services
* Always say a prayer before leaving.
* Take time to explain where the family is going and what is expected of them.
* When traveling to a new place, designate a meeting point in case anyone gets separated from the group.
Margo Delfinado, Ford Philippines director for customer service
* Keep baby wipes handy at all times.
* Take endless photos for your kids to remember all the fun travels you had with them.
* Tell your kids that when they get lost, go back to the place where they last saw you and assure them that you will go back for them there.
ADVERTISEMENT - CONTINUE READING BELOW ↓
Recommended Videos
Loi Concepcion-De Guzman, Volvo Philippines assistant vice president for marketing services
* Even if your child doesn't want to wear a seatbelt, you have to make him or her wear it. Get a comfy and sturdy child seat, too.
* Bring an "OC" bag that includes an extra set of clothes, nappies, toys and food.
Michelle Bayani, Toyota Motor Philippines advertising and events management officer
* Never go out without wet tissue, hand sanitizer, portable fan and a few toys to keep a child happy and clean.
* Always keep your children within reach and in sight.
Sherlyn Co, Mazda Philippines corporate communications supervisor
* Make sure that your vehicle is equipped with as many entertainment options as possible to keep kids amused during the entire trip.