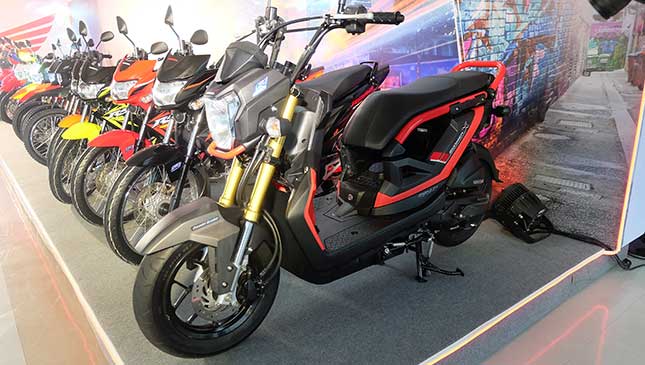 When an owner of a brand-new motorcycle ends up crashing his unit while riding straight from the showroom, is it ignorance, recklessness or overexcitement?
Jun Lomibao of the Honda Safety Driving Center (HSDC) told Moto Sapiens that there is a growing number of motorcycles being damaged even before the owner can ride it home for the first time. Bikes ramming into lamp posts, hitting road signs, or being swiped by passing vehicles just outside the dealership are some of the freak accidents that happen.
ADVERTISEMENT - CONTINUE READING BELOW ↓
Some of these incidents involved eager beavers who squeezed the throttle more than they should, causing the bike to sprint out of the showroom and hit a parked vehicle outside.
Motorcycle dealerships cannot prevent owners from riding their motorbikes straight from the showroom, especially when they've shown their valid driver's license with the Restriction 1 clause (for motorcycles/motorized tricycles). Under existing company policies, Honda dealers are not allowed to sell a motorbike to a buyer who doesn't have a valid driver's license.
According to Lomibao, accidents happen not only because the owner lacks knowledge on the features of his new motorcycle, but also due to ignorance on safety riding and disobeying traffic rules.
'Zero accidents' is Honda's main concern and goal. Here are some tips from Honda Philippines that will help riders live long enough to upgrade:
1) Safety start. Riders must be physically and mentally fit. Know your limitations and always be patient, courteous and considerate to everyone in your surroundings.
ADVERTISEMENT - CONTINUE READING BELOW ↓
Recommended Videos
2) Traffic rules are terrific. Familiarize yourself with the different traffic road signs before you hit the street with your new bike. Obey traffic regulations at all times.
3) Gears for your fears. This '80s throwback and safety reminder is about wearing proper riding gear. These include not only the helmet, but also elbow and knee pads, long-sleeved shirt or jacket, gloves, long pants, and riding shoes (preferably high cut).
4) Handling with care. Before mounting the motorcycle, the owner must already know how to use the center or side stand. He or she should also know the proper technique on how to lift the bike in case it falls to its side. It would also be wise to try pushing the motorbike to have a feel for its weight.
5) Guide to pre-ride. Aside from conducting a pre-ride inspection on the tires, side mirrors, headlight, signal lights and stoplight, it is important to know the functions of the different controls and buttons on the handlebar.
ADVERTISEMENT - CONTINUE READING BELOW ↓
6) Ensure proper posture. When mounted on the bike, make sure your head is straight and always look forward. Shoulders must be relaxed while the arms are slightly bent for better control of the handlebar. Knees must be squeezing the tank or covered by the leg shield (scooter).
7) Safety check please. Before rolling out of the showroom, check for blind spots or oncoming vehicles from the left or right side. Signal intent at least five seconds before turning.
8) Zero accidents is possible. When riding with your new bike for the first time, always be analytical of the situation on the road. Make use of your field of vision. Maintain a safe distance with the vehicle in front and always control the bike's speed.
9) Brake on time all the time. Learn not only how to modulate braking but when to use rear only, front only, or both rear and front brakes. Know when engine braking is safer to use than the brakes.
ADVERTISEMENT - CONTINUE READING BELOW ↓
10) Be sure you're ready for a companion. Do not allow a passenger to mount your bike unless you have already familiarized yourself with the unit. Tandem riding requires special skills and it cannot be acquired overnight.
11) Sharing is caring. You don't own the road. Be aware of other road users like motorists, pedestrians, cyclists, and even stray animals.
12) Be alert at all times. The rider must be able adjust to various situations—like clear roads, crowded streets, or heavy traffic.
Again, we remind newbies to invest in safety rider training. If not, be ready to take the consequences (and please don't take us with you).