If you've read my review of the Yamaha XSR700, you've probably noticed just how far I've fallen in love with this timelessly styled sport naked bike. Yamaha must've noticed as well, as the company recently invited me on an evening ride up north. Of course, I was again given an XSR700 to ride, but this time, the unit sported a new and sexier silver paint job.
Since it wouldn't make sense to write a review of a bike I've already written about, I'll instead be giving you 10 reasons the XSR700 is the current object of my 'biker boy' fantasies after another intimate riding experience with this Yamaha.
1) It's compact and Pinoy-rider-friendly.
At 5'7" (5'8" with the right riding boots on), I can comfortably get both feet almost totally flat on the ground when I'm astride the XSR700. The tank, the engine, and the seat are all narrow and compact, making it easy for not-so-tall riders to get comfortable and balanced even if the seat height is higher than that of the 900cc XSR900.
ADVERTISEMENT - CONTINUE READING BELOW ↓
2) It's very capable.
Powered by a 689cc crossplane in-line twin-cylinder engine, the XSR700 gives you a hefty amount of torque. Twisting the throttle in any gear allows for confident overtakes even on the highway, and delivers the power needed to keep up with the bigger bikes in Yamaha's stable. Launching the bike from a standstill will undoubtedly leave a smile on your face. And if you don't hold onto the tank tight with your legs, you might just slide right off the straight seat after twisting the throttle a little too hard.
3) It's easy to squeeze into gaps.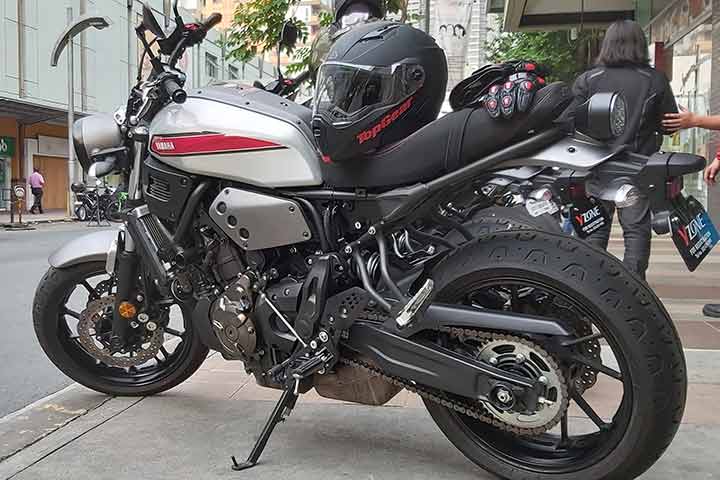 ADVERTISEMENT - CONTINUE READING BELOW ↓
Recommended Videos
An important factor to consider when riding a motorcycle in the Philippines is if your ride can "make singit" between cars to beat the traffic. Situations when you're forced to lane-split (for instance, most of the time these days on SLEX) allow the XSR700's compact nature to shine—this thing can fit, with enough skill and coaxing, into the same spaces that smaller-displacement bikes can easily penetrate. The handlebars are higher than most sedans' side mirrors, too, so it won't be too much of a hassle to filter through gridlock.
4) It won't cook your crotch in traffic.
An issue people have with many big bikes in traffic is the heat that the engines give off. Certain European brands are for notorious for practically roasting the rider's more private bits, as I experienced firsthand when I reviewed a certain Italian stallion in the same middleweight category as the XSR700.
ADVERTISEMENT - CONTINUE READING BELOW ↓
In traffic, the Yamaha tends to get a little warm, but it's far from the sterilizing level of heat produced by other big bikes. It helps that the heat doesn't waft upwards to your crotch, too.
5) It's fuel-efficient.
I remember asking the people at YZone, Yamaha's premier showroom in the Philippines,  which of their big bikes is the easiest on gas. Their answer was the MT-07 platform, on which the XSR700 is based.
The 14-liter gas tank is more than enough for most rides; I completed 160km+ round trip through both dreadful Metro Manila traffic and wide open expressways, and still had fuel left in the tank when I got back to YZone in Mandaluyong. Not once during the journey did I care about running low on gas, and the XSR700 didn't punish me for it.
6) It's light and flickable.
ADVERTISEMENT - CONTINUE READING BELOW ↓
With a wet weight of 410lb (185.9kg), the XSR700 is not modern-superbike levels of light, but when you get it rolling, it feels so much lighter and smaller than it actually is. Around corners and when switching lanes on the highway, it feels planted yet flickable like a lightweight sportbike. Such characteristics make the XSR700 ideal as a sporty daily and weekend ride.
7) It's easy to tinker with.
The XSR700 was built with modularity and customization in mind, hence the bolt-on rear subframe and the easy-to-remove bits and pieces. Most components on it are simple to take off, replace with plug-and-play aftermarket parts, and return to stock if needed. I've talked to an owner of the XSR700,  and he praises just how easy it is to mess with the bike—his entire aftermarket headlight-and-turn-signal assembly was installed with ease, without making the bike difficult to bring back to stock form.
ADVERTISEMENT - CONTINUE READING BELOW ↓
8) It's minimalist, but well-equipped.
The XSR70 comes without any riding modes, rider aids, or wheelie control, and it doesn't have to. Since its engine produces an appropriate amount of power for having fun without risking the rider's life, electronic rider aids aside from ABS aren't necessary.
The ride is as pure and unadulterated as it can get, but don't assume the bike is lacking in features. Aside from front and rear ABS, the XSR700 comes with a lot of standard goodies that both new and experienced riders can appreciate, like a gear indicator, trip meters, an average fuel-consumption meter, ambient and coolant temperature readouts, an eco mode indicator, and more.
9) It has just-right ergonomics.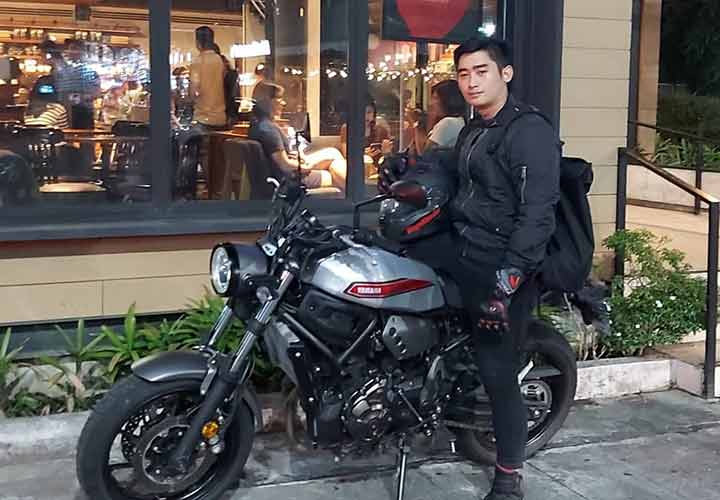 ADVERTISEMENT - CONTINUE READING BELOW ↓
Sitting on the XSR700 feels inherently right to me. The riding position is not overly aggressive and leaned over like in a sport bike or a café racer, so you can comfortably ride this Yamaha day in and day out. But it's not as relaxed as a cruiser's riding position, so you can still tackle the twisties with ease like the cornering god we all aspire to be. I've ridden the XSR700 to school a couple times, and I can confidently say that I don't see myself getting tired of riding it, even through heavy Makati/Taft traffic and the effort of pushing it into tight parking spots.
10) It's so darn pretty.
Just admire its heritage-inspired styling, exposed modern performance goodies, hand-finished aluminum gas tank, meticulously designed proportions, and attractive front and rear overhangs. If those things don't scream 'pogi' to you, we're not sure what will.
ADVERTISEMENT - CONTINUE READING BELOW ↓
Every time I see the XSR700 in the metal, I get the urge to run over to the nearest lottery stand in hopes of winning enough cash for it, without having to resort to selling a kidney. As bikes continue to get prettier these days, I can only hope to make enough money writing about them to one day have something as aesthetically pleasing and emotionally impactful as the XSR700 parked in my garage.