Suzuki's latest Raider has been making the rounds on the Internet lately—not just because it's a new Raider, but because it's poised to fight in the dual-sport underbone segment currently dominated by a certain bike from another Japanese manufacturer.
A whole horde of people have been, well, indifferent to the Crossover's announcement. Many wonder why it took Suzuki this long to churn the machine out, while others question the bike's 115cc displacement when its rival has a 10cc advantage. Suzuki decided to let the Crossover speak for itself by having 20 riders take the bike on a near-600km journey through Mindanao to see if the little off-road underbone was worth the wait.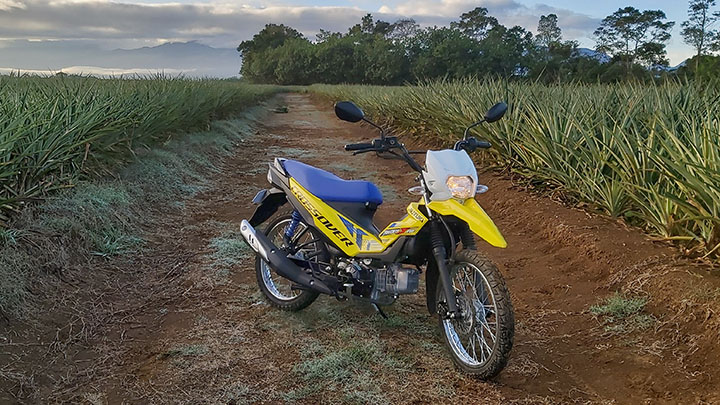 ADVERTISEMENT - CONTINUE READING BELOW ↓
Myself and a few others from the motoring media were flown out to Mindanao early in the morning. Being the youngest in our group, as I usually am, I was filled with a mix of excitement and anxiety as it would be my first time riding in Mindanao. Plus, we were informed that the ride would span over 500km, whereas my longest prior ride had only lasted roughly 160km.
The same day we arrived at our first accommodation, Dahilayan Adventure Park in Bukidnon, we were almost immediately plunged straight into the action after a quick safety briefing. The newly activated Raider J Crossover units were baptized in a trial by fire (or should I say trial by dirt?). We took the bikes around several rounds of Dahilayan's off-road ATV trail.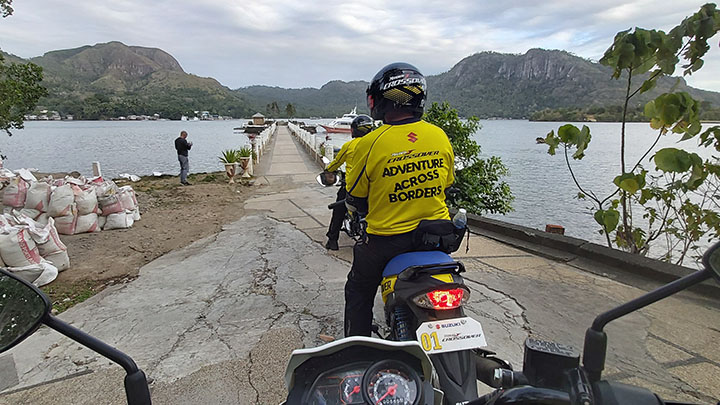 ADVERTISEMENT - CONTINUE READING BELOW ↓
Recommended Videos
The trail itself isn't the most technical or difficult, but being the veritable off-road newbie that I am, the dirt roads and gravel paths I've ridden in the past did nothing to prepare me for the cold, rainy forest and its rocky roads, mud, pine needles, and dirt. I laughed nearly all the way through the trail, both because it was so much fun and because the experience of the rear sliding around on loose rocks and kicking up dirt was so nerve-wracking.
I went to sleep that night with my hands shaking and my right foot still trying to flick the rear brake to rein the bike in.
We got ready for takeoff at around 5am the next day, the wind still stinging cold and the darkness yet to be penetrated by the sun. We rode down the mountain and through Bukidnon, taking in the beautiful scenery and fresh air Manila so sorely lacks.
ADVERTISEMENT - CONTINUE READING BELOW ↓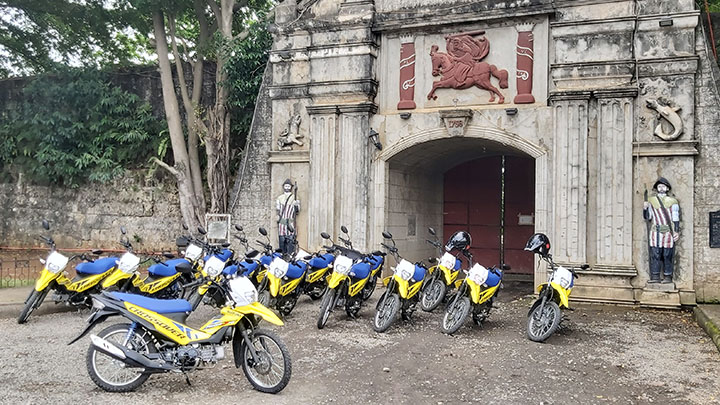 Our first stop was the pineapple plantation at Manolo Fortich, where we lost ourselves in a sea of maroon dirt roads and lush green pineapple tops. The Crossover felt entirely at home, letting me live out my dirt-rider fantasies. From there, we pushed the little Raider's engine up the steep inclines leading to Amaya View, took in the breathtaking coastal roads leading to Tatay's Grill where we had lunch, and even got our feet wet in a mini river crossing at Cathedral Falls.
ADVERTISEMENT - CONTINUE READING BELOW ↓
We were told this day would only take around 303km, but we ended up arriving at our second accommodation, Hoyohoy Highland Resort, 350-plus kilometers later in the dead of night. After the most exhausting ride of my life so far, my body begged for rest, as my severely sore butt and dust-filled eyes longed for a good night's sleep.
The following morning, we left our little 'Baguio down south' at around 8am and we proceeded to brave the thick fog and cold winds in the descent from our second mountain abode. Our journey then took us sightseeing through the laid back cities of Iligan and Ozamiz, with more scenic ocean roads and unavoidable bustling streets. We were treated to lunch at Johann's cuisine in preparation for the 141km ride to our next stop: Dipolog City.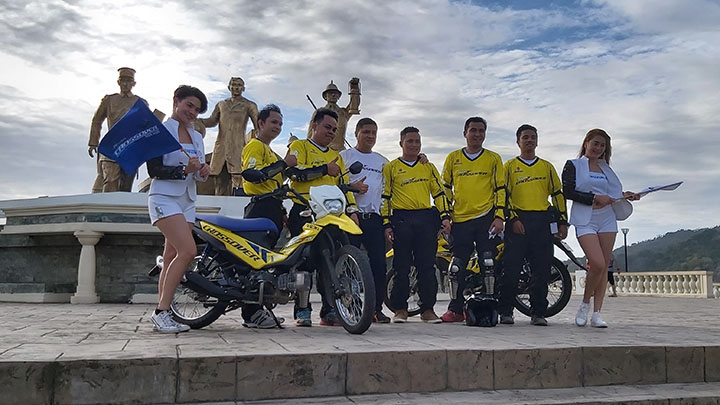 ADVERTISEMENT - CONTINUE READING BELOW ↓
The entire time, the Crossover was totally in its element, whether it was on rough, unfinished roads or twisting mountain paths. I applaud the Crossover's light and nimble handling for making an exhausting ride so much fun.
Arriving at the 'Explore Dipolog' sign in the city's wide seaside boulevard, we had one of many photo opportunities that reminded me of family road trips. From there, we rode on to the historic Dapitan landing site, where Suzuki acted as our tour guide.
The final stretch of our ride was the series of wide and curvy roads leading to the exclusive Dakak Beach Resort, which had me screaming in delight as the Crossover dutifully followed every line I chose on the twisties. Our arrival in Dakak felt something straight out of a movie, complete with tropical flower necklaces, laid-back music, welcome drinks and snacks, and the sun just about ready to set.
ADVERTISEMENT - CONTINUE READING BELOW ↓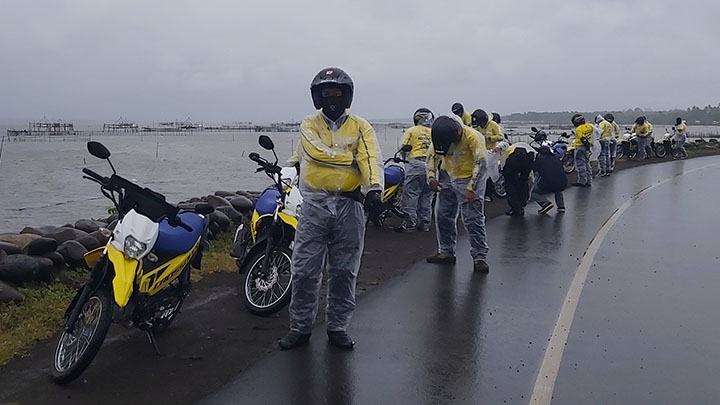 As ecstatic as I was to finally make it to our little tropical paradise, I couldn't help but feel a bit sad knowing our ride with the Crossover had come to an end. Thankfully, we celebrated long into the night. Later, I slept more soundly than I have in a long while, with my dreams still showing me scenes of awe-inspiring seaside roads and rough mountain paths.
ADVERTISEMENT - CONTINUE READING BELOW ↓
We flew home the following morning with aching bodies and bags full of pasalubong, with the best take-home of all being the experience of conquering all the challenges Mindanao's roads has to offer .Clocking in a total of 567km, I feel like I've grown as a rider even by just a little bit.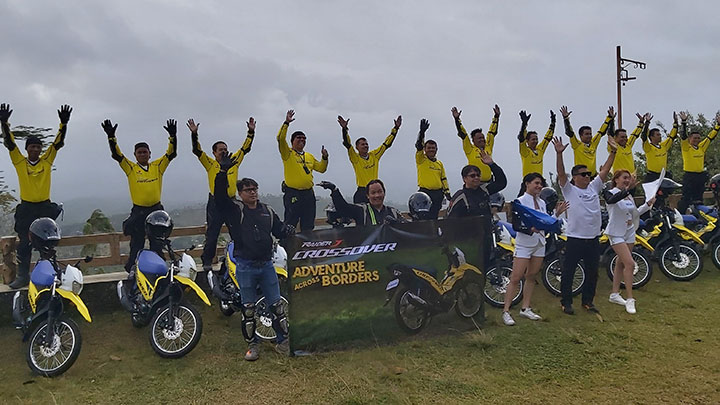 ADVERTISEMENT - CONTINUE READING BELOW ↓
Suzuki has something quite interesting on its hands with the Raider J Crossover. If you're itching to find out more about what we think of the roughest Raider yet, stay tuned for our full review coming soon.