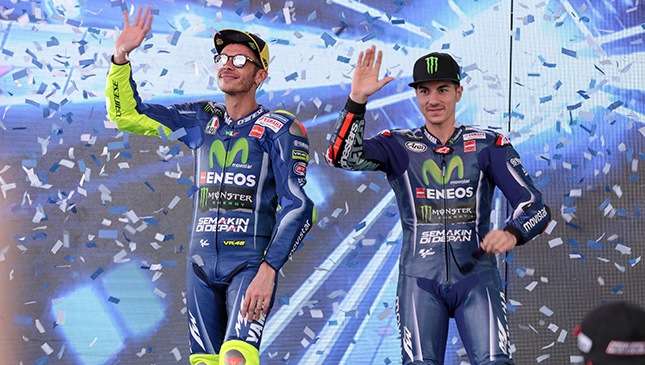 Last weekend, pro riders Valentino Rossi and Maverick Viñales stopped by for a short visit in Manila to greet their fans and lead the opening of the Yamaha Grand Prix 8, the company's annual one-make series. Afterwards they headed back to Sepang, Malaysia, to test their new race bike.
This season will be Rossi's fifth year since rejoining Team Yamaha in MotoGP. A lot has been said about his age, but he has consistently demonstrated his competitiveness against his former teammate, Jorge Lorenzo, and his fiercest rival, Marc Marquez.
Viñales, meanwhile, joins the team from Suzuki; his unquestionable speed and talent making him the top pick for the vacancy. Will he give The Doctor a run for his money? This will be a cracking season for sure!
Continue reading below ↓
Recommended Videos
Here are seven interesting quotes we gathered from last weekend's exciting event that proves it will be one hell of a season for the Movistar Yamaha MotoGP team.
1) "This year, I will race with the Philippine flag on my bike." This is Rossi's tribute to the enthusiasm of his Filipino fans.
2) "Go slow." This was Vale's joking response as to what advice he can give his new teammate. If leading the testing times in Valencia last November is an indication of what to expect, then we're in for a great fight between these two.
3) "There are three things that are very important: the rider, the bike, and the team. We have to work very hard to beat Marquez and Honda." It's not hard to identify Rossi's main target, especially when things turned sour between them two years ago. But then he also has to watch out for Lorenzo, who has joined Ducati, and his promising bike. And let's not forget Viñales. Yamaha signed him for one reason only—to win.
4) "It's a process and I'm learning more and more about my new team." With Yamaha being a bigger team compared to Suzuki, Viñales is learning the dynamics of his new team and how it operates. There's no doubt Maverick is up for his new challenge.
5) "The fans." Viñales pointed to the crowd when asked what keeps him going.
6) "We only have one target. And that target is to win the championship." With Honda reclaiming the title last year, winning is the only thing that matters for the Yamaha executives, including Yamaha Motor Philippines sales and marketing director Kaoru Ogura.
7) "We are excited for the season because we have the best riders in MotoGP." Yamaha Motor President Toru Osugi was talking about VR46 and MV25, of course.
The first race of the 2017 MotoGP season will be at Doha, Qatar, on March 26.
Are you ready to place your bet on Rossi and Vinales?