Starting this month, you'll probably be seeing the names of the Alberto brothers in motorsports headlines. That's because TJ and younger brother Troy are racing for the first time in two different categories of the Asia Road Racing Championship (ARRC) at Sepang International Circuit on March 8-10, 2019.
And according to their father Toti, who happens to own the Access Plus motorcycle dealership, it's no easy task sending these two abroad to race. You really need deep pockets and tons of patience to compete in motorsport.
Before we proceed, allow us to point out that TJ Alberto is the guy on the left in our main photo above. But that's not his brother next to him—it's Jonathan Serrapica, his Swiss-Italian teammate in the Access Plus Ducati Philippines Essenza squad. Here's Troy (in white):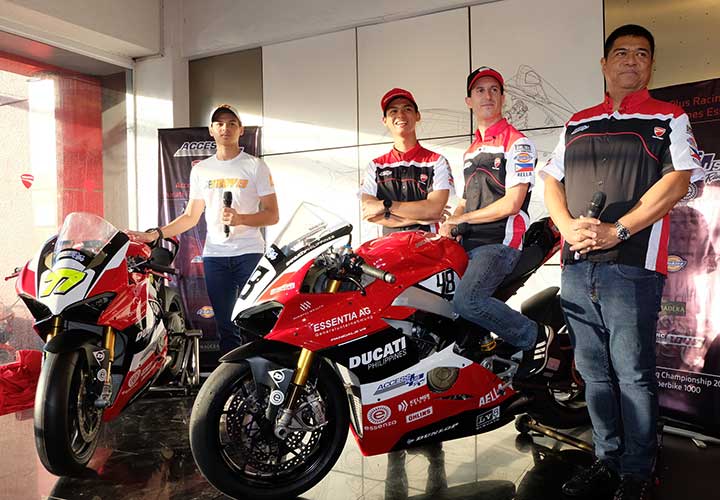 TJ and Serrapica will see action in the debut race of the ARRC ASB 1000 superbike class. "I am coming into 2019 confident after two great seasons racing in Europe, where I really learned a lot compared to the level of my National championship in the Philippines," says TJ. "I feel I have stepped up my game, both in terms of riding and skill. We finished our first test in December, a Dunlop tire test, and I finished second against many riders from the World Superbike paddock, which is encouraging."
ADVERTISEMENT - CONTINUE READING BELOW ↓
After the global launch of the Ducati Panigale V4 R last year, TJ and Jonathan will be among the first to compete using the gorgeous, high-performance track beast.
The team's three units were acquired through subsidized pricing, shares Toti, and were made available to them by Ducati Italy, with technical support to be provided by the formidable Ducati Corse. Apparently, Toti has lots of convincing power—the 221hp Panigale V4 R, priced at around P3 million, is not yet commercially available worldwide.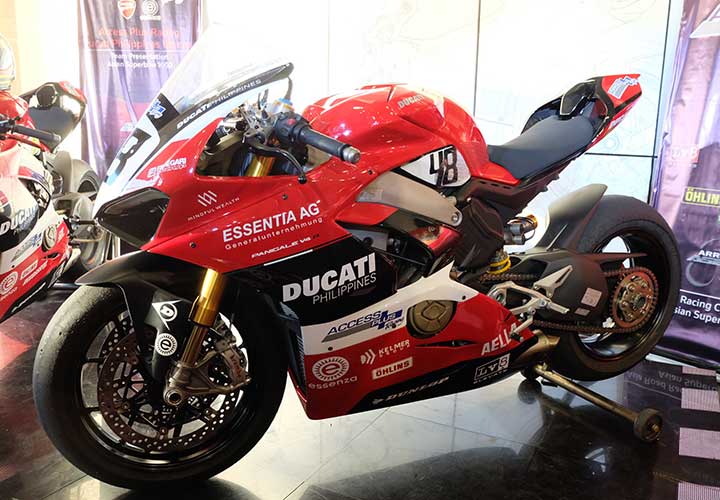 Troy, meanwhile, will be racing as a wild card in the first round of the ARRC SuperSports 600cc class using a bike from another brand. Besides this, he will continue to race in the 2019 season of the Honda Thai Talent Cup (TTC), according to Honda PH motorsports group head Gilbert Theodore Sison. Troy's best finish in the TTC so far was second place during a race leg in November 2018.
And for impressing the Honda PH bosses, Troy will serve as a training coach to riders who qualified for this year's Honda Pilipinas Dream Cup and other road racing events that are supported the local company.
Going back to TJ, there's another big race waiting for him this month: He's also competing as a wild card in the Pirelli Thai Round of the World Superbike Championship on March 15-17, as a replacement for injured Dutch rider Rob Hartog of Team Hartog Against Cancer. This means TJ has leveled up from regional racing to world championship events.
Racing in these international events is not expense-free. Financial concerns have caused the Albertos sleepless nights as TJ and Troy push for titles. But when the going gets tough, the tough get going. It's the family's deep passion for motorcycle racing that keeps them holding on.
And lately, Toti is seeing brighter days ahead as he starts to sense business opportunities from his two boys' racing feats. He has found a lifeline to sustain their passion for motorsports after forging a sponsorship deal with Essenza, a lubricants company based in Europe. Part of the deal was for Serrapica to join the team.
Serrapica is not a small fry in the international racing scene: He was the champion of the 2017 Malaysian Superstock series, and a second-place finisher in the 2018 Malaysia Superbike Championship.
Negotiations are underway for more possible sponsorships for the Access Plus Ducati Philippines Essenza team. "Next year, maybe, there'll be more Italian riders who'll ride for Access Plus," Toti says.
ADVERTISEMENT - CONTINUE READING BELOW ↓
Race-bike shakedown for the ARRC starts tomorrow, March 5, at Sepang International Circuit. We see this as a good start for a Filipino-owned team to compete with other outfits in the world racing arena. Good luck to TJ and Troy!