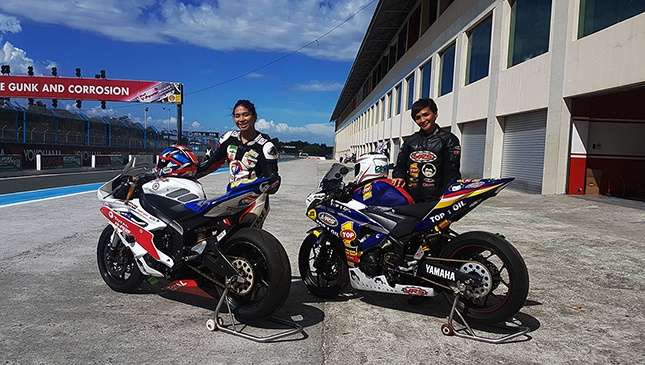 For a father, it's not easy to say yes to his children who want to race motorbikes when he had already lost a son who shared the same passion. Gregorio "Yoyong" Buncio's son Maico perished after a crash during a qualifier race in 2011. Yoyong initially thought that one loss is more than enough.
ADVERTISEMENT - CONTINUE READING BELOW ↓
Maico was at the peak of his career when tragedy struck. The Buncio family was devastated, along with a throng of fans who believed that Maico was the country's hope in international superbike competitions.
Shortly after, sisters Des and Jacq Buncio later found themselves itching to race, too. So they became relentless and persuasive to get their father's blessing.
Like their dad and brother Maico, the Buncio sisters have been into motocross and trail riding since they were young. Back then, the girls were in it mostly for fun and family bonding, while the boys were more competitive.
During a recent interview with Moto Sapiens, Yoyong scratched his head when asked how the 'Swing out Sisters' got his nod for them to try their luck in circuit racing. According to the elder Buncio, it's love for his bubbly and carefree daughters that prevailed.
Des and Jacq's other sibling, Barny, also rides motorbikes, while their sister Shara is involved in the family's motorcycle aftermarket business.
ADVERTISEMENT - CONTINUE READING BELOW ↓
Recommended Videos
In 2015, then 15-year-old Jacq began racing in underbones and two years later Des followed suit.
Last year, Jacq bagged first place at the Pirelli Cup Championship Lightweight Category while Des took the 1st runner-up title in the Super Lighweight Class A during Round 1 this year. After being a champion in 2016, Jacq has moved up to the Heavyweight Class in this year's race.
Here's how the Buncio family rose from the ashes and returned to a heart-pumping yet dangerous sport they all love with Des and Jacq now on the racing frontline.
Moto Sapiens (MS): How were you able to convince your dad to allow you to race?
Des: There was no actual convincing that happened as our dad was pretty open to racing. I mean, Maico has been racing all his life and our dad is always there to support. Plus, he was a former motocross racer himself. He just always made sure we're safe and prepared.
ADVERTISEMENT - CONTINUE READING BELOW ↓
MS: After Maico's passing, did the two of you immediately think of following his footsteps? How did the incident affect you?
Des: I did not. Maico passed away in 2011, and it was 2015 when I decided to try learning circuit (racing). Maico's passing was nothing I've ever experienced. Aside from being unexpected, it was really painful. I had a lot of realizations about life, it made the family bonding stronger, and we met a lot of people whose lives were inspired by Maico.
Jacq: I learned how to ride a motorcycle the same year he died. And his death was the gateway for me in knowing that I can have a different life other than being a teenager.
MS: Did you ever think of racing even when Maico was still around?
Des: Nope. It never crossed my mind. *laughs* I was just there as his promoter and supporter. I never knew I also will share the same passion in the future.
Jacq: I started riding when I was 13 years old, and I didn't have a direct reason for the loving riding. It's just because since the day I was brought to our house in Mandaluyong, the smell of gas, oil and motorcycle exhaust has been part of our daily routine.
ADVERTISEMENT - CONTINUE READING BELOW ↓
MS: How do you get rid of fear when on the track?
Jacq: I fight off fear by simply repeating this: Kapal ng mukha at puso.
Des: I usually talk to myself and sing while riding.
MS: What do your girl friends say about your racing exploits?
Des: They're supportive even though the idea was new to them. I'm just having a hard time letting them digest what I do. But still I'm thankful as some of them go the extra effort to watch my races.
Jacq: Nothing much. But sometimes they mock me when they read comments about fans calling me 'idol.'
MS to Des: Do you play 'big sister' to Jacq when racing?
Des: During racing, not so much as she's faster than me. *laughs* But inside the track and during training, yes I still watch over and look after her. I scold her if I need to and I'm with her when she gets emotional. She does the same thing with me, so every experience with her on the race track is a bonding moment for us.
ADVERTISEMENT - CONTINUE READING BELOW ↓
MS: How would you describe your dad as a father?
Des: He is an all-out dad, unselfish and always giving. He makes sure we are always priority.
Jacq: Supportive, loving and caring. I have a lot more to say about him, but this interview might take a while.
Do you now see 'girl power' with the surname Buncio as the 'Swing Out Sisters' reign over motorcycle racing soon?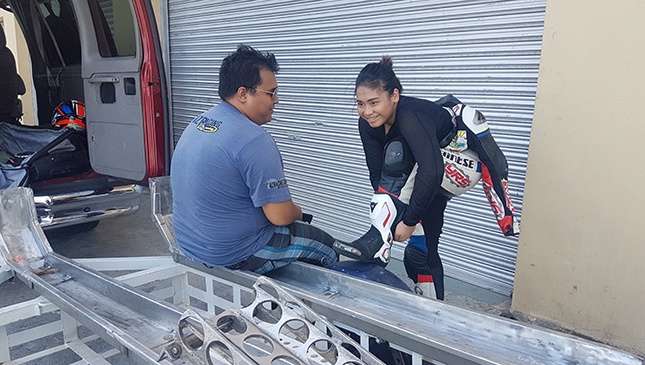 ADVERTISEMENT - CONTINUE READING BELOW ↓