Before I step out of the apartment, I run through a questionnaire in my head. How early do I leave? Should I take the MRT? How about I book a Grab instead? These questions show me that reliability is fiction when it comes to the Metro Manila commute.
It was time to dust off the cobwebs from science lessons past and do an experiment. When experimenting, you need to reduce variables to get consistent results. My goal was to reduce my commute variables down to only me and my time.
Revisiting bicycles was a good start, and getting a motorcycle kept things rolling. Together, they have reinjected consistency and sanity into my commute.
My curiosity for riding motorcycles was sparked in 2017, three years into my life as a working professional. Getting to work using Uber on some days and by bicycle on most was manageable, but it wasn't perfect. Uber was a luxury, and riding a bicycle, while energizing, had me huffing and puffing home on Fridays.
I was looking for a viable option that balanced time and cost. Then my partner told me about Angkas. Curiosity piqued, I downloaded the app and booked my first ride. I was quickly hooked by how much time I saved. My 40-minute bicycle and one-hour Uber rides easily turned to 25 to 30 minutes on the backs of scooters and underbones. This fired up my interest in motorbikes.
Continue reading below ↓
Recommended Videos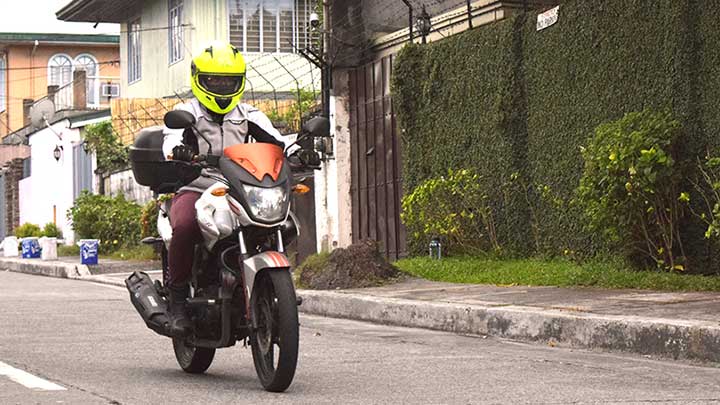 Soon after, I signed up for beginner riding classes at the Honda Safety Driving Center (HSDC) in Parañaque. The goal for the first day of class was clear: ride a motorcycle around the closed circuit. When the afternoon's practical session rolled around, my fingers were tingling with excitement.
Those of us who chose manual-transmission units were each assigned a Honda TMX, a sturdy pantra, a base-model motorcycle favored by tricycle drivers and delivery services. Using the skills we picked up that morning, we started with the first exercise.
At 5'1", I never fully sat on the TMX. I was on my toes, literally and figuratively. While I racked my brain for the best tiptoeing strategy, I was saddled with a seemingly simple sequence of actions. Clutch in, right foot resting on the rear brake, clutch slowly let out to halfway, then left foot off the ground once balanced.
Two rounds in, the motorcycle was moving beneath me, but the 'duck walk' back to the starting point was testing my ability to keep the bike upright. I could feel my stress mounting. Suddenly, I learned gravity is real when I lost my balance and dropped the 108kg bike while moving at snail's pace.
For a novice, failing is part of the progress toward getting better. But mistakes, big or small, can be embarrassing when you're not the only witness. Getting better meant getting up and risk repeating it again.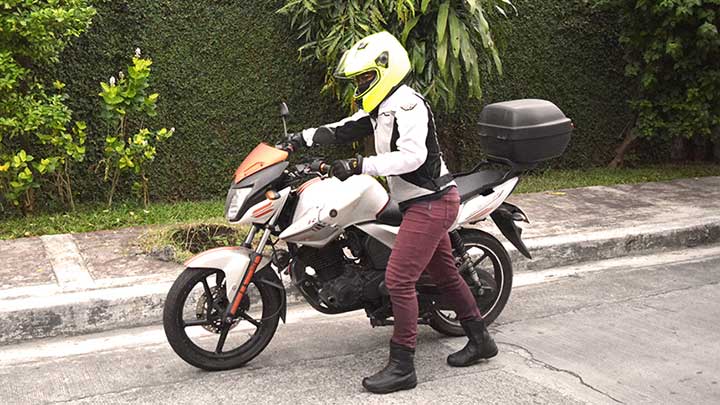 By the end of the afternoon, I was looping the closed circuit along with the other students, happily showing off our new skill.
Riding around a closed circuit is ultimately a loose interpretation of riding on Philippine roads. In the riding course, I was surrounded by other students and supported by encouraging instructors. The environment was comfortable and controlled. The only time I went over 35kph was to practice emergency braking.
On one of my first few days out to work, I was naturally a bundle of nerves. My motorcycle, a secondhand Yamaha SZ-R, was tall. Riding this 150cc street bike meant getting used to using my left foot as a sole anchor and counterweight.
I was determined not to crash. But I also knew that no closed-circuit experience can simulate impatient drivers, narrow roads, potholes, and confusing road signs. I put on my riding gear and pressed the ignition, hoping for the best. I rode slowly and split lanes only when cars were far from the curb. I made my way along Aurora Boulevard with no incident.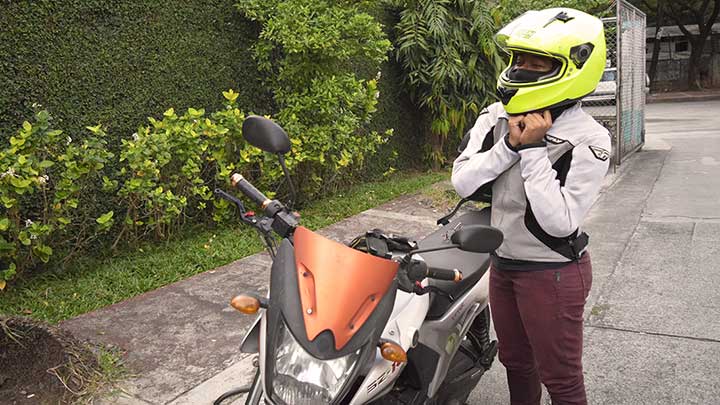 So far so good, I thought, picking up a little speed on C5. My mood slowly dipped when I reached White Plains, a two-lane section of Katipunan Avenue sandwiched between Camp Aguinaldo and the White Plains subdivision. A few close brushes with side mirrors and some more following the leader later, I was sitting in the parking garage of my work office in Ortigas. I made it in one piece, sweating but accomplished. The ride home shone with the opportunity for more progress.
As a woman, I've been on the receiving end of the phrase "mag-ingat ka." I've always felt it as genuine well-wishing and, to be more precise, an indirect warning. The first time my mom found out I was learning to ride a motorcycle, she expressed surprise and then out of concern said that familiar line again: "Mag-ingat ka."
Yes, riding a motorcycle has its dangers, but it's a calculated risk. A motorcycle is as safe or as risky as its rider chooses to be, regardless of their gender. For me, the payout has been practical. It means fewer expenditures for gas, insurance, and parking fees. I can get to places faster than in a car, especially in heavy traffic. I accept the risk and make decisions to minimize it, gaining some breathing room in return.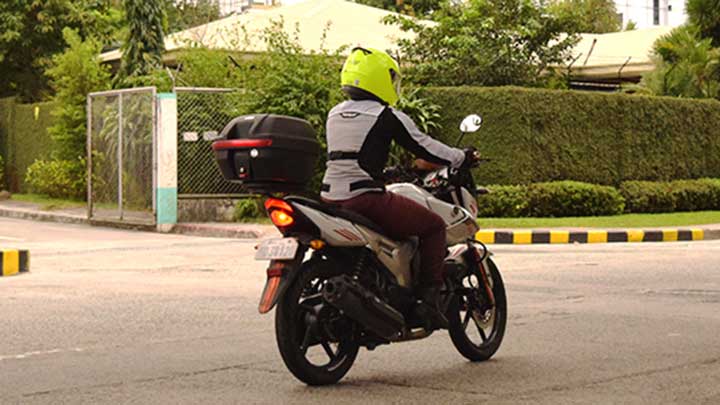 EDITOR'S NOTE: After graduating from college as a German major, Agnes Uzochika Aja worked for a content writing firm before she found herself doing research and translation jobs for foreign companies. One fine day, this athletic lass came knocking on our door saying she wants to write about motorbikes. Why not?