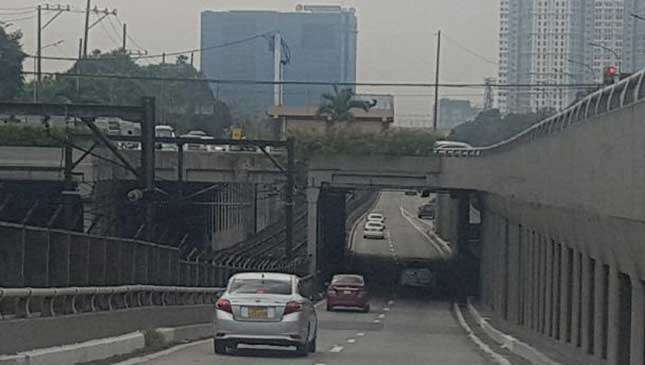 Traffic is the great equalizer. Whether rich or poor, in cars and in buses, all of us suffer. And while motorcycles are perceived to be the fastest way out of gridlock, they get stuck when vehicles get entangled and everything stops moving.
There is also a downside to riding these two-wheelers: Riders are more vulnerable to accidents and health concerns. We have less protection from vehicular impact, and we're exposed to elements like rain, heat, dust and smoke.
ADVERTISEMENT - CONTINUE READING BELOW ↓
One of the most neglected—or probably ignored—hazards in riding motorcycles is being exposed to harmful emissions while stuck inside tunnels for long stretches due to traffic. This is more relevant in the Philippines since most, if not all, tunnels here are not equipped with proper lighting, warning signs, emergency phones, and exhaust fans for proper ventilation.
Without the comfort and safety of a vehicle cabin, riders inhale toxic elements emitted by vehicles in these enclosed structures. They can smell it and feel it, and yet they pass through it every day. If these health issues are taken for granted, these tunnels might as well be a graveyard for motorcyclists.
For those in enclosed vehicles, while at a standstill inside a tunnel try getting out of your car and inhaling some of that nasty air. You'll get what I'm driving at.
To further explore the downside of this issue, I asked my daughter Patricia Ilagan, who completed a course in BS Biology at De La Salle-Dasmarinas, to share to Top Gear PH readers the possible health risks that come with regular exposure to vehicle smoke and other harmful elements inside tunnels.
ADVERTISEMENT - CONTINUE READING BELOW ↓
Recommended Videos
Patricia studied the effects of air pollutants on human beings. She's now taking up her master's degree at UP Los Baños and, just like many you, she likes motorbikes.
Here's her take on this matter:
Dear Top Gear PH readers,
Have you ever been stuck in the middle of a tunnel somewhere along EDSA? I have.
Being a graduate student taking Environmental Science, I am naturally curious about what kind of sickness I could get being stuck in a tunnel filled with various vehicle emissions.
All the particulate matter, CO2, sulfur and nitrogen oxides, and volatile organic compounds that cause cancer entering your airways is unimaginably dangerous. Seeing motorcycle riders without protective gear against emissions is quite surprising. I start thinking of my friends and family who are frequent riders—especially my dad. I even feel bad for the random riders who just wear helmets without face masks.
In a 2006 study from the article 'Special Focus: Environmental Health, Poverty and Vulnerability,' it is said that jeepney drivers are found to have a 50% higher risk of abnormal pulmonary function and chronic obstructive pulmonary diseases. In 2014, then Health secretary Enrique T. Ona said 'Cancer of the lungs is often associated with smoking but there are many other so-called environmental factors like pollution that causes it.'
ADVERTISEMENT - CONTINUE READING BELOW ↓
Going back to the possible ailments, I could start with asthma. Vehicle emissions are definite asthma triggers. You feel like the smoke is trying to strangle you by the throat.
And then there's acute respiratory infections. We usually encounter this in the form of the common cold. There's also the possibility of the rider getting skin asthma attacks.
Pneumonia is also one of the common illnesses that you could get from long exposure to vehicle emissions. Lastly, think of the scariest possibility of all—lung cancer.
In the end, prevention is always better than the cure. Always use a face mask, the one you can buy in drugstores.
Faced with all these possible health issues, I sometimes think of driving a car instead of a motorcycle. But my heart still chooses to ride.
In the meantime, avoid passing through poorly ventilated tunnels during rush hour. I'll do the same.
Ride safe!
Best regards,
ADVERTISEMENT - CONTINUE READING BELOW ↓
Patricia B. Ilagan