Honda Philippines has been on a roll lately, generating tons of hype for new models with teaser videos, guess-the-model preview photos, and celebrity endorsers. This strategy seems to be working out pretty well for the Japanese manufacturer, as many customers are just itching to swing a leg over the brand's newest two-wheelers.
Honda's latest release, the Air Blade 150, just dropped last weekend. And while we were then given the chance to see the scooter in the metal, we still have a while to wait until we see it out on the road. Honda says dealers will have units ready in March, but for now, we're giving you 10 fast facts about this new 150cc scooter.
1) It has no relation to the Honda Fireblade line of sport bikes.
If you're into sport bikes, chances are you know about Honda's legendary Fireblade designation for select CBR models. One such Fireblade was the '90s CBR400RR, which featured a high-revving 400cc in-line-four engine that screamed like the powerplant in the bigger CBR900RR. The Air Blade might sport a similar name, but it packs a 150cc single-cylinder engine meant for whizzing around town rather than thundering on racetracks and twisty roads.
Continue reading below ↓
Recommended Videos
2) It gets not one but two celebrity endorsers.
As with other products in the Philippines, motorcycles tend to hold more public attention when endorsed by celebrities. For the Air Blade 150, Honda has decided to get not just one endorser, but two: Coco Martin and Yassi Pressman. Both already serve as ambassadors for Honda, with Martin having endorsed several models and Pressman serving as an endorser for the Genio. Maybe this way, Honda is giving the Air Blade an image that's macho as well as chic.
3) There's a 125cc version.
Like the Click scooter, the Air Blade exists in 150cc and 125cc flavors. Currently, however, only the 150cc model has been made available on the market. Perhaps it was introduced first to go toe to toe with a certain other manufacturer's scooter.
4) The motor is loaded with Honda's latest small-displacement engine tech.
As is common with Honda's recent small bikes, the Air Blade 150 comes supplied with the brand's latest innovations. The engine boasts Intelligent Low Friction technology, an electronically controlled ACG starter, and Honda's PGM-FI system. With these features becoming standard in Honda's premium scooter range, it's possible the tech will trickle down to the rest of the manufacturer's commuter-bike offerings.
5) The power outlet is a welcome relief.
A feature becoming common on premium scooters these days is the USB power outlet, and as a scooter designed for a rider with modern needs, the Air Blade naturally packs one, too. Located in the under-seat storage compartment, this USB outlet can charge larger gadgets like tablets, as opposed to one mounted near the bike's instrument display.
6) It's equipped with ABS.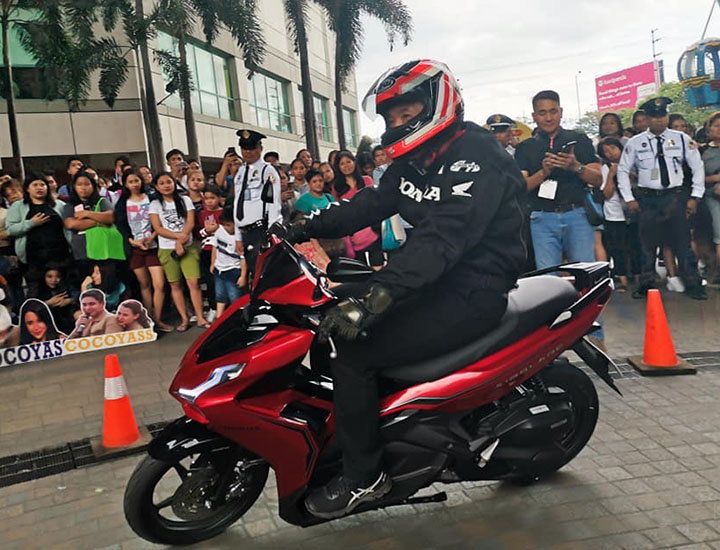 As advocates of riding safety, we at Moto Sapiens believe that road bikes should all have ABS as standard eventually. Honda took a step towards this dream of ours by including ABS in the Air Blade 150's standard equipment in our market. While only the front brake is equipped with ABS, we're still glad that manufacturers are spending more time and effort on making their bikes safer.
7) It's more efficient than ever.
While new to our market, the Air Blade has been around for years in other countries. In the form that will reach our shores, the current model is an improvement over the previous one sold in other countries like Vietnam. Of note, Honda claims efficiency gains of up to 4% over the 2014 model. Considering the brand's reputation for reliability and efficiency, the new Air Blade must be one heck of a practical scooter.
8) The under-seat compartment can fit two helmets.
Riders will know the hassle of having to carry a helmet around as they go about their day, so secure helmet-storage options on a bike are especially helpful. While other models feature points for helmets to lock onto or space under the seat for one lid, the Air Blade has enough space under the seat for two half-face helmets or one full-face lid.
9) The fuel-tank lid is conveniently located.
Almost all scooters and underbones necessitate opening the under-seat compartment. On the Air Blade 150, the fuel-tank lid has been positioned to be outside of the compartment, which means no more fumbling around with keys and hard-to-reach compartment locks whenever you refuel.
10) It's affordable.
The asking price of P109,000 feels like a bargain considering this is a 150cc scooter from one of the Big Four motorcycle brands. If you're not sold on the Air Blade's brand image and engine displacement, the features will probably win you over. Things like keyless ignition, ABS, a Smart Key system, a parking brake lock, and an under-seat compartment light make the overall package, at this price, a pretty good deal.