Many remember Amber Garcia Torres for his pre-race ritual. On social media, there are photos of him praying with his eyes closed and his hands tightly clasped before a race. It was something he would do without fail before mounting his race bike and heading for the grid. Other than his superb riding skills, prayers were his most potent weapon to winning local races.
Thanks to his sterling results in underbone racing, the 16-year-old Torres earned a slot as a wild-card entry to the UMA Racing Yamaha Philippines team, seeing action in the Underbone 150cc class of the 2019 Asia Road Racing Championship's seventh round. The event was held at the Chang International Circuit in Buriram, Thailand, on November 30, 2019.
But at the height of wheel-to-wheel battle against Asia's best riders, misfortune struck Torres, and his first break in this prestigious regional racing event turned out the last for him.
ADVERTISEMENT - CONTINUE READING BELOW ↓
While running the third lap in Race 2 of the final leg, Torres figured in a horrible crash with another competitor at Turn 7, leaving him face down and unconscious on the track. He was pushing for 11th when the incident happened. A quick response team rushed to the scene and brought Torres to a medical center before he was transferred to the intensive care unit of Buriram Hospital.
Past 5pm on December 5, 2019, after four days in a coma, Torres succumbed to his injuries.
The local motorcycle community was saddened upon hearing the passing of a young, amiable racer who had great potential in the international motorcycle-racing scene. Messages of sympathy poured in on social media.
"You reached out for our dreams, fought hard to bring glory to our country. Thank you so much, Amber Torres. You have made us very proud," said Joey 'Storm' Rivero, who coaches the YMPH racing team.
ADVERTISEMENT - CONTINUE READING BELOW ↓
Recommended Videos
"Amber is the kindest, [most] loving, respectful, and calm among all the riders, and has the sweetest smile," added Jordan Cornista, YMPH's motorsports and safety promotions supervisor.
Torres competed in the 2019 Yamaha Sniper 150 National Championship (Road to ARRC) this year. And after emerging as champion, he was accorded a seat on the UMA Racing Yamaha Philippine Team for the last leg of ARRC in Buriram.
Officials of the International Motorcycling Federation (FIM), the governing body of ARRC, and YMPH released official statements with regard to this unfortunate incident, conveying their sympathy to the bereaved family of the victim.
YMPH decided to forego the victory celebration supposedly scheduled on December 7, 2019, for its two riders—McKinley Kyle Paz and Masato Fernando—after Torres's unfortunate passing. Paz is the first Filipino to win the ARRC's UB150 title, while Fernando finished eighth overall.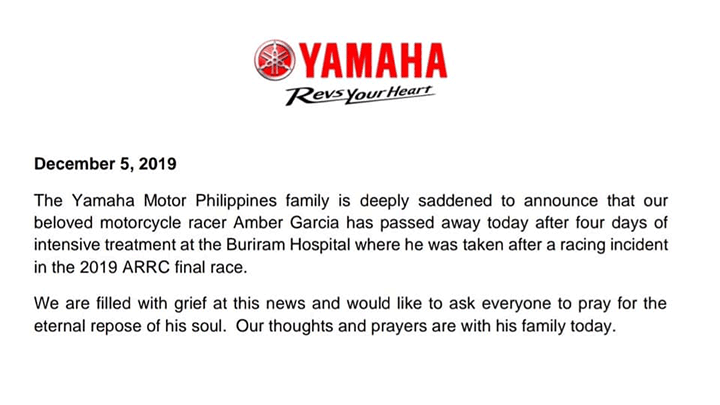 ADVERTISEMENT - CONTINUE READING BELOW ↓
We are sure the entire Philippine team is dedicating this victory to Torres. To our little brother Amber: Race in peace!