I'm a first-time mother to a 17-month-old baby girl. I had to move to Quezon City when my daughter was born. The office where I work is in Makati. During those 17 months, I have witnessed how Metro Manila traffic has gone from bearable, to really bad, and then to downright horrendous. 
My husband Paulo (yes, as in Top Gear's EIC) and I drive to our respective offices together, and it came to a point where we were spending a total of five hours a day sitting in traffic. That is 25 hours a week, or roughly 100 hours a month. That's precious time we cannot take back anymore—time we could have spent with our daughter instead. Paulo and I knew that we had to do something about it. 
Function over looks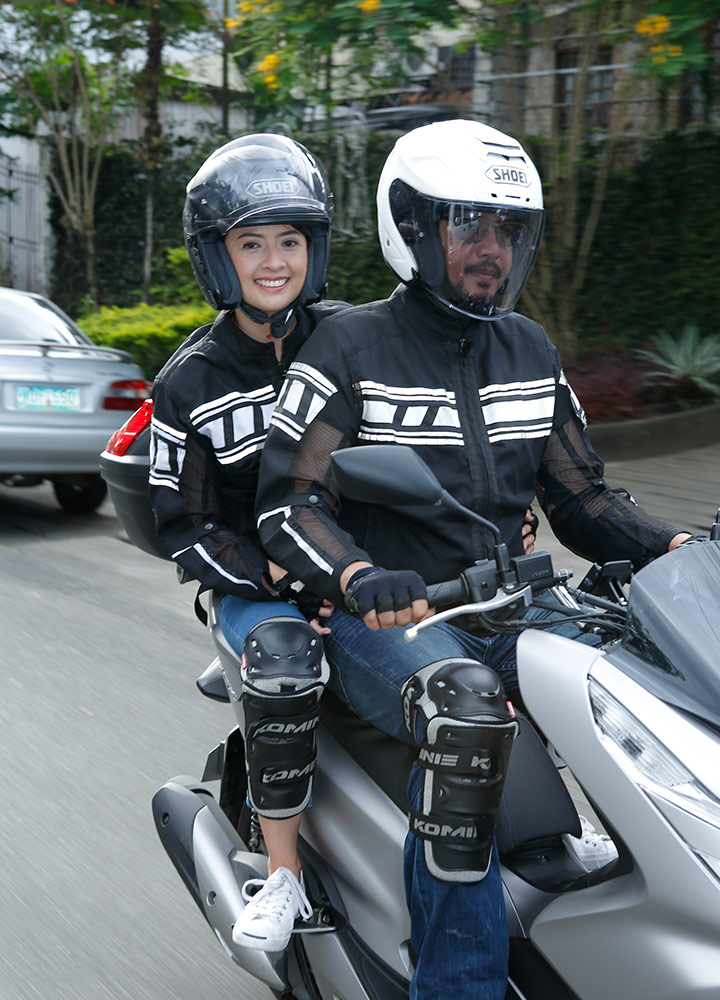 My husband's job is to drive the newest car models, and he is always pleased when he brings home small, low, and fast sports cars. He also owns one—a Mazda Miata. But I never quite understood (I think I never will) why one would prefer to ride a small car that gets bullied by buses—and even normal cars—especially when on EDSA. And because the Miata is tiny and low, the chassis and muffler scrapes on every speed bump; the legroom is uncomfortably tight; and getting in and out of the passenger seat is a struggle.
ADVERTISEMENT - CONTINUE READING BELOW ↓
I'd like to think that I am a very practical person. For me, a vehicle should take me from point A to point B, comfortably and safely. My friends who know me well were surprised to find out that someone like me—who is not a fan of my husband's sports car— actually agreed to buy a motorcycle. It is small and can be unsafe, but the thing is, it gets us to our destination in half the time it takes when in our cars. Our motorcycle—a Honda PCX— is now our main vehicle from Monday to Friday. 
Riding the motorcycle has given me more time to be with my daughter during weekdays. 
Please don't hate motorcycles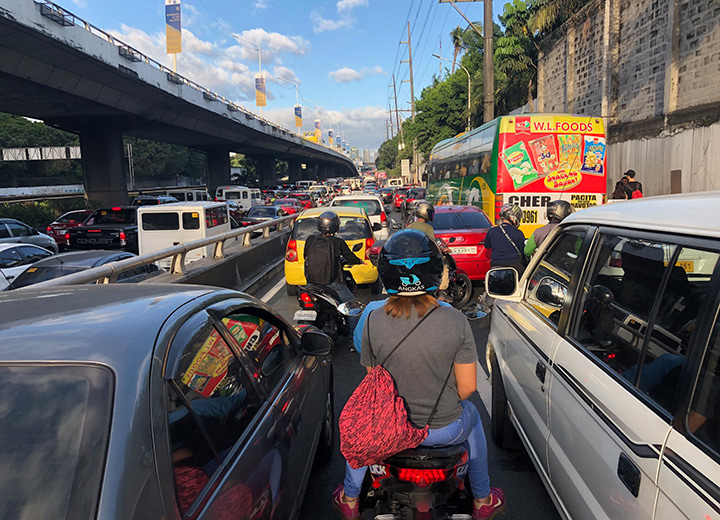 I used to hate sharing the road with motorcycles. I hated it when riders would overtake our car. I hated that they would occupy every possible space on the road, like water molecules that seep through the smallest cracks. I likened motorbike riders to cockroaches that hastily rushed into holes in the ground to flee from a quick and deadly slipper.
ADVERTISEMENT - CONTINUE READING BELOW ↓
Recommended Videos
But my husband and I are riders now. We are one among the thousands that roam the streets. Now I understand why we— the motorcycles— have to filter through traffic. That ability is the advantage of riding a motorcycle nowadays—to quickly maneuver through the city's gridlock. When traffic comes to a standstill, that's when motorbikes go.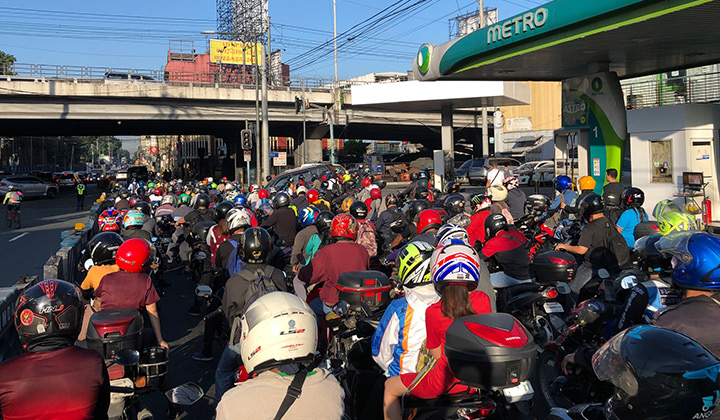 And office employees like me and my husband; students; the riders of Angkas, Grab, Foodpanda, KaberX and other delivery services—we want to get to our destinations quickly. Some riders are bound by a specific ETA they need to meet; some have a time-in deadline; some have a girlfriend, boyfriend, mother, father, grandmother, grandfather, son or daughter that they are eager to see and hug. 
Because of the motorcycle, I can now eat dinner with my daughter every day. 
Safety first
I dislike speed. I equate it with danger. Another reason why I agreed to a scooter was because I know that high speed is out of the question. We mainly filter through heavy traffic. My husband and I also have an agreed-upon 60kph speed limit. 
ADVERTISEMENT - CONTINUE READING BELOW ↓
However, the challenges of being on a motorcycle—like when riding a car—is that you can't guarantee 100% safety. For every motorcycle ride, no matter how short, my husband insists that we are fully geared up. Our properly fitted helmets, padded riding jackets, knee pads, gloves, and riding shoes are a must.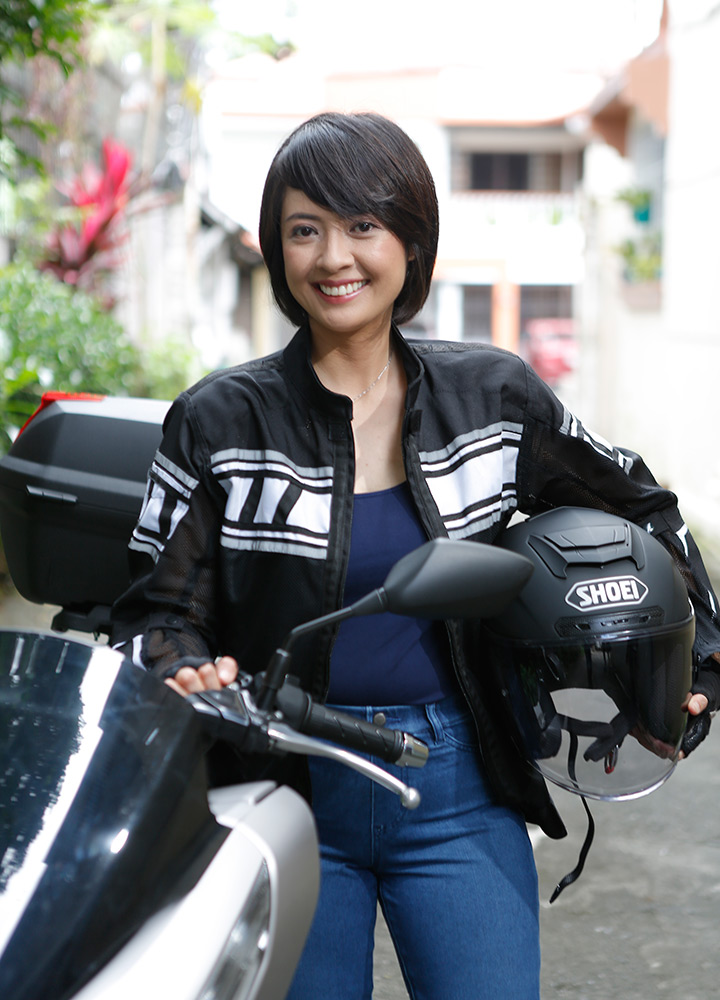 Thankfully, motorcycles have always been part of my life when I was growing up in Los Banos. I have been exposed to them ever since I can remember. I might have been seven years old when my oldest brother Ashley got his Kawasaki Ninja. My brother-in-law Boyette, (then my sister's boyfriend and a constant visitor at our house) changes motorcycles every now and then— from a Suzuki 125cc dirtbike to his current Yamaha XSR 900.
When I was 10 years old, my other brother Marc and I shared a Yamaha V50, which was a source of lots of fun and freedom. I am just so thankful that we didn't get into accidents because we never wore helmets back in the '90s. So, I actually started training as an 'angkas' early on. Important tips for being an ideal passenger include finding your best position while minding the balance, not fidgeting or moving around on the seat as this will affect the behavior of the motorcycle, staying alert and observing what is going on, and anticipating hard braking or large potholes.
We all share the road
Car owners are a mix of kind, respectful, safe, arrogant, aggressive, and inconsiderate drivers. The same applies to motorcycle riders. But what surprised me is how motorcycle riders are mostly courteous toward each other. I know it's hard to believe, especially when you are sitting inside of a car. But when I am on the bike, I noticed right away that other riders give way. It is not like when we are in a car, once we use the signal light, the car behind will speed up and block us.
Riding as a motorcycle passenger can be very interactive. When I ride with my husband, we are a team. I tell him if there is an approaching ambulance from behind. I advise him about where the path is clear. When my husband is not in town and I book Angkas, I make sure that I am a model passenger when I use the service.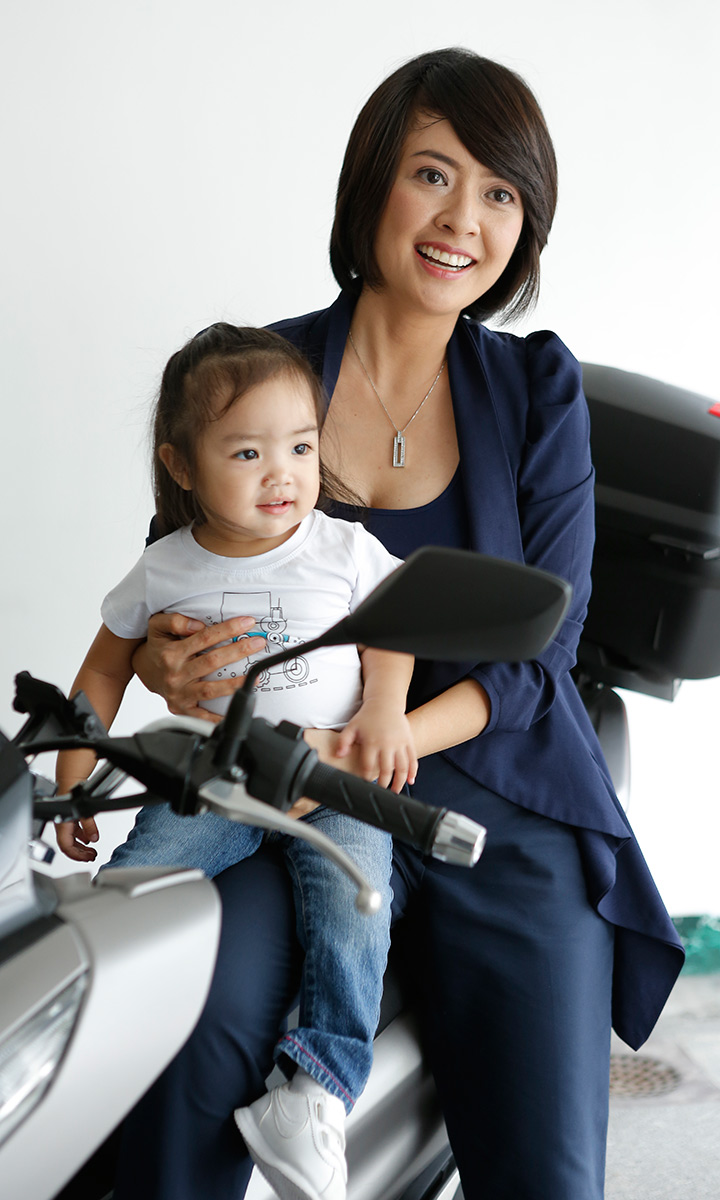 ADVERTISEMENT - CONTINUE READING BELOW ↓
As traffic is expected to become wilder toward Christmas, I am glad my husband and I have a motorcycle to bring us home to our daughter quickly. So, when you encounter a rider on the road, don't forget that underneath that helmet is somebody's husband, wife, son, daughter, father, or mother.
Merry Christmas to everyone who shares the road!
About the author: Esay Querubin is the head of growth and acquisition for ShippingCart (powered by QuadX). Prior joining QuadX, she was with GroupM media, where she spent four years with Mindshare as digital head, and three years with Movent as digital media head. She is also embracing her new role as a mom to Lora Sinagtala.