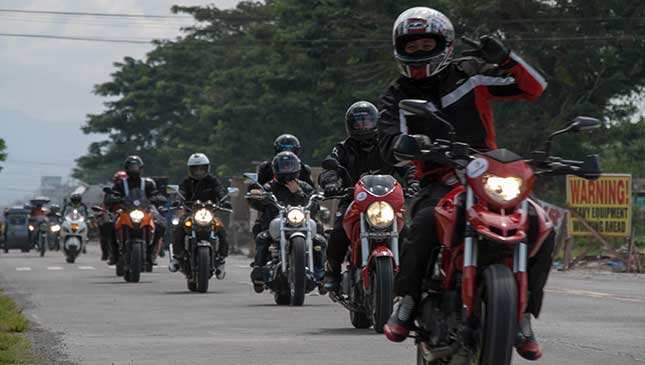 This Saturday, February 24, around 100 riders from at least 10 motorcycle clubs will embark on a 200km road trip from Davao City to Samal Island, Cotabato Valley, Bukidnon and back.
Their mission: To send a strong message to locals and foreigners that Mindanao is a safe place for motorcyclists.
With the entire Southern Philippines placed under martial law, riders from the region swear that traveling around the place is safer and more exciting.
"It's very safe to ride (here). The areas in Mindanao that are affected by military or police operations are very few and are located in remote areas not covered by moto tourism. In fact, motorcycle clubs are flourishing in the region and are in almost all corners," says Jondi Lacson, owner of Norminring, one of the biggest multi-brand motorcycle dealerships in Mindanao.
Continue reading below ↓
Recommended Videos
The 200km route includes the vast pineapple plantation in Bukidnon, the challenging twisties of 'BuDa' (Bukidnon-Davao), and the breathtaking mountains of Davao.
Echoing Lacson's sentiments about Mindanao's much improved peace and order situation is House Deputy Speaker Ferdinand Hernandez. Like Lacson, Hernandez is a motorcycling enthusiast. The latter even asked the BMW Owners Society of Saferiders (BOSS) to hold its next Ironman Motorcycle Challenge in Mindanao this May.
Instead of fear, Lacson says that the presence of military and police checkpoints in some areas give the riders a better sense of security and peace of mind. Because of this, riders need not to carry handguns for protection. With the region-wide firearms ban being being strictly implemented, licensed guns owned by civilians are now confined to homes.
Lacson called on other riders to join their cause in promoting Mindanao as a new haven for motorcyclists. "There are also a lot of enduro routes that very few traverse. I see this type of riding booming in the years to come," he adds.
Biker-friendly hotels and restaurants are also sprouting all over the region. To accommodate foreign riders, Lacson also revealed that Norminring has activated a fleet of big bikes for rent, and business has been good.
Rozle Verhovc, a Slovenian national who owns the motorcycle travel agency Clutch Moto Tours in Europe, was invited to experience the upcoming Mindanao ride so that he can share the beauty of the region with his countrymen. He is presently organizing motorcycle tour packages in many parts of Europe for Filipino riders.
Encouraged by the efforts of local biker groups to push moto tourism, Department of Tourism assistant secretary Ricky Alegre has promised the full support of the DOT to the Mindanao campaign.
The riders joining the event dubbed as the 'Norminring Bike Rally' are the Kagayanon Krusers (Cagayan de Oro City), Davao Agila Riders, Straid Bikerz Bukidnon, SCOTT Riders Phils. Inc., Ronin Troopers (Panabo City), Elite Riders MC 7 (General Santos City), Iligan Urban Riders, Blackhawk MC 9, Kampilan (Iligan City) and SCMCI-T'nalak Riders.
All of these organizations belong to the Mindanao Confederation of Big Bike Clubs.
Capping the event is a grand party at the Norminring dealership in Davao City. We'll see you there!