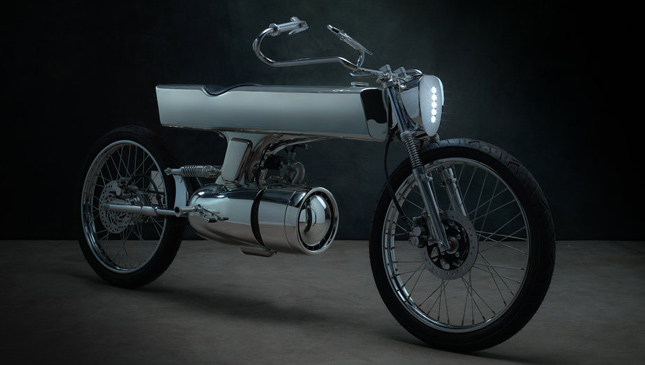 Nowadays, it's becoming difficult to tell different custom choppers, bobbers and café racers apart from one another—they're all beginning to look alike. But if you think the era of distinct bespoke bikes is coming to an end, this little Saigon-based motorcycle shop and its truly unique creations might make you reconsider.

Bandit9 has slowly been making a name for itself hand-crafting limited volume bikes. The person behind it is Daryl Villanueva, its founder and chief designer who also happens to be Filipino. A former advertising creative director, he diverted his talents toward his passion for two-wheeled motoring, and the results are impressive.

His latest creation is the L-Concept, the more out of this world sibling of his Eve café racer. It draws its inspiration from retro-futuristic ideas as well as groundbreaking science-fiction classics. A few examples: The handlebars are reminiscent of the Speeders from Return of the Jedi, the integrated LED taillight resembles HAL from 2001: A Space Odyssey, and the exhaust reminds us of the USS Enterprise's secondary hull.
Continue reading below ↓
Recommended Videos
Other design bits? A full-length stainless-steel unibody tank form the upper part of the motorcycle, and at its rear is an integrated Italian Calf Leather saddle. The only familiar part of the motorcycle is the vertical mid-section which appears to be derived from a vintage '60s Honda Super Sports frame. Classic looking large diameter wire wheels mounted on slim rubber complete the look.
While this polished masterpiece looks like a rocket ready to take off, its mechanicals are more humble. Hidden behind its enclosure is a 125cc single-cylinder air-cooled engine with a Mikuni carburetor, which is mated to a four-speed transmission. An electric starter is standard (it is sci-fi themed after all). Top speed of the 135kg bike is a rather modest 110kph—quick enough for the few times it will be taken out of the living room to be ridden.

Something this rare and special doesn't come cheap. The price tag is $10,950 (around P570,000). Production is limited to nine units. And as of March 14, 2018, seven have already found a home. Bandit9's current bike lineup is made up of the lightweight single-cylinder L-Concept, Eve, as well as the larger V-twin Dark Side and Project Odyssey. Want one?