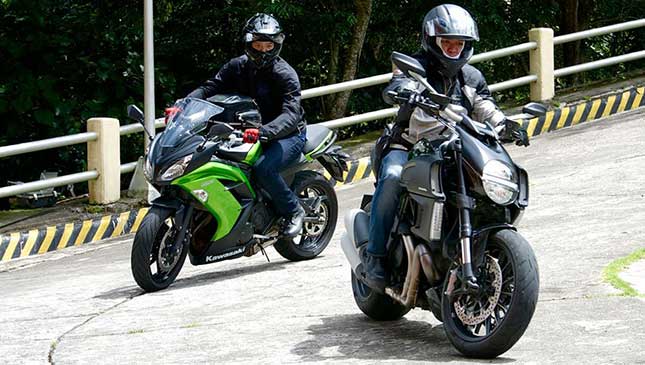 This weekend, all roads lead to Legazpi City in Albay, where thousands of big bike riders are expected to converge at a grand eyeball—the 24th National Federation of Motorcycle Clubs of the Philippines (NFMCP) convention.
Starting April 18, large rider groups began moving toward Bicolandia for the annual affair. The NFMCP convention is the place-to-be for bikers, regardless of the brand and model of the two-wheelers they're mounted on. Nothing is more important than being counted as a participant of this gathering that takes place this April 20 to 23 at the historic Peñaranda Park.
Organizers led by Bicol Steel Horses and Cyborg say this year's grand bike meet is supported by Petron Sprint 4T, the Department of Tourism, and Kawasaki Philippines—with the latter raffling off a brand-new bike. Other event highlights are the Unity Ride and the Mayon Adventure Ride featuring Bicolandia's premier tourist spots.
Continue reading below ↓
Recommended Videos
Francis Rivera, a seasoned endurance rider, led members of the Adventure Team Philippines, Inc (ATPI) going to the target area. As one of the biggest bike groups to attend the event, ATPI's priority is the safety and welfare of its members during the 480km+ ride. Riding from Manila to Legazpi usually takes 12 to 15 hours.
Based on their long years of riding experience, ATPI secretary Ramon Santiago was kind enough to share with Moto Sapiens their house rules. For ATPI, there's definitely no room for showboating, over-speeding and other unsafe riding practices.
Here are ATPI's 10 commandments during club rides:
1) Respect the chain of command. All official rides must be sanctioned by the Board of Directors through the endorsement and recommendation of the Ride Committee. Itineraries, maps, and kilometer readings shall be distributed a week before the ride. All official rides must have a Ride Commander and a vice Ride Commander. All members of the ride must inform their RC or VRC of any changes in their riding plans.
2) Prayers are important. All rides must start with a briefing by the Ride Commander and will include the following: Destination, route, scheduled stops, emergency and first-aid procedures, contact numbers in case of emergencies, rider position, buddy assignments, and even guest rider assignments. Safety briefings must end with a prayer for safety.
3) Be a good example to others. A member is responsible not only for ensuring the roadworthiness of his motorcycle, but also his physical, mental and emotional fitness to complete the ride. Each member shall ride with utmost care and lead by good example as a friendly, courteous and socially responsible motorcycle rider.
4) Overtaking and racing are not allowed. Changes in bike positions can only be done during stops and only with the approval of the Ride Committee.
5) Know your riding capability. Riders are categorized into three groups: Group 1 is for those comfortable cruising at 120kph and up, Group 2 is for 100kph and up riders, and Group 3 is those riding at 80kph and up. Guest riders are positioned behind the last group. Each member shall provide assistance to fellow members, as well as the general public, in distress. It will be the responsibility of the ATPI member to take care and be the sweeper of his guest rider.
6) No one is left behind. Each rider must practice the 'headlight tagging system,' wherein the rider in front must slow down or even stop if he does not see the headlights of the motorcycle behind him.
7) Follow club safety requirements. Each rider should be bear a driver's license with Restriction Code No. 1. Also, their motorbike must have left and right side mirrors. Riders are required to don proper safety gear.
8) Club rules apply to all. The Ride Commander or vice Ride Commander shall report and recommend to the Board of Directors members who have violated the riding rules. Sanctions—warnings, suspensions and expulsions—will be imposed against the erring rider if the situation warrants.
9) Ride as one happy family. The club shall do its best to ensure the safety and protection of its members. ATPI officials also emphasized the voluntary aspect of the rider joining club rides and activities.
10) Should be in proper attire. Members are required use the designated club uniforms and reflectorized vests during official club rides.