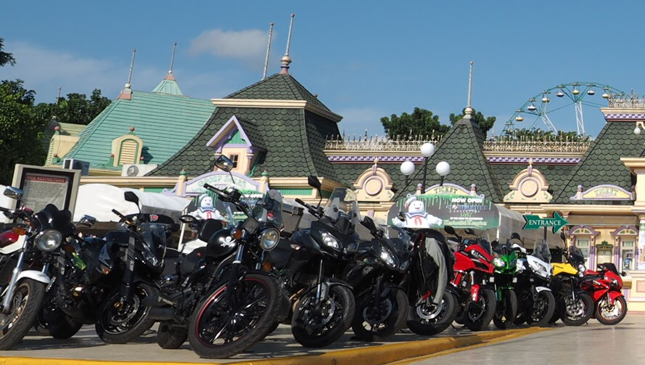 Let me know if you can relate with the following scenario: You and your family decide to take a quick weekend trip to the mall, so you gather your little ones and hop in your car to make your way to the local shopping mecca. As you arrive at the parking entrance, you realize just how bad your day is just about to become: It's a three-day sale. You cringe and join the seemingly endless queue.
ADVERTISEMENT - CONTINUE READING BELOW ↓
After circling for what seems like forever, you spot it—a free slot. The gap between the cars is slight, but you're sure it exists. You quickly scan your surroundings to make sure that no one else has noticed such a golden opportunity. You pounce and make a beeline for a respite from parking hell.
Just as you round the edge of the slot and your hopes are at its highest, you see a motorcycle sitting in the middle. It crushes your soul.
You feel your blood start to boil. You are about to let out a guttural roar of pure hatred of all things two-wheel-related when… wait a minute. Are bikes allowed to occupy a car space in a parking lot?
The answer isn't black and white. Much like all things in life, it falls within the gradient between—a gray area.
The answer is, "it depends." Since most malls are privately owned, they actually have the discretion to decide whether a bike has the right to take up a car slot while on their property. Some malls (like in Bonifacio Global City) allow bikes to take car slots based on the premise that they are paying car rates anyway. Other malls (like those along Ortigas) have set motorcycle parking areas and completely prohibit bikes from parking in car slots, sometimes with the consolation prize of fixed parking rates that are significantly lower than car rates.
ADVERTISEMENT - CONTINUE READING BELOW ↓
Recommended Videos
Lastly, some malls have a gray area within a gray area. These have motorcycle parking for small bikes, but allow big bikes to park in car slots upon payment of the car rate.
This rule applies only to malls though, since, as mentioned, they are privately owned. The story is completely different on the street. Makati City, for example, has set bike and car parking on the streets, and if a bike parks in a car slot on the street, it may be towed or clamped, which can result in a hefty fine for the rider.
At the end of the day, before you blow your top, the best thing to do is to ask a person in authority regarding specific rules for bike parking in the area. You may be surprised to know that the two-wheeler you were just about to rage against has all the right to be there. Sometimes, size doesn't matter. Just chill!
ADVERTISEMENT - CONTINUE READING BELOW ↓