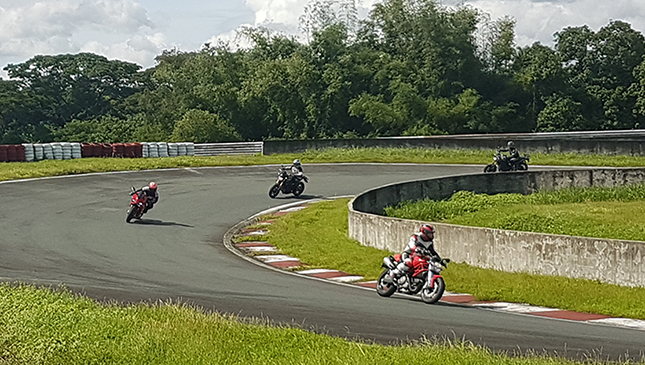 (Editor's note: The photo above taken at the Batangas Racing Circuit is for reference purposes only)
Last Tuesday, Moto Sapiens witnessed how the members of an elite bike motorcycle club stage an exclusive track day.
Complete with a support team, the members of Club 200 arrived at the Clark International Speedway with their race bikes loaded on pickups or trailers. Ducati Philippines provided highly trained mechanics and also opened the doors of the paddock and VIP suite for the participants.
The group included brothers Reghis and Red Romero. The former is currently the president of Club 200 while the latter is the founder and former president of the group. Imagine the elaborate logistical support the Club 200 enjoys from their business empire. By the way, the group's name was not coined from a religious group. It was actually derived from 200kph, which is the group's version of 'happy hour.'
Continue reading below ↓
Recommended Videos
From head to toe, the riders wore the best brands of riding gear. They offered a simple yet tasty meal that included chicken adobo, Korean-style beef bulgogi and pasta matched with donuts, ube and white maja blanca for dessert. This only shows that they eat light when training on the track.
Track days supported by motorcycle manufacturers are gaining traction nowadays and they come free of charge. Rider of small or big bikes must take this golden opportunity to hone their riding skills and be safety-conscious. First of all, be a boy scout. Prepare yourself for the event starting with the bits and pieces.
Start with these nine simple items you must bring in the track:
1) Riding gear
Track officials are very particular about this. During practice runs for race competitors, racing leathers are required. Participants not in racing leathers, such as high-cut boots and leather gloves, will not be allowed to enter the track. However, some track day organizers are more lenient in allowing newbies with mesh jackets and pants, just as long as they have arm, chest and elbow pads--and a back protector.
2) Basic tools
Considering the high cost of hiring a back-up vehicle, it is completely understandable if you arrive only with your motorbike. But even if you desire to travel light, don't forget to bring basic tools for simple adjustments and tuning. You can also divide among yourselves the important tools which you can stack in your backpack.
3) A simple meal
Riders who are serious about improving their lap time do not think about anything else but their riding. They do not want their mind straying to other things, especially their meal choices. Seasoned riders prefer a simple yet balanced diet because many of them eat little food during the track sessions. There might be concessionaires at the parking area but the food they're selling likely costs higher than a full tank of fuel. You would not want to miss your turn on the track because if traveling 30 minutes to a convenience store.
4) Paper and pen
In a manufacturer-sponsored track day, more often than not race instructors are provided. These riding experts give tips on how to improve your skill. Bring a notebook and pen so you don't miss any of the useful pointers. It's much better if you also come up with a log book so you plot your improvements after every session.
5) Folding chairs and tables
It's a big convenience for riders to haul folding tables and chairs using their support vehicles. Track owners usually don't provide these. There are easy-to-carry tables and chairs that are made of super light materials. Besides, who actually likes sitting on a spare tire during break time or eating over a jerry can?
6) Extra shirt and towels
When we advise you to bring extra shirts, we mean lots of shirts. Wbether it's dry or wet season, wearing those racing leathers will make you sweat. Spare yourself from illness by drying yourself after each session. Also, bring a towel.
7) Slippers
Walking on high-cut racing boots for long periods can strain your feet. Before and after riding on the track, relax your feet by using a pair of cozy slippers. Let your feet breathe.
8) Electric fan
Again, if your group can have even just one support vehicle, bring an electric fan with you. Although the paddocks have wide, retractable doors, the ventilation inside these facilities is not sufficient. Check out the compact yet powerful fans that are available on the market.
9) Umbrellas and raincoats
There might be a marked improvement in the weather forecasts nowadays, but it still has yet to reach a 100% accuracy rate. Especially now that we're in the middle of the rainy season, do not gamble. Bring an umbrella or raincoat when you're headed to a racetrack.