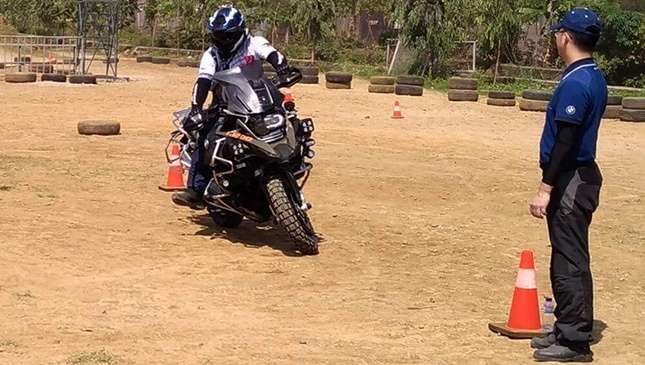 I've been riding motorcycles since I was a kid. I gained my riding skills relying on the old school 'widow style,' practicing from my father's Pantera motorcycle, and oftentimes without his permission. Up to now, I still hanker for knowledge in riding so I continuously do research to improve my skills. I religiously read books and blogs, and watch YouTube videos to get riding tips.
I have no formal riding training, but I still have a record of zero accidents by relying on long, long years of riding experience.
However, the science of motorcycle riding has evolved tremendously. Alongside the advancement of riding skills is the emergency of modern motorbikes such as the dual sports (on, off-road) motorcycles and other specialized two-wheelers.
When I bought my BMW R1200 GS Adventure, I admit that I then lacked confidence to maneuver this 250kg beast, particularly in off-road situations. I used to ride on dirt with a motorbike powered by a small engine (below 250cc) without encountering serious problems. But with the powerful GS Adventure, I always felt my balls going up to my neck.
In my desire to gain total control of the GS and enjoy riding it, I enrolled at the Enduro Park in Thailand for Level 1 and 2 adventure skills training. Unfortunately, I missed the training due to a conflict with my work schedule. And so the opportunity was gone—along with a big dent in my budget.
But another window opened. Last March 10, Touratech Philippines and BMW Motorrad Philippines initiated an adventure skills training in Taytay Rizal. Being familiar with the riding know-how of the organizers Alvin Dee (Touratech), Gil Balderas and Toto Villanueva (BMW Motorrad), I did not hesitate to join.
Together with 17 other riders, some of them coming from Cagayan de Oro, I trooped to the MX Messiah Fairgrounds in Taytay, Rizal, for the one-day training.
Supervised by Johnny Chen, a Taiwanese national certified by the International Instructor Academy (a partner of BMW Motorrad Germany), the training focused on body position, steering on dirt, and bike recovery (lifting off the ground). My initial reaction was: 'I already saw this on YouTube, no biggie. Nothing new. This is just a waste of time and money!'
But when we did the exercises, I realized that I had accumulated bad riding habits that can put my life at risk. Riding on loose surfaces involved a totally different skill compared to riding on tarmac. The steering method, body position, braking technique, and even throttle control are worlds apart.
More tricks were taught as the day went on. We were told that adventure riders spend most of the time standing on the foot pegs when riding off-road. This allows the rider to have a clearer view on what's ahead.
As the training went on, the degree of difficulty of the exercises became higher. Some of the riders kissed the ground as they fell from their motorbikes. Chen insisted it was normal. Learning how to eject yourself from the bike as it crashed, in a quick, safe way, was part of the training.
Later in the afternoon, we could distinguish the participants who have digested the riding tips from those who still need refinement. Chen's patience was unwavering.
Some were already gaining speed on the jumps, while others attacked the chicanes with ease and confidence.
Honestly, it was also the first time I also tested the anti-lock braking system of the GS Adventure by executing the hard-braking exercise. Not only did Johnny give me the courage to slam the brakes on a rough stretch, but he also taught me to trust the motorbike's modern safety features.
Here, I also learned to appreciate the electronic rider aids of the BMW R1200 GS Adventure, which I didn't dare to experiment with before. After the training, I realized that this legendary German dune digger can do more.
The next day was a test mission for the Adventure Skills Training participants. Armed with better knowledge on adventure off-roading, we stormed the rugged stretches of Coto Mines in Masinloc, Zambales, for a two-day camping activity.
We conquered 28km of gravel stretches, tight trails, and muddy patches with flying colors.
On our way back to Manila, I asked Chen: "When is the next training?" The Taiwanese ace rider just gave me a big smile.