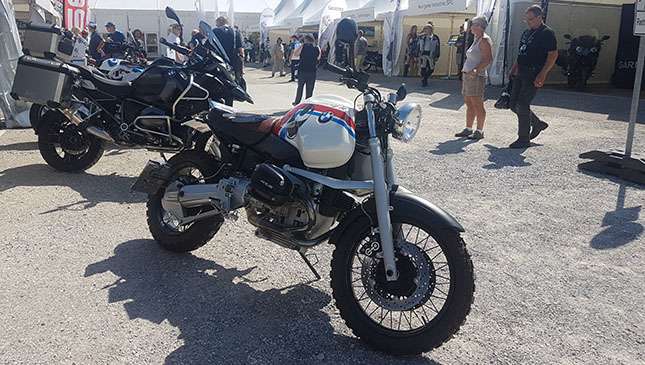 For three straight days, the rumbling of big motorcycle engines and the smell of gasoline and tire burn filled the air of the scenic town of Garmisch-Partenkirchen in Germany, for the much-awaited 2017 BMW Motorrad Days that kicked off last July 7.
An annual tradition on its 10th year, the event entices lovers of two-wheeled machines not only from Germany and its neighboring countries, but from almost all corners of the world. They converge in this city known for skiing and ice skating.
Instead of skis, and because it's summer time, the motorcycle enthusiasts arrived in leather riding jackets, gloves and high-cut boots with bandanas on their heads and necks, and were accorded a red carpet treatment as they walked through a big welcome arch at the venue's entrance.
Continue reading below ↓
Recommended Videos
From the Philippines, members of the BMW Owners Society of Saferiders (BOSS) and Adventure Team Philippines, Inc. (ATPI) came in full force to be part of the celebration. They were accompanied by Gil Balderas, managing director of BMW Motorrad Philippines.
Another set of 17 riders from Any Sunday Riders from Davao City and Thunderbugs from Bacolod City arrived next, along with Maricar Parco, president of Asian Carmakers Corporation (mother company of BMW Motorrad PH).
"We are fortunate that we (BOSS) became part of this," says BOSS president Tey Usis, a motorcycle group composed mainly of BMW R1200GS adventure bike owners.
BOSS is not new to international motorcycle events. They've traveled around the world riding rented motorbikes and attending grand two-wheel gatherings.
Before proceeding to the BMW Enduro Park for the Motorrad Days, BOSS riders also completed a 1,800km ride covering the mountain roads of Germany, Austria, Italy and Sweden for five days. Wearing their official BOSS shirts, the Pinoy group spent hours drooling over vintage, classic and custom BMWs that were featured in many booths. There were even free lectures on customizing BMWs where the retro-styled R NineT took the center stage.
Some even managed to witness the daring stunt moves of Mattie Griffin and Sarah Lezito at the event area. As members of the exclusive BMW street bike freestyle team, Griffin and Lezito are famous for their heart-pumping YouTube stunt acts. Itching for an autograph? Just go to their RV and the two are more than willing to rub elbows with anyone who loves stunt shows.
For speed freaks, team members of BMW Motorrad Motorsport shared information on the HP4 race bike. Social media addicts will like the fact that selfie photos were unlimited. And for the old schoolers, a 45-minute parade of BMW heritage bikes unfolded on the main street.
While these were happening, non-stop partying was happening in many tents where German sausages and beer were overflowing.
But these activities were not enough to satisfy the BOSS members. Each of them prepared big bags and went booth-to-booth in search of original BMW parts, accessories and safety riding paraphernalia that they will bring home to the Philippines. Premium aftermarket brands like Touratech, Akrapovic, SENA, Osram and SW-Motech had their own booth that was clogged by visitors.
For the BOSS people, finding the parts and accessories that they need is more soothing than taking pain relievers for their leg muscles after long hours of walking around the event venue.
After the participants posted photos of the activities on social media, inquiries from BOSS and ATPI members regarding the 2018 BMW Motorrad Days started pouring in.
Now BMW Motorrad PH's dilemma is, will there be enough slots for next year's group?