You can imagine that persons with disabilities (PWD) are among the worst-affected sectors of the population with physical distancing in effect and limited public-transport options being available. But instead of waiting for nothing and just ranting on social media, Christopher Relato has come up with a solution to be able to move around without relying on anyone else.
Relato, who was afflicted with polio as a child, is currently a call-center agent. His work schedule makes it difficult for him to get a ride during ungodly hours. With the help of his father-in-law, however, he was able to convert a Yamaha Mio 125 into a four-wheeler without altering the scooter's chassis or swingarm.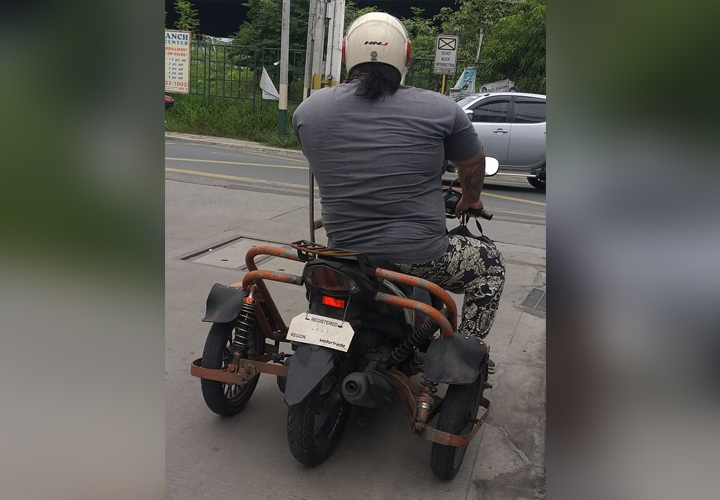 Continue reading below ↓
Recommended Videos
But let's first talk about how this hardworking fellow got into bikes despite his physical condition. Relato, 40, weighs more than 200lb and can stand on his feet. He admits having difficulty in walking and balancing as he gained more weight in recent years, however, so he uses a pair of crutches to move around more easily.
"Teenager pa lang ako, gusto ko na mag-ride," he recalls. Like most of us, he started riding bicycles, then switched to one with a sidecar (aka a pedicab) for his business ventures. But his dream of eventually riding a motorbike never faded.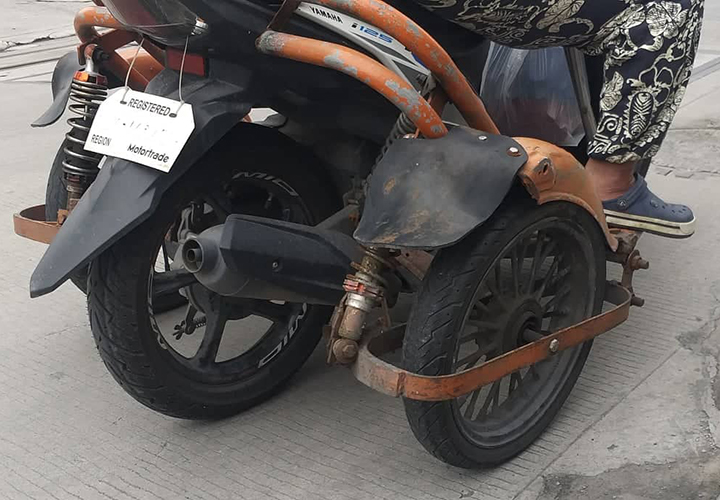 One day, he decided to get himself a Rusi motorcycle. In an attempt to keep the bike upright whenever he slowed down or came to a halt, he and his uncle decided to install a set of balancers—you know, those tiny wheels that we see on kids' bicycles. However, some technical and design issues prevented them from coming up with a safe, convenient ride, so the Rusi ended up in the junkyard.
Relato didn't give up. After watching videos about motorbikes for PWDs on YouTube, he began converting a Yamaha Mio. The balancers fabricated for it are the bolt-on type, meaning they can be detached anytime Relato wants to revert the scooter to its original form. He also mounted two extra shock absorbers to allow the Mio to lean with him every time he tackles a corner.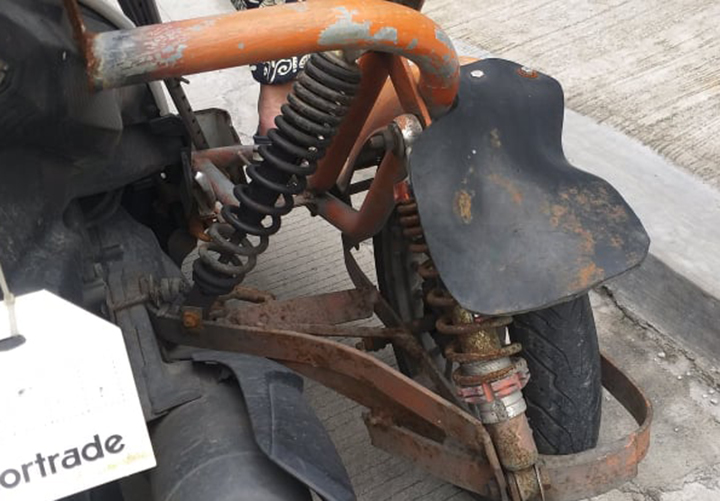 Relato is very confident about the durability of the Mio balancer's design as he regularly takes his wife Racquel for rides. He still has the crutches on standby to help him balance the scooter at a full stop.
We ask him how fast can his four-wheeled Mio can go? "Takbong-chubby lang po ako," he replies. Ride safe, bro!
NOTE: This article first appeared on TopBikes.ph. Minor edits have been made.