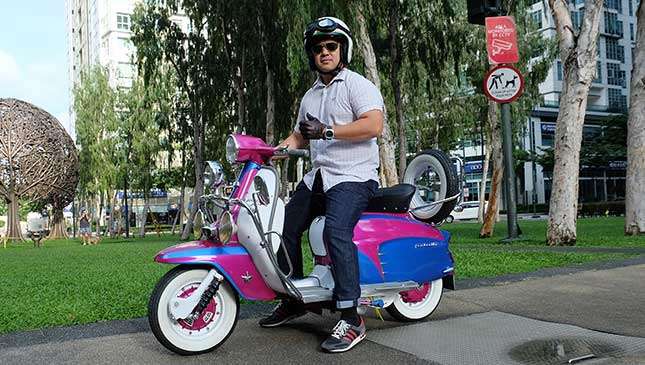 Lambretta was founded in Milan, Italy, in 1947, and grew from there. Two decades later, when the Philippine economy was at an upswing, there was even a Lambretta distributorship in Nagtahan, Manila.
Sadly, no scooter mechanic from here was sent to Italy to undergo training on the proper maintenance and repair of Lambrettas. The few thousand units in the Philippines eventually vanished into obscurity as the local company closed down in 1972. We can only assume these beautiful, meticulously designed Italian scooters landed in the hands of so-called 'shade tree mechanics.'
In late '80s and '90s spare parts became scarce, so owners relied mostly on 'donor' Lambrettas to revive other Lambrettas. Without proper training, parts, tools and passion, many Lambretta scooters were never resuscitated back to life.
Continue reading below ↓
Recommended Videos
My relationship with scooters started out around 10 years ago when I bought two units of the Vespa PX200. Sadly, I felt this scooter lacked fire and so I quickly lost interest. Without any feeling of guilt, the two ended up in the classifieds. The same lackluster feeling struck me when I bought the Vespa GTS, a 300cc scooter. After logging a few kilometers, I sold that too.
Until one fine day, I encountered a beat-up Lambretta that still had traces of that distinct Italian flair. This is when my obsession with this brand began. With the help of a friend, we put our hearts, love and time restoring the Lambretta. In a span of 10 years, we put together 10 more: That's an average of one unit per year.
One of the Lambrettas was a 1964 TV175, which my friend and I were able to fully restore in one year and three months. A photographer friend was the former owner of this classic piece. This unit was a nice find. First step I did was order the missing parts from Italy.
Before attempting a restoration, a lot of factors have to be considered: availability of parts, machining, tinsmith work, painting, etc.
We always consider a Lambretta as artwork that cannot and should not rushed. In this project, it's like me playing maestro to an orchestra where timing is important.
To restore one, you need to buy everything new and only Italian-made. The mechanical parts and engine rebuilding were done by a friend, the latter alone costing between P80,000 to P90,000 to rebuild. Key parts included crankshaft, CDI (stator and flywheel) carburetor, and exhaust.
While the parts from Italy are being processed, the scooter goes through precise machining so that the engine case, frame and panels will perfectly fit and match.
Next part is the paint job. Painting took almost three weeks including curing, while color application for the smaller parts usually take two to three months.
Once a Lambretta is properly restored, you will enjoy it without any hindrance or issue.
Just like winning the lotto, I consider myself lucky because the scooter still has the original Certificate of Registration and Official Receipt with matching engine and chassis numbers. These enabled me to document this classic piece with the Land Transportation Office.
My restoration efforts were validated a few Sundays ago, when I parked in front of a favorite hangout of riders in Burgos Circle, BGC. After a short while, around 20 Ducatis, Enfields, Harleys and Kawasakis filled the area. The exotic, high-end bikes drowned out my little purple scooter. But my Lambretta stood out in the glitzy crowd, and it drew more selfies than those big bikes combined.
I realized a Lambretta cannot be bought with just money. If you have a million pesos, you can buy any branded bike out there now. But even with that amount of money, where can you find a 1964 Lambretta in perfect running condition?
And when I say perfect running condition, I mean I ride my Lambrettas every day to the office on a shifting basis.
At the end of the day, our team adheres to this simple but awesome philosophy: Ride what you build.