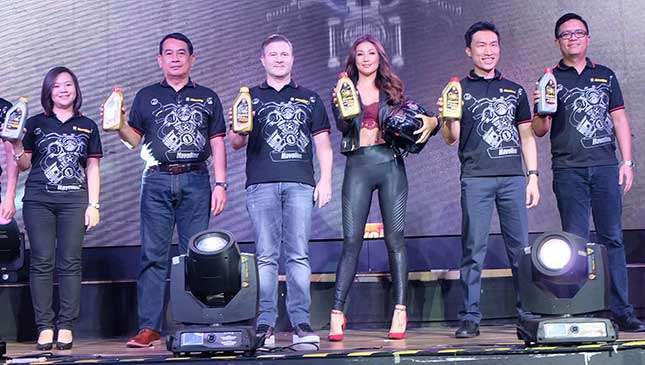 The spotlights followed her as she walked through the aisle wearing tight leather pants and a jacket. With her long silky hair bouncing on her way to the stage, male riders can't help drool over that familiar whistle bait figure. Then slowly she removed her black helmet and her hair flowed down to her slender back.
ADVERTISEMENT - CONTINUE READING BELOW ↓
It's the gorgeous Solenn Heussaff.
And then she begins to talk about bikes and engine oils. As the latest (and hottest) product endorser of the new Caltex Havoline synthetic and mineral oils, we'll happily see more of Solenn in motorcycle events.
ADVERTISEMENT - CONTINUE READING BELOW ↓
Recommended Videos
But is she really into bikes?
"I ride scooters, just a regular scooter," says the 32-year-old model and actress.
She got her riding skills when their group was filming a movie in India. Right now, she's content with scooters because she finds regular motorbikes heavy and difficult to balance.
During the launch, Solenn was accompanied by Joseph Bronfman, area business manager Finished Lubricants Philippines & Vietnam; Lennard Kwek, marketing manager Chevron Lubricants Asia Pacific; and Manuel C. Valerio, technical manager Finished Lubricants Chevron Philippines Inc.
Caltex also invited several biker clubs to witness the unveiling of the Caltex Havoline oil for motorcycles and scooters: Caltex Super 4T (semi-synthetic and mineral) engine oil, and Caltex SuperMatic 4T (semi-synthetic and mineral) engine oil.
ADVERTISEMENT - CONTINUE READING BELOW ↓
The new Caltex Havoline motorcycle oil uses Zoomtech that contains a carefully selected friction booster, which contains high frictional properties that deliver consistent clutch grip for enhanced acceleration at a twist of the throttle.
According to Kwek, their engine oil is formulated from Caltex's proprietary CORE technology to withstand Metro Manila's horrendous traffic.
CORE stands for Cleans and protects, Oxidation stability, Reduces engine heat damage, and Enhances acceleration of the motorbike.
Kwek says not even motorbikes are spared from the traffic so they need special lubricants to protect these machines from breakdown due to the intense heat in the engine room.
Ask Solenn about the new Caltex Havoline and she will echo the same sweet business talk without the aid of a teleprompter. She believes that riders should put a premium on bike maintenance, "the same way you take care of your wife."
When asked about her impressions about motorcyclists, Solenn replied: "Bikers are strong and hot."
ADVERTISEMENT - CONTINUE READING BELOW ↓
Solenn likes to see more women mounting two wheels, comparing them to those in the police force and firefighting units.
'Parang ganun ang mga biker. Astig tingnan talaga!'