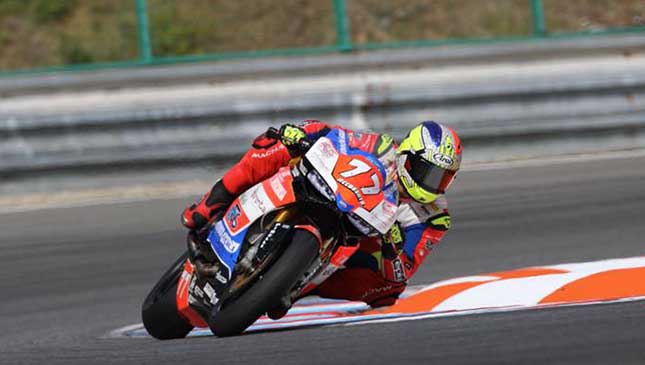 Timothy Joseph 'TJ' Cua Alberto is currently one of fast rising stars of Philippine motorsports. In the three years since he switched from motorcross to superbike racing, TJ has already bagged several championship titles in the Philippine superbike series. And it turned out he was just warming up.
From 2017 to the present, TJ brought the Philippine flag to the elite superbike races in Italy, at the Campionato Italiano Velocita (Italian Speed Championship) or CIV, and the European STK 1000 Championship, under the wings of the Team Motocorsa Racing. He is the first Pinoy to have reached these categories.
Continue reading below ↓
Recommended Videos
Being a first-timer in a European superbike event, TJ had his baptism of fire at the CIV, ending the season as among the bottom-dwellers. Yet, he did not show signs of throwing in the towel.
As he stepped into the Stock 1000 league, TJ proved that Pinoys can also shine among the world's best when he slowly but surely made his way up to the leader board. Jaws dropped as we witnessed this 20-year-old De La Salle University student quickly mature in the tracks; raking championship points by placing 13th up to 11th during the last races in Europe.
At the MotoMarket in Libis, Quezon City, TJ was oozing with confidence as he prepared for an interview prior to his journey to the Misano World Circuit for the July 6-8 race event.
We asked him to point out 10 things that helped him improve his deep racing passion:
1) Starting young.
TJ started at age 4. While the other kids at that tender age were still learning how to balance their body, TJ was already balancing on mini motocross bikes. He had fun racing then, and he is still having fun racing up to now. "If you're not enjoying on what you're doing, what's the point of continuing?" he asked.
2) Serious studies and serious racing don't mix.
For the first time in his years of motorbike racing, TJ had to take an official leave from his studies. His frequent travels to Europe will make it impossible for him to maintain good grades. But TJ wanted to make it clear that he's determined to finish college. He's thinking of doing this via a home study program.
3) It pays to have your own bike.
TJ's father Toti Alberto is also a former Philippine Superbike champion, and he owns Access Plus (AP). AP happens to be the distributor of Ducati motorbikes in the Philippines, giving the TJ easy, ahem, access to ultra-sport bikes of the Italian brand like the Panigale R. This made it easier for him to adjust because his bike in the European STK 1000 is a stock Panigale V2, which has minor upgrades as compared to the bike he's using on local race events.
4) Sibling rivalry is sometimes healthy.
Many racing fans get confused on who's who between TJ and his brother Troy. Aside from having almost identical features, TJ and Troy are both involved in superbike events. They nurture their close relationship by training together, working out together, and exchanging techniques.
However, the Alberto siblings forget their family ties when they're racing side-by-side. "About the Team: The first one you want to beat is not the other riders, but your teammate," said TJ. This attitude, the older Alberto adds, helps them improve their riding skills.
5) Racing is entirely a mind game.
If you think that motorbike racing is only about riding skills and physical capabilities, TJ will prove you wrong. In order to win, racing entails 90% brain activity. This means you have to be focused on the race, and nothing else matters.
6) Riders always have rituals.
Some keep amulets as a lucky charm while others (like Valentino Rossi) kneel down and talk to their bikes believing that this would lead them to the podium. For TJ, prayers are his secret weapon.
But TJ confessed that he wears one type of long socks from one specific brand because they give extra comfort to his feet. When he wears them, he wins. Still, he would not rate the socks a 'lucky charm.'
7) Team player vs solo player.
Racing locally allows TJ decide for the team, and the setup of his race bike because his family owns Access Plus. In other words, here he's the boss. Racing in Europe changed the mindset of TJ because there is a team manager and lots of mechanics that he has to listen to and cooperate with. "You have to respect the situation you're in," he added.
8) Family always matters.
During a race season, Toti Alberto serves as a coach to TJ, his mother Joy Cua Alberto is in charge of logistics, Troy is his training partner, while the youngest sibling (reportedly learning to ride bikes) is their inspiration. TJ says he's lucky to have the full support of Barangay Alberto.
9) Everyone gets equal treatment.
TJ considers this European racing feat as his best experience in life so far. In European motorsports events, he said, there's no room for politics. If a participant violates race regulations, he is immediately sanctioned. There's no such thing as 'sacred cows.'
10) Breaking cultural, language barriers.
Being the only Filipino rider in the league, TJ initially thought that it would take some time before he could fit in with his mostly European team. But as he spent more time with the group, he noticed that race and culture are not of the essence there.
On the language aspect, he thought it would be more advantageous to learn to speak Italian. And TJ's favorite Italian phrase says it best: "Nessum problema!"