If you've ever seen a motorcycle on fire up close, then you know well the horrors a sight like that brings. And if the bike you were watching slowly burning to the ground was yours, well… we're sorry for your loss.
Motorcycle fires aren't a common sight—especially if you live in the metro where all two-wheelers usually just find themselves filtering through traffic—but they're not unlikely to happen, either. In fact, it's quite easy for a bike to catch on fire simply because of its design.
You see, unlike in cars where the gas tank is usually found at the rear and the powertrain is mounted up front, a bike's tank is more often than not located right above and really close to the engine. Said engine can get extremely hot after long rides at highway speeds, and sometimes, a small drop of gas is all it takes to start a fire. Things can go sideways with just a small leak onto the engine. Or in some cases, even a slight mishap at the gas station during summer.
ADVERTISEMENT - CONTINUE READING BELOW ↓
Motorcycles can also catch fire during crashes. When a rider falls onto the asphalt and his bike goes sliding away, the metal parts of the motorcycle can cause sparks on the ground just like a flint stone. And with the motorcycle tilted or tipped over, there's a good chance some gasoline can leak out from either the carburetor (if applicable) or some broken hose that got torn apart in the accident. You can do the math here: gas on the road plus sparks equals fire. Add the engine temperature to that equation and you've got an entire mess.
ADVERTISEMENT - CONTINUE READING BELOW ↓
Recommended Videos
ALSO READ:
Everything you need to get your LTO registration in order
4 Reasons you shouldn't buy fake motorcycle gear
There are also flashy riders who like shooting flames with their bikes' exhaust pipes—it doesn't take a scientist to know how quickly things can go 'kaboom' with that. In some cases, flammable materials also come into contact with the bike's exhaust pipe or even the engine. The bottom line here is that there are various reasons why motorcycles catch fire. And as riders, no matter how skilled and prepared we are, accidents do happen, so the best we can really do is to just be prepared to deal with any possible inferno. In this article, we'll go through the simple steps you should take if and when your bike bursts into flames.
ADVERTISEMENT - CONTINUE READING BELOW ↓
1) Dismount or step away from your bike.
There are instances wherein motorcycles catch fire at the least expected moment, like when you're cruising along the highway. You may have revved too hard,or maybe something's just wrong with your bike? Either way, the moment you spot the fumes, you need to pull over as quickly as possible, preferably in an open space with no other vehicles, buildings, plants, or more important, people nearby. Dismount, step away, and check if there's anything on you that's on fire as well. If so, deal with it immediately, and stick to the stop-drop-roll method if need be.
If you figured in a crash and you see your bike in flames from afar (assuming you can still stand up), don't try to be a hero and run to the scene. You won't be able to put out the fire with your hands, so if you can, keep them off your bike. Unless there's something on your bike that you're dying (no pun intended) to save, just stay a good distance away from it at all costs. This is just to protect yourself in case the fire gets bigger or worse, the bike explodes.
ADVERTISEMENT - CONTINUE READING BELOW ↓
Oh, and if your bike went down on the side of the road, be sure to put up some sort of emergency warning device (EWD) so oncoming traffic can preemptively steer away from the scene.
2) Call for help.
Our instincts might tell us to try and put out the fire on our own, but the safest way to go about this is still to get help immediately. If you're riding in a group, inform your buddies ASAP. If you're on your own, call 117 pronto and ask for aid. And if you're in a populated area, try and ask for help from the people nearby. If you're lucky, you'll find a fire extinguisher or a trained responder.
3) If you have the right tools, try extinguishing the fire.
We cannot stress this enough: If the fire is clearly too big already, wait for the help you supposedly called for and forget about dealing with the situation yourself. But if it's really manageable and you're equipped enough for the job, then that's when you try to put out the fire.
ADVERTISEMENT - CONTINUE READING BELOW ↓
Whether it's an actual fire extinguisher from your support vehicle (more on that in a bit), the few liters of water you brought along for the ride, or even soil on the ground, you can try putting out the flames using those.
Before we head on to the last step, though, be sure that if you're riding off to a trail or some far-flung area, you have a support vehicle with you. If you're touring the inside of a forest, you'll have nowhere to run to in the event of an accident. And if your bike does catch fire, then you'll be in much deeper trouble. It'll come in handy for you and your fellow riders to have someone in a four-wheeler help you bring all safety and emergency response equipment. The same applies even for long rides that don't actually include any off-road riding.
ADVERTISEMENT - CONTINUE READING BELOW ↓
4) When all else fails, evacuate and hope for the best.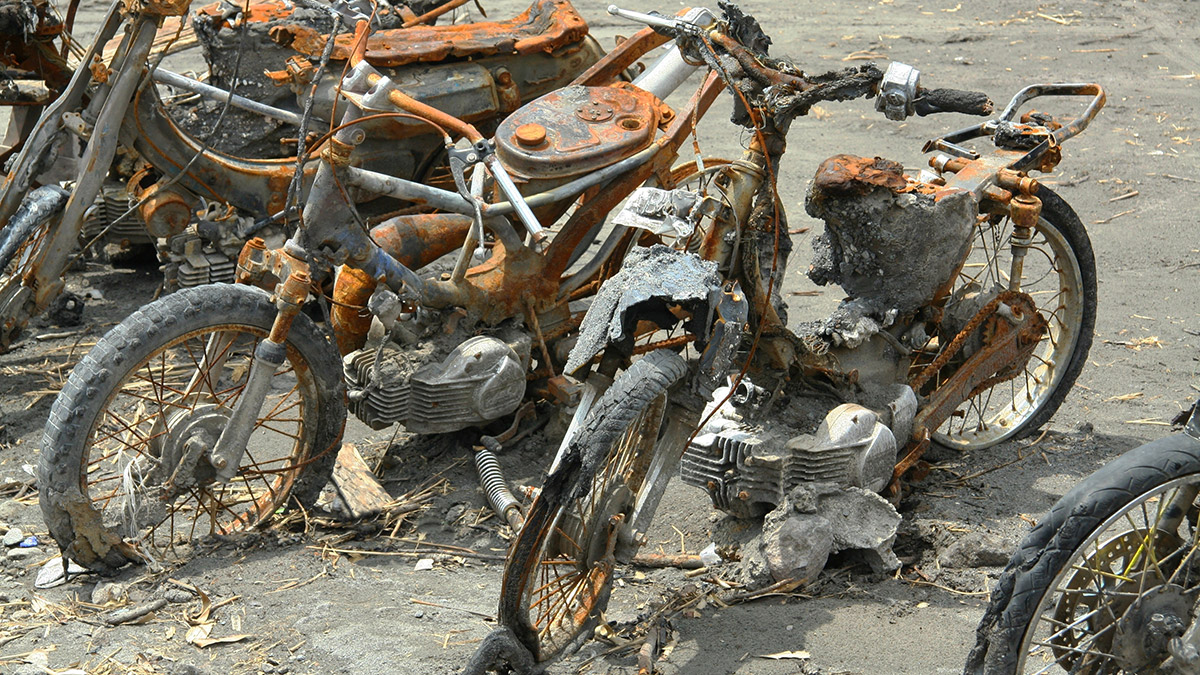 Once the fire you're dealing with becomes too much to handle, all you can really do is get out of the way and wait for help. You can start looking for some marshmallows to roast, too, because at least then you can get some value before your bike completely goes out. We're kidding, of course. We just told you to maintain a good distance away from your bike, remember?
ADVERTISEMENT - CONTINUE READING BELOW ↓
Evacuate the area completely, and if there are any vehicles around, try and get them out of the way. If you're stuck along the highway, just do your part in informing other motorists of the road hazard that is your bike. At that point, all you can do is just cross your fingers and hope that aid can arrive soon enough before all the salvageable parts of your bike get eaten up by the flames, too. And now, meaning while you're reading this, is a good time to check and update your insurance. 
If you're in no man's land and you know no help can arrive in time to put out the fire, then just walk away. We can assume here that there's absolutely nothing else around where the fire can spread onto, so you can leave your bike be and let the flames die a natural death. Look for somewhere you can sit and take a breather until first responders arrive.
ADVERTISEMENT - CONTINUE READING BELOW ↓
Top Gear Philippines is now on Quento! Click here to download the app and enjoy more articles and videos from Top Gear Philippines and your favorite websites.